How To Keep Your Puffer Jacket Looking Puffy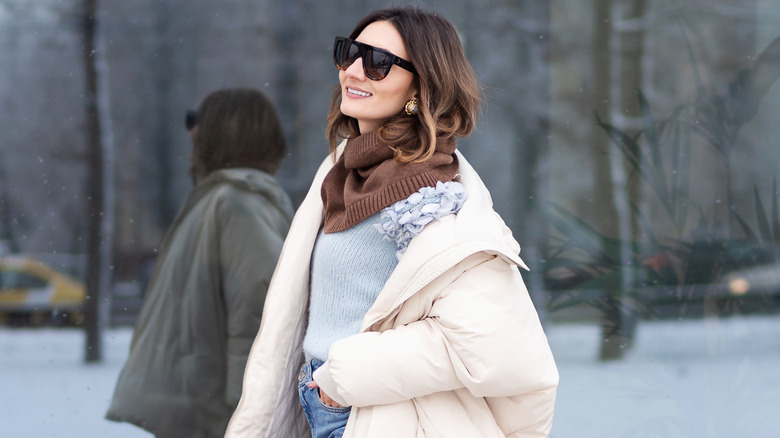 Denis Bukhlaev/Shutterstock
When the temperature drops, our fashion choices turn a little more cozy and a little less revealing. But that doesn't mean we still can't look fabulous. Winter wear is all about blending textures and patterns with as many chic layers as you please, then completing your whole look with your favorite puffer jacket. Puffer jackets can be found in a range of styles. You could go for a puffer that skims your knees, a quilted bomber, or a puffer made entirely from vegan leather (via Who What Wear). The problem isn't the lack of puffer jacket styles available. The real cold-weather issue is how to keep the puff looking fresh after months, even years, of wear.
Nothing can deflate your look quicker than a deflated puffer jacket. Strolling around town with a not-so-puffy puffer is like strolling around town on a bike with a flat tire. It works, but you can feel that something is off. Luckily, there are a few simple steps we can take to keep our whole look from being flattened.
First off, you can take the quick and easy route and send your puffer jacket to be professionally cleaned if you're nervous about ruining your favorite winter piece. But if you're in the DIY mood, keeping your puffer jacket clean and puffy is an easy project to complete at home.
You can keep the puff with tennis balls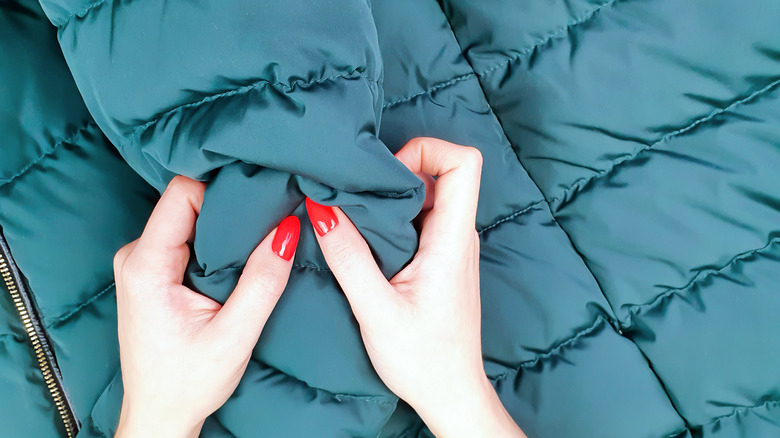 vittoria_vittoria/Shutterstock
You want to find a setting on your washing machine that uses colder water and is meant for outerwear. You also want to invest in a detergent that is meant specifically for down jackets. "Normal detergents can strip down feathers of their natural oils," says Melanie Sirirot, Outdoor Research Apparel Product Manager. "This oil is what allows down feathers to maintain their fluffiness; if you strip them they become brittle and break down," she explains. To be on the safe side, skip the fabric softeners and bleach for this specific wash as well (per Outdoor Research).
Once you've washed your puffer on the correct setting and with the right detergent, perhaps the most helpful hint of all is to avoid letting it air dry. It may sound gentle on the fabric, but it's in the dryer where your jacket will really get its puff back. Put your jacket in the dryer alone with a few tennis balls and on a cooler temperature setting. You'll likely hear the sound of tennis balls banging against the dryer walls. But that just means your puffer jacket is getting a "fluff" from the flying tennis balls and regaining its robust original shape (via Philadelphia).
Now that we know how easy it is to keep our favorite top layers of winter clothing puffed to perfection, we hope you're willing to keep the right detergent and a few tennis balls close to your washer and dryer to avoid a deflated look.