Here's What Tyra Banks Has To Say About A Life-Size 3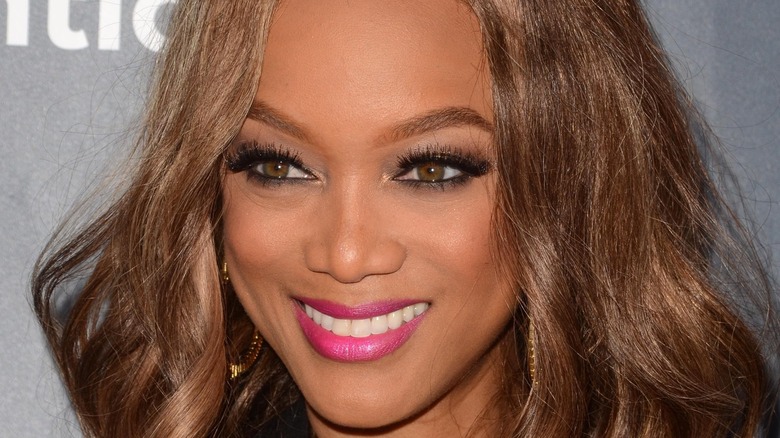 Kathy Hutchins/Shutterstock
The "Life-Size" movies are among the most beloved Disney Channel offerings ever. As Bustle notes, the original fan-favorite teen comedy featured a young Lindsay Lohan as Casey, who unwittingly brings her doll, Eve, played by Tyra Banks, to life following the death of her mother. 
Released in 2000, the film was surprisingly ahead of its time, boasting adult themes about the importance of embracing who you really are, dealing with grief and loss, and even female empowerment. Then, it took almost two decades for a sequel to materialize.
"Life-Size 2" dropped in 2018, with Banks reprising her role alongside Francia Raisa as new lead Grace. The "America's Next Top Model" host also executive produced the project, emphasizing how close it was to her heart. 
While Bustle gushed that "Life-Size" is "one of the greatest DCOMs of all time," and E! News described the experience of watching it for the first time as "life-changing," diehard fans have been singing its praises for more than 20 years at this stage. And, although they (im)patiently waited for a second installment, interest in "Life-Size 3" increases with each passing year. 
Luckily, Banks let everyone know exactly what's happening with it.
Tyra Banks gave fans of the Life-Size series hope
During a 2020 appearance on "Watch What Happens Live with Andy Cohen," Tyra Banks confirmed that "Life-Size 3" was indeed in the works (via YouTube). Banks was appearing on the talk show opposite "Real Housewives of Atlanta" alum and "ANTM" winner Eva Marcille. 
Fans have been clamoring for a third installment pretty much since "Life-Size 2" was released, with one fan wondering on Twitter, back in 2018: "Will there be a life size 3." In trademark fashion, Banks responded, "one, and done. two, thanks to you. three — we'll see?"
Although the second movie ended on a happy note, co-writer Cameron Fay admitted to TVLine that there's definitely unfinished business there. 
"The fans of the original have grown up, so we didn't want her to just help out another kid and have this become the same movie," he said of the sequel. "We wanted to satisfy those original fans who grew up and now have more adult problems." 
By that logic, "Life-Size 3" could easily continue down that path. Fay also confirmed: "Tyra was the real driving force in getting this made. This was like Tyra's baby." 
Although Banks didn't reveal whether she'd be starring in the movie again, it's safe to assume that another visit to Sunnyvale — not to be confused with Sunnydale, where "Buffy the Vampire Slayer" is set — is in order.