Prince Harry Had This To Say About His Grandparents' Love Life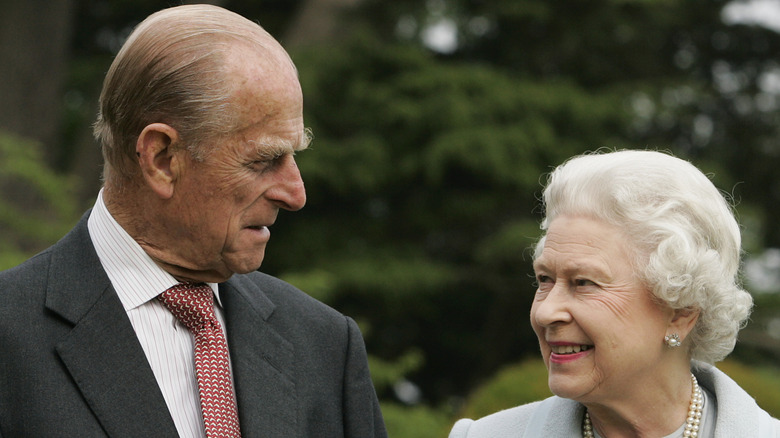 Tim Graham/Getty Images
The fairytale marriage of Queen Elizabeth II and Prince Philip is a storied one that spanned nearly a century. According to CNN, the two met at a wedding when they were children. Elizabeth was 7, and Philip was 12. 
While they were too young for romance at the time, the princess met her prince again when she entered her teens, and, by then, she was heir to the throne of England, although she wasn't born to be. Her father's older brother, Edward VIII, had abdicated the throne, making her father king and Elizabeth the next queen.
The princess and the Greek royal, whose family had fled their home country, struck up a friendship, began writing to each other, and met again when Elizabeth was 17. In 1947, the pair wed, making Philip the Duke of Edinburgh and, eventually, Prince Philip. 
They went on to have four children, a family full of grandchildren, and a marriage that lasted more than 70 years, until Philip's passing at the age of 99, in April 2021. 
Now, their grandson Prince Harry is telling the world how he felt about his grandparents' beautiful love story.
Prince Harry offers insight into Queen Elizabeth and Prince Philip as a couple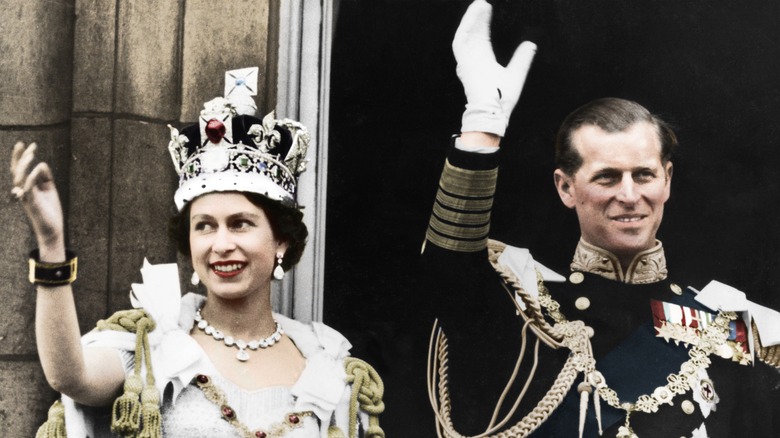 Print Collector/Getty Images
A new documentary set to stream on Discovery+ examines the life of Prince Philip. The "Today" show got ahold of a preview clip from "Prince Philip: The Royal Family Remembers," in which various family members share stories of the towering figure who married the princess who eventually became the longest-reigning monarch in British history.
Prince Harry — who no longer lives in the U.K. near his grandmother as he opted to leave his royal duties behind for life in California with his wife, Meghan Markle, and their two children — described the dynamic between Queen Elizabeth and Prince Philip that he observed most of his life.
"From my grandmother's perspective, to have someone like that on your shoulder for 73 years of marriage doesn't get better than that," Harry said. "The two of them together, were just the most adorable couple." 
He continued: "I don't know if anyone's ever described them as adorable, but to me, knowing the cheekiness of him and knowing that behind what the world sees, you have two individuals who were very much in love and both who, at a very young age, dedicated their life to service."
This will be the first holiday season in her adult life that the queen won't spend with her beloved husband. And, as of this writing, a surge in COVID-19 cases might interfere with her majesty's holiday plans, according to The Mirror. 
We certainly hope that's not the case.