Meghan Markle Reveals Surprising Details About Her Life As A Struggling Actress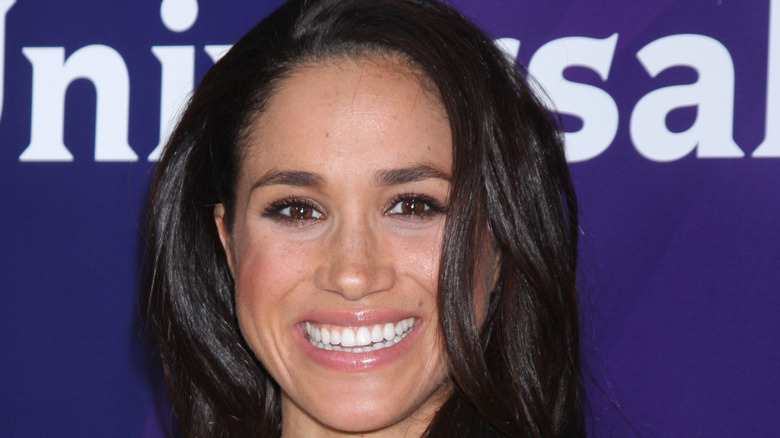 Kathy Hutchins/Shutterstock
Meghan Markle currently lives a very glamorous lifestyle. She's happily married to Prince Harry, with whom she shares two children, and they live in a sprawling 18,000-square-foot home in Montecito, California (via New York Post). The pair have established their own non-profit organization, Archewell, and they're set to tackle an array of exciting projects in the future thanks to their impressive deal with Netflix (via New York Times). Despite leaving the luxuries of the royal family behind, the Duke and Duchess of Sussex are establishing their own sense of grandeur here in the U.S.
Prince Harry has always been accustomed to this level of affluence, but Markle's story varies from her royal beau's. Prior to becoming the Duchess of Sussex, Markle had worked as an actress for almost two decades. She enjoyed a moderate level of success through her time on the television show "Suits," where she appeared as main character Rachel Zane from 2011 to 2018 (via IMDb). Before she made it big on the legal drama though, Markle was a struggling actress like many other young women in Hollywood. She appeared in several small roles and went from audition to audition before landing her big break with "Suits."
For those who have been fans of the Duchess of Sussex since her acting days, you may be familiar with this tale. But Meghan Markle revealed surprising details about her life as a struggling actress during a surprise appearance on "The Ellen DeGeneres Show" this week, and we've got all the juicy details.
Meghan Markle reveals peculiar details about her life as a struggling actress
Meghan Markle sat down for a surprise interview with Ellen DeGeneres this week and revealed some interesting facts about her life as a struggling actress (via People). A newly released clip shows the Duchess of Sussex laughing with DeGeneres as she describes the unique way she would get to and from auditions back in the day.
Markle said she would frequently show up to the Warner Bros. lot (the same lot where "The Ellen DeGeneres Show" is taped) for auditions, and noted how friendly the security guards were whenever she'd arrive. "The security guards would always say, 'Break a leg! We hope you get it!' So the drive in today was very different," Markle said. She then went on to discuss the old Ford Explorer Sport she used to drive to auditions, and how she had a very peculiar way of getting into and out of the car when she arrived on the Warner Bros. lot.
Apparently, the key wouldn't work on the driver's side door of the Ford Explorer Sport. "I would park in the back of the parking lot and open the trunk, then climb in and pull it shut behind me and crawl over all my seats to get out," Markle said. She laughed and told DeGeneres that if anyone happened to walk by, she would pretend to look for something in her trunk to "play it off" until the person left.