Tyra Banks Opens Up About America's Next Top Model's Most Problematic Moments
Tinseltown/Shutterstock
If you've seen Tyra Banks "smize" all over your social media feeds recently, you aren't the only one. The '90s model has more than 250 million views on her TikTok hashtag and most of the videos on there bring back clips from the reality TV show she once hosted. "America's Next Top Model" was among the more successful reality shows in the 2000s because it was an entertaining cocktail of models experiencing horrendous makeovers, ridiculous runways, and tirades from the judges.
Gen-Z and Milennials are now uncovering the competition's alleged toxicity, racism and bullying — and some believe that Tyra Banks has a huge role to play in it all. In one viral clip, TikTok user Dora Winifred showed the disparity in the standards Black and white models were held up to on the show. One example being Banks and her fellow judge glorifying a white model with a gap in her teeth, while telling a Black woman hers wasn't "marketable." 
There were also some challenges in which the models were essentially asked to switch races with makeup, which led to white contestants strutting down the catwalk in what appeared to be blackface to pose as African Americans (via Twitter). As a result, Banks is receiving a lot of backlash for her participation in the reality show. 
Tyra Banks has broken her silence on the backlash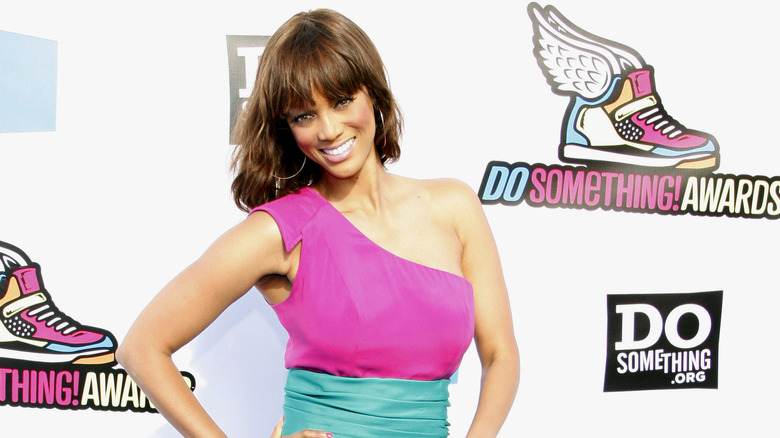 Tinseltown/Shutterstock
In 2020, Tyra Banks took to Twitter to address all the negative comments about "America's Next Top Model." She wrote, "Been seeing the posts about the insensitivity of some past ANTM moments and I agree with you. Looking back, those were some really off choices. Appreciate your honest feedback and am sending so much love and virtual hugs." 
However, the tweet had some mixed reactions. "Say more about this. Which choices were off? What was off about them? Mere acknowledgment and genuine apology are not the same thing," one user said, while another added, "Shame on you! I hope no one would treat your daughters or family members as you treated and abused those girls at ANTM."
Others were quick to defend Banks, however. "I THINK YOU WERE JUST REFLECTING WHAT YOUR EXPERIENCE IN THE INDUSTRY WAS," one fan wrote. "You don't even have to apologize. It was a different time AND for entertainment value!" another user commented.
So, although many are quick to forgive Banks' problematic "ANTM" history, it seems many would give "America's Next Top Model" a zero out of ten, if they could — to paraphrase Banks herself (via YouTube).