The Truth About Dave Bautista's Ex-Wife Angie Bautista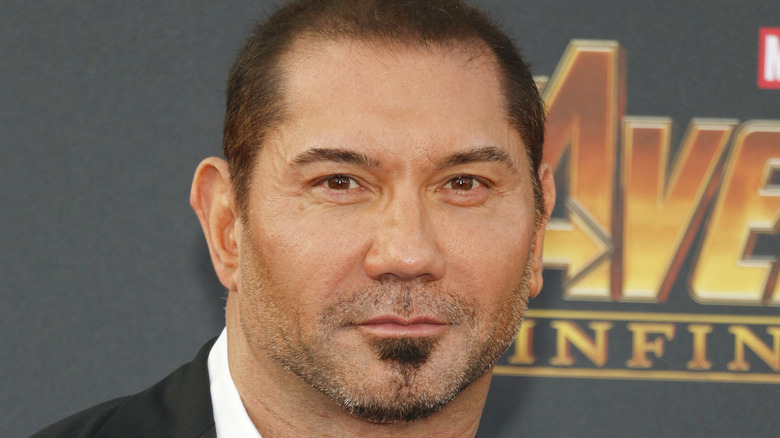 Tinseltown/Shutterstock
Just as Dave Bautista was starting out as a professional wrestler, he married his second wife Angie Bautista. The couple wed in 1998, two years before Bautista signed his first deal in 2000 with the World Wrestling Foundation (WWF), which is now known as World Wrestling Entertainment (WWE), per Celebrity Net Worth. Angie was there for all the highs and lows of Bautista's rise to fame as he became the world's longest-ever World Heavyweight Champion with a reign of 282 days.
During his career success, Angie was diagnosed with ovarian cancer in 2002, per Ovarian Cancer Research. At the time of her diagnosis, she'd just started training for a bodybuilding competition. And it was her familiarity with her body and its changes that first alerted her that something was wrong. After finding bruises that she couldn't explain, and feeling less energetic and nauseous, a tumor was eventually found on her right ovary and she began treatment.
Thankfully, Angie survived the ordeal. And while she was in remission from her cancer treatment, she gave birth to a son through In-Vitro Rertilisation (IVF). By the time Oliver was born in 2007, the couple had already divorced a year prior. Described as her "miracle child," Oliver gave Angie hope during the hardest time of her life, Facts Ninja reported. 
Dave Bautista formed a campaign to support his ex-wife
Despite parting ways, Dave Bautista continued to be there for his ex-wife every step of the way. "Dave and I have a great relationship," Angie Bautista told Ovarian Cancer Research. "I couldn't have gotten this far without him," she added. 
In 2010, Dave formed a campaign called "Bautista vs Cancer" (via YouTube). In collaboration with Jimmy Noonan, former Head of Security for WWE, the former wrestler produced a short film in support of his ex-wife in 2010, as well as others who have been affected by cancer.
"I'm proud of Dave and Jimmy for putting this together," Angie told Ovarian Cancer Research, "and I want for women to feel empowered about ovarian cancer." She continued, "Statistics are just statistics; a positive diagnosis doesn't mean we can't beat ovarian cancer. It is our disease — we need to educate ourselves and listen to our instincts when we think something is wrong."
Angie also wants women to know that cancer "doesn't look like one thing," and that it can happen to anyone — regardless of their overall fitness. "People think that people with cancer look a certain way, but cancer can affect someone who appears physically fit," she added.