This Is How Much The MyPillow Guy Spent Trying To Overturn The 2020 Elections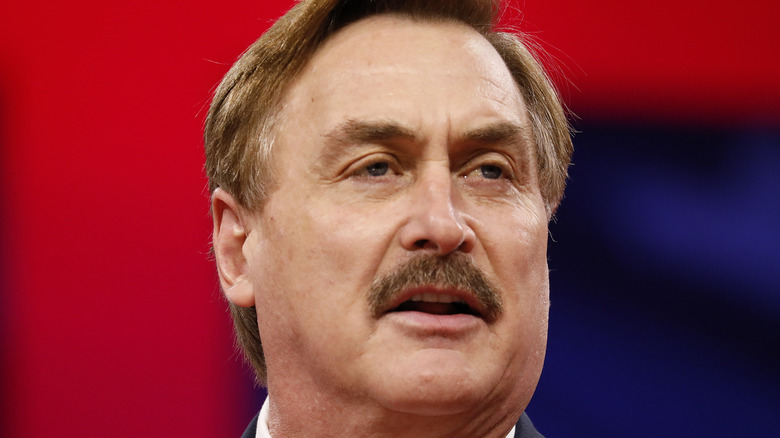 Bloomberg/Getty Images
More than a year after the 2020 presidential election, Mike Lindell, the CEO of MyPillow, is still attempting to prove that the election was fraudulent. Despite the fact that widespread voter fraud during the 2020 election has yet to be proven, Lindell has done his best to create multiple platforms to support former President Donald Trump in his claims that he actually won the presidential election. Since January 2021, when the election results were certified, Lindell has created his own website, Frank Speech, held rallies in several cities across the country, and even promised his supporters that he would take his complaints about the supposed election fraud to the Supreme Court (which has yet to be accomplished), according to Business Insider.
In August, Lindell held a 72-hour cyber symposium in Sioux Falls, South Dakota. Despite promising to show concrete evidence of election fraud, the anticlimactic event, which featured speakers like Steve Bannon and the son of Brazilian President Jair Bolsonaro, did not show any such evidence. In fact, according to Business Insider, the only major bombshell revealed during the symposium was the fact that voting machine company Dominion's $1.3 billion defamation lawsuit was moving forward. Earlier this month, another voting machine company, Smartmatic, revealed that it would seek "sanctions and legal fees" from Lindell over his suit against the voting machine company, per Bloomberg News. In the suit, Lindell claimed that Smartmatic conspired with Dominion to skew the 2020 election results in favor of now-President Joe Biden.
Lindell spent millions of his dollars to overturn the 2020 election results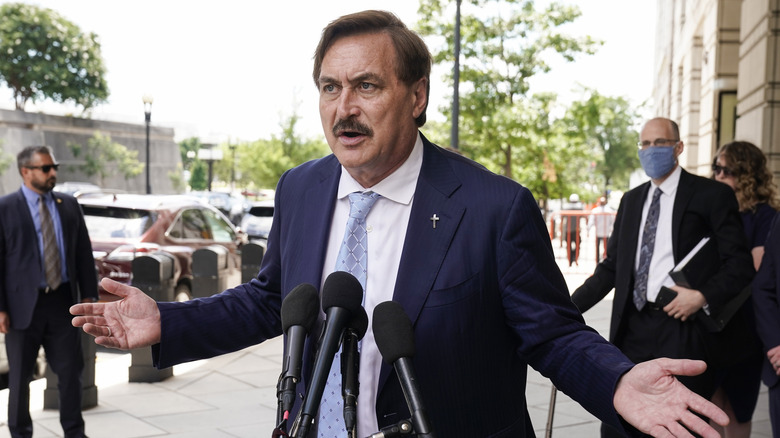 Bloomberg/Getty Images
During an interview with CNBC on Wednesday, Mike Lindell admitted that he had spent a staggering $25 million since November 2020 while on a personal crusade of sorts to prove that the 2020 presidential election results were fraudulent. According to Business Insider, this is half of the estimated fortune ($50 million) that Lindell has amassed as the CEO of MyPillow, a pillow company. "I will keep spending it because there is no tomorrow," Lindell told CNBC. "We lose our country. We either only have two paths: either it gets changed before the 2022 election or we lose our country forever. I will spend every dime I have. I will spend whatever it takes."
Lindell spoke with Business Insider about the breakdown of this money spent over the past year, and, according to Lindell, a large portion of the money ($10 million) went to creating and maintaining his social media platform and website, Frank Speech. The MyPillow founder also admitted to spending large amounts of money on travel and other expenses related to touring around the country to promote his claim of 2020 election fraud. "I spent a lot on flying myself and teams to different states to prove that the election crimes happened in their states too," Lindell told Business Insider. "I am spending a lot more of late." Given the recent lawsuits Lindell has been involved in, he has also paid around $500,000 to lawyers in various cases, per Business Insider.