The MyPillow Guy Speaks Out About His Financial Troubles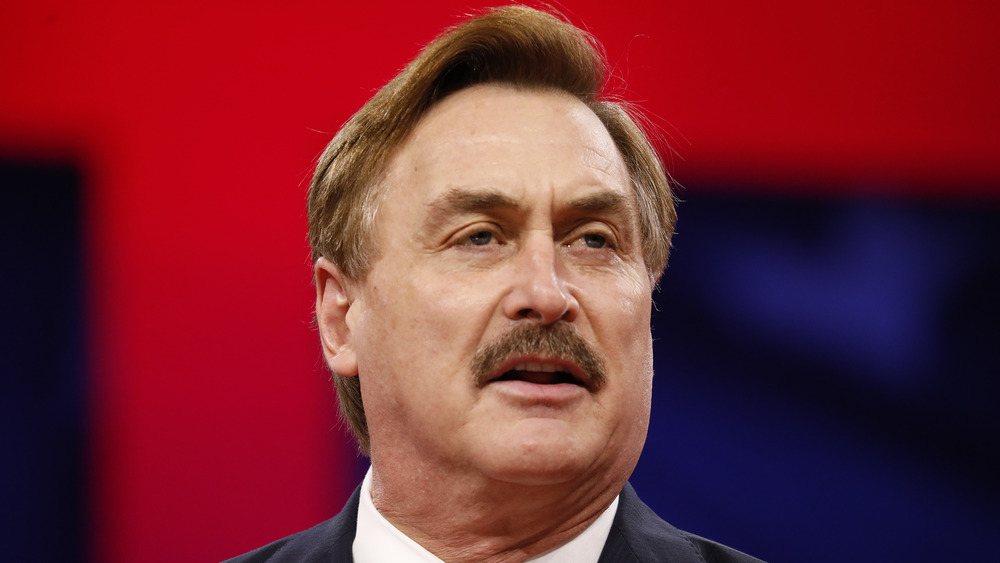 Bloomberg/Getty Images
Although many are accusing MyPillow CEO Mike Lindell of making unsubstantiated election fraud claims in order to boost sales of his company, Lindell says that is far from the truth. In fact, according to the CEO, he is actually set to lose a shocking amount of money (via The Daily Mail).
After the presidential election, Lindell continued to make claims about the veracity of the results, repeatedly stating the election was stolen and that Dominion Voting Systems' machines switched the votes. Lindell's conspiracy theories boosted sales of his pillow company, bolstered by his ads on Fox News and appearances at Donald Trumps' rallies. With such incredible returns, it's easy to see why many accused the multi-millionaire of purposefully instigating election fraud conspiracies to amplify his sales. 
However, Lindell recently talked to Insider about his financial issues, stating that he expects to lose $65 million in pillow revenue this year alone. The culprit? Retailers such as Kohl's and Bed Bath & Beyond who are boycotting MyPillow and pulling the products from their stores. Lindell's divisive comments have clearly made him bad business. He told the outlet, "I lost 20 retailers, and it's cost me $65 million this year that I won't get back, OK?" He continued, "there's your story. Print it right. Don't try and twist this."
Everything to know about Mike Lindell's lawsuit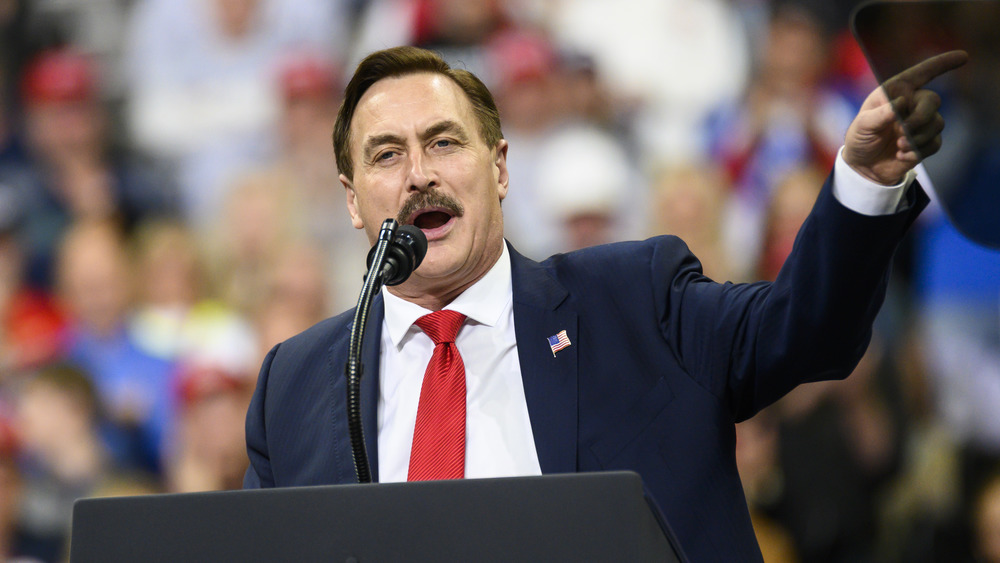 Stephen Maturen/Getty Images
But retailer boycotts aren't nearly the end of Lindell's financial woes. Lindell is also being served with a defamation suit for $1.3 billion by Dominion Voting Systems, responding to his accusatory claims of election fraud (via The Daily Mail).
Dominion is accusing Lindell of using his conspiracies to get more airtime on TV, boost his sales, and create a polarizing brand that would make millions. In the lawsuit, Dominion's attorney Tom Clare wrote, "Lindell — a talented salesman and former professional card counter — sells the lie to this day because the lie sells pillows."
Clare continued, "Michael Lindell exploited another chance to boost sales: marketing MyPillow to people who would tune in and attend rallies to hear Lindell tell the 'Big Lie' that Dominion had stolen the 2020 election" (via Insider). Proof of their claims include Lindell using conspiracy phrases as discount codes, placing millions of dollars in ads on conservative media outlets, and the fact MyPillow's revenue was pushed to $300 million in 2019 as his political presence grew.
While Lindell claims there was no "preconceived plan" to make money from his political stance, it is evident that his recent financial troubles will continue to haunt him.