The Truth About Amber Rose's Controversies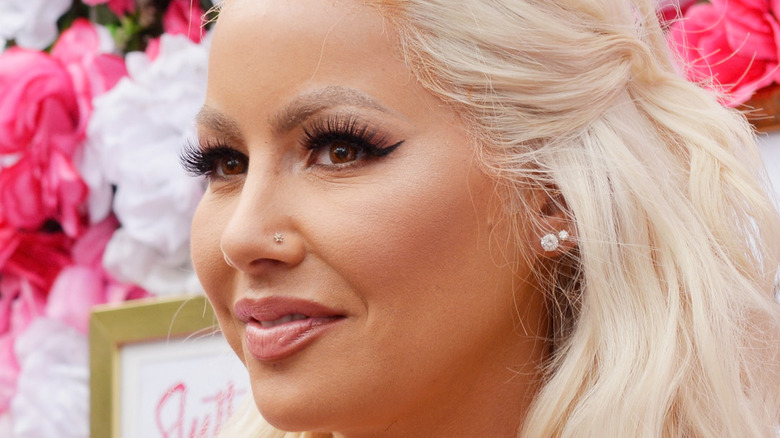 Chelsea Guglielmino/Getty Images
Amber Rose is one of the hottest 38-year old women on America's entertainment scene. The model and ex-stripper's role as a sultry vixen on many hip-hop music videos attests to this. She has been in music videos alongside Ludacris, Future, Nicki Minaj, and Wiz Khalifa among others.
The socialite has had to deny claims that she became popular off her romantic relationship with some famous people, particularly Kanye West, per BET.
"When people say Kanye made me famous, I don't feel that way," she said in a 2011 interview with Peter Rosenberg of Hot 97 FM. "People had an interest in me, and that's not my fault. What do you want me to do?" (via BET)
The bald blonde also had to deal with allegations from a former bodyguard who accused her of cheating and stealing during her two-year relationship with West, per HotNewHipHop.
That relationship with Kanye West preceded a huge, ugly breakup that played out in the eye of the public with many controversial moments, per Complex – with some of this drama even involving Kim Kardashian.
Amber Rose and Kanye West's breakup story is full of controversies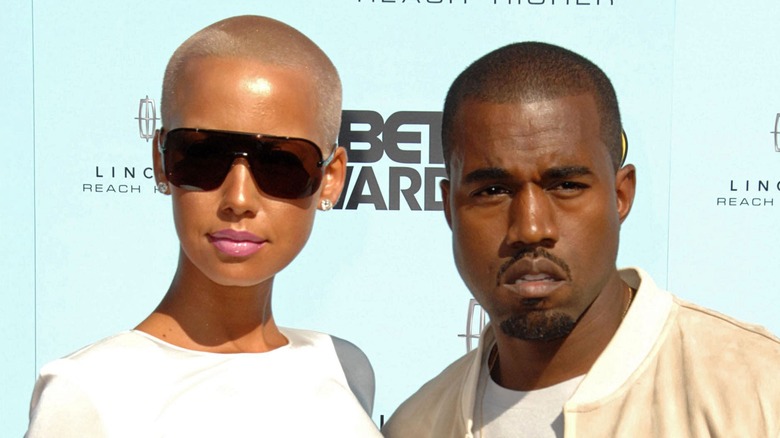 Everett Collection/Shutterstock
Amber Rose has been with other men in the music industry, including Wiz Khalifa (whom she married) and 21 Savage. None of those relationships ended up as messy as things got with Kanye West.
The pair first met in 2008 for a music video, per Complex. Soon they were being spotted on the VMAs' red carpet together, attending the Grammys (via Mirror), posing for racy photos in a shoe brand's ad campaign (via HuffPost) and living it up in typical Hollywood relationship fashion.
By 2010, they were no longer together and that was when things became nasty. West claimed that he needed "30 baths" after being with Rose, per The Breakfast Club. He also insulted Wiz Khalifa whom Rose dated after him, saying: "you let a stripper trap you," via Complex. He has also allegedly compared her to prostitutes, per ET Online.
Rose claimed that Kim Kardashian had a hand in how things ended between she and West. According to her, Kardashian was "one of the main reasons why me and Kanye are not together. She's a homewrecker" (via Star Magazine). There was also that time she tweeted at West, derogatorily referencing the rapper's preference for anal play during sex, calling him a "#FingersInTheBootyA**B****," via BillBoard.
She has also attacked him for his political views, per Capital Xtra calling him a "narcissist" and claiming that he has been bullying her for 10 years, per No Jumper.
Amber Rose's Slut Walks were a hotbed of controversies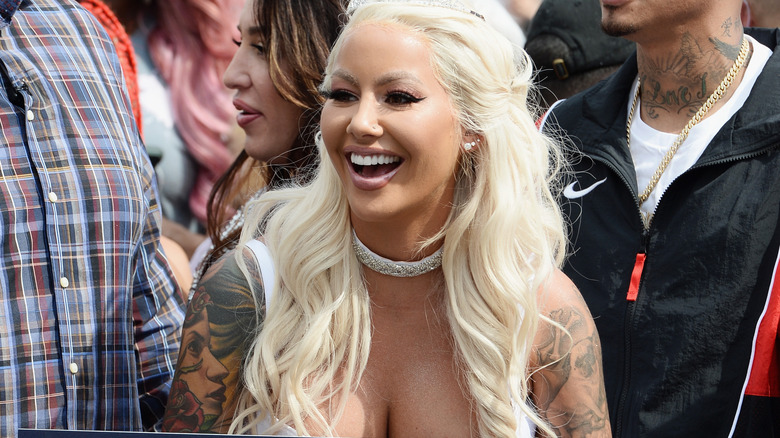 Amanda Edwards/Getty Images
Not one to shy away from bold statements, Amber Rose was again in the eye of controversy when she launched her Slut Walk campaign in 2015 in an attempt to combat slut shaming, rape culture and victim-blaming, among other issues that women faced in society.
"A lot of things pertaining to SlutWalk happened to me," Rose told BAZAAR in 2018, "I didn't know how to articulate what was going on ... I had been raped, and I was slut-shamed. I was victim-blamed, as well," she said.
The SlutWalk, of course, shocked most people with its offensive vibes, per PantherNOW. In one particularly iconic moment for pop culture in 2018, Rose actually posed nude with a bushy crotch for a promotional picture in the build-up to the 2018 SlutWalk event, per Daily Mail. The graphic and extensively airbrushed photo was yanked off Instagram but went viral regardless.
'I go far and beyond to p*ss people off on purpose,' The author of 'How To Be A Bad B*tch' confessed to Refinery29 at the time.
By 2019, the SlutWalk was suspended to protect Rose's "energy and peace," per Paper. But the event will be making a return in 2022, as announced by the convener herself, via The Source.
"My agent just called me. Slut walk 2022 is on!!!! Bigger and better than ever! God is good all the time!" Rose announced in August 2021 to her 21.8 million Instagram followers.