This Oribe Shampoo Is Amazing For Hair Damage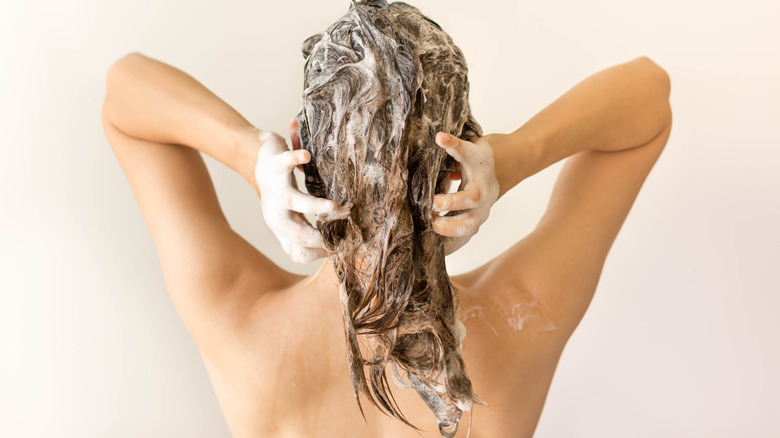 christinarosepix/Shutterstock
When your hair is dry and damaged, it's more prone to breakage (via Healthline). Trying to determine what's causing your hair to dry out and break is a frustrating process, as any number of products and factors can create these issues. Further complicating the matter is the fact that there are eight different types of damaged hair, some of which are caused by heat styling and others that are the result of the type of shampoo you're using. Sounds pretty daunting, right? Thankfully, certain products are designed to help replenish your follicles regardless of what's causing the dryness.
One of the most amazing products for hair damage is the Run-Through Detangling Shampoo from Oribe. Oribe is a luxury haircare brand that's definitely worth the hype, as their products work well for every hair type and contain signature ingredients like edelweiss flower and shea butter (per Estetica Magazine). This shampoo is a newer item offered by Oribe, but it's already receiving rave reviews from customers. Sophie Wirt, a writer for Well + Good, is one of those rave reviewers and she shared some detailed insight into this Oribe shampoo that's amazing for hair damage, in an effort to help other women struggling with this issue.
The Oribe Run-Through Detangling Shampoo is amazing at repairing hair damage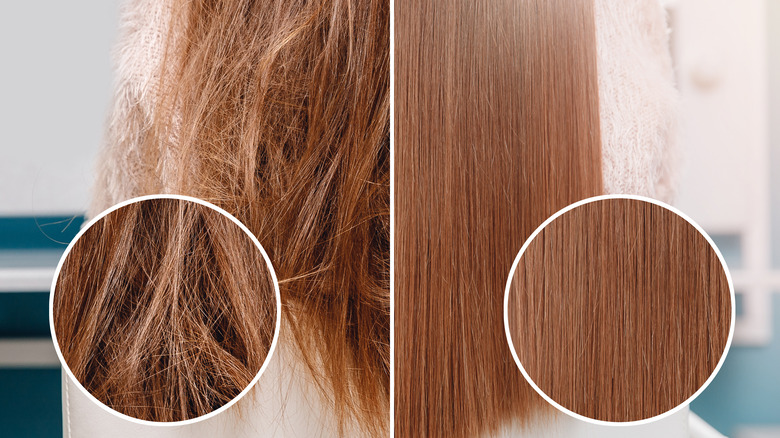 Parilov/Shutterstock
According to Oribe's website, their Run-Through Detangling Shampoo features several key ingredients that help combat hair damage. This particular product contains a blend of lychee, watermelon, edelweiss flower, shea butter, sunflower extract, and other hydrating ingredients that are equally luxurious. Each of these ingredients work to replenish moisture, repair damage, and protect your hair against further harm and dryness. If it seems like this Oribe shampoo is too good to be true, Sophie Wirt of Well + Good has provided some comforting reassurances.
In an essay for the website, Wirt described how she has struggled with damaged, tangled hair ever since she was a child. She tested the Run-Through Detangling Shampoo after purchasing a powder blue bottle for $49 from Oribe, and spoke very highly of the effectiveness of the product. Wirt said she first noticed a significant difference in the manageability of her hair as she was finger-combing it during the shampooing process — a task that's usually impossible for her to accomplish. She added that it was easier to manage her hair during the drying and styling process, too, and that she noticed a significant improvement in the overall quality of her hair.
The lightweight shampoo gently cleanses the hair, removes tangles, and repairs damage with each wash. All you need to do is wash your hair regularly with this Oribe shampoo and follow up with your favorite conditioner, and you'll notice your hair feeling softer and healthier in no time.