The Best Body Scrubs, According To Dermatologists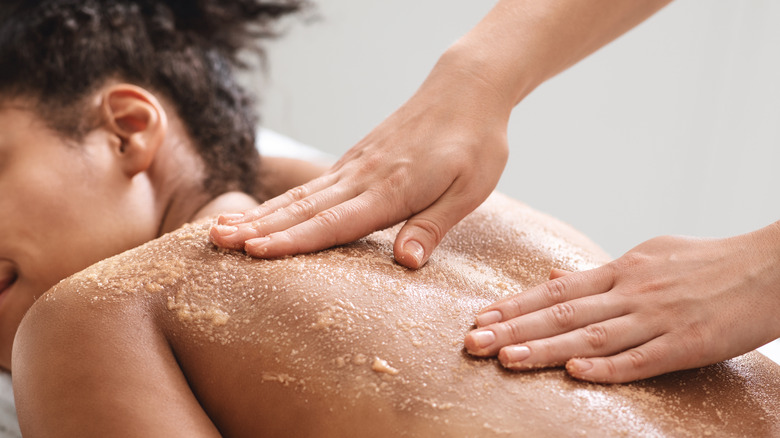 Prostock-studio/Shutterstock
We may receive a commission on purchases made from links.
We know the importance of exfoliating the skin on our face, but did you know the benefits of exfoliating your body? It is essential to exfoliate safely with a body scrub to avoid causing your skin more harm. According to the American Academy of Dermatology, it is crucial to consider your skin type before choosing an exfoliation method because using the wrong products may cause redness, irritation, or acne.
Dermatologist Nada Elbuluk said body scrubs can exfoliate the skin to remove dead cells, according to Self Magazine, and if you do not get rid of those dead skin cells, you could end up with breakouts, clogged pores, and irritation. Dr. Elbuluk recommends a body wash with salicylic acid for acne-prone or oily skin and gentle chemical exfoliant like PHAs (polyhydroxy acids) or physical exfoliant like colloidal oatmeal if you have sensitive skin. She added that physical exfoliants work best with combination skin as it won't dry out their skin easily.
It is important to clean up the dead, dull skin on your body because it won't matter how much you moisturize if there is a buildup of dead cells blocking your skin from getting hydration (via Byrdie). Don't get lazy because the couple of extra minutes you spend in the shower slaying away will give you soft, glowing skin. 
Now that we know the benefits of a body scrub, let's find out the body scrubs that dermatologists themselves love to use. Say hello to smooth, silky skin with these body scrubs.
Choosing the right body scrub for your skin type can give you baby soft, smooth skin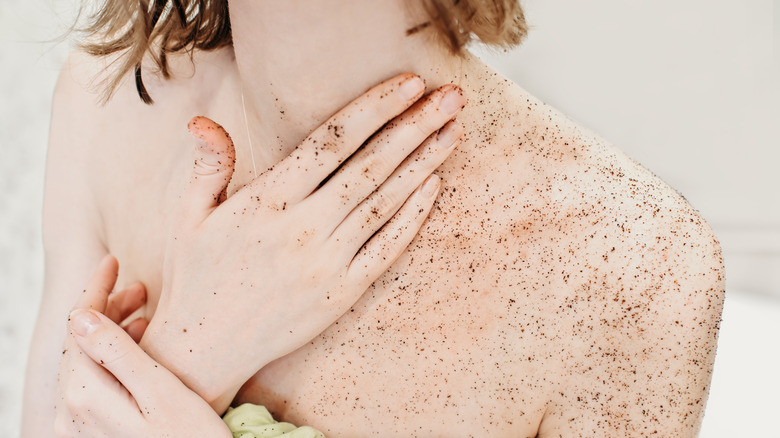 Yulia.Panova/Shutterstock
Board-certified dermatologist Kavita Mariwalla recommends scrubs with sugar and coffee as they boost circulation and are refreshing (via Shape). You will fall in love with the smell of the cult-favorite Sol de Janiero Bum Bum Scrub made with cupuaçu seeds and sugar crystals, which also has coconut oil to add moisture back into the skin. New York City dermatologist Dr. Debra Jaliman recommends the UpCircle Coffee and Lemongrass Exfoliating Body Scrub if you have dry skin (via Byrdie). Dr. Jaliman chose this clean and cruelty-free scrub as her top pick because it has shea butter for hydration and gentle coffee grounds for exfoliation.
The 2021 SELF Healthy Beauty Award winner, Cocokind Scrubbing Clay, gently exfoliates skin without harming the skin's barrier. It has glycerin that is great for all skin types and has a revitalizing scent of upcycled coffee grounds (via Self). According to Healthline, try the Asutra Scrub the Day Away Exfoliating Body Scrub if you are looking for a body scrub to help with stress relief. This cruelty-free product has the relaxing smell of lavender and bergamot. It literally helps your mind and your body.
Shari Marchbein, a New York City-based dermatologist, chose the 2020 Healthy Beauty Award-winning Dove Exfoliating Body Polish as one of her favorites in her shower (via Prevention). She added, "It contains glycerin, shea butter, and other hydrating ingredients to help gently remove dead skin cells."