The Touching Interaction Between Prince Philip And William At Diana's Funeral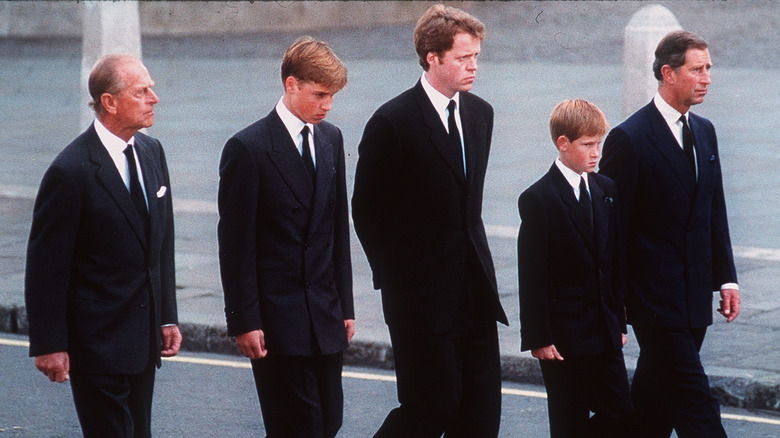 Anwar Hussein/Getty Images
When Princess Diana passed away in 1997, it sent shockwaves around the world. However, nobody suffered more than her young sons, Prince William and Prince Harry. Per the Evening Standard, the Queen and Prince Philip initially received backlash at the time for opting to stay at their palatial estate in Scotland, before finally travelling back down the night before the funeral. Thankfully, when the beloved patriarch joined William and Harry, their father Prince Charles, and Diana's brother Earl Spencer, for the funeral procession, it was seen as a hugely impactful move on his part. Although, Earl Spencer reportedly didn't agree with the boys being forced to walk alongside their mother's coffin, branding the decision "bizarre and cruel."
William himself saw it "as a sort of collective family decision," noting, "There is that balance between duty and family and that's what we had to do." Although it remains to be seen who made the decision, we do know why Philip opted to join the brothers. According to then-Prime Minister Tony Blair's government relations director, Anji Hunter, an "anguished" Philip rang into a conference call and cried, "It's about the boys. They've lost their mother." During a family supper the night before the funeral, the beloved patriarch reportedly told William and Harry, "I'll walk if you walk." 
However, there was another sweet moment shared between Philip and William, that solidifies how dedicated he was to supporting the boys on that difficult day.
Prince Philip wanted to show his grandfatherly support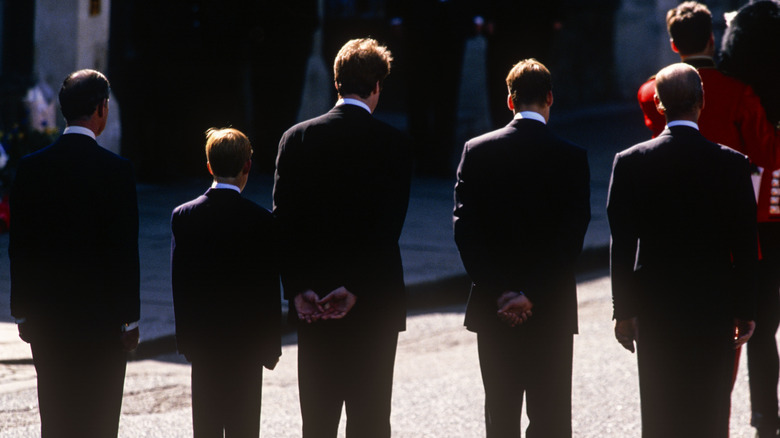 David Levenson/Getty Images
The Daily Mail reported that the 2021documentary "Philip: Prince, Husband, Father" reveals how the dedicated grandfather supported Prince William at his mother's funeral even more than anybody initially realized. The film provides a more intimate look at the life of the dearly departed royal, from his long-term relationship with the Queen to some of the darker times Philip endured over the years. He memorably walked alongside William and younger brother Prince Harry as they accompanied Princess Diana's coffin during her 1997 funeral. And, according to Martin Palmer, who co-founded The Alliance of Religions and Conservation with Prince Philip, the Duke of Edinburgh provided some extra support to William when he thought the focus was elsewhere.
Philip touched William's back to let him know he was there for him, according to Palmer, because he was adamant the boys wouldn't grow up in a "dysfunctional" family the way Philip did, per the Telegraph. According to Palmer, "There's a moment where they go under the Horseguards Parade arch where it's quite clear that Prince Philip — and I asked him about this he said, 'Yes, I didn't think the cameras could see us' — at that point he turns to William and comforts him." 
Moreover, Philip made it clear that the funeral was about supporting the boys above all else, since they were obviously going to have the toughest time with it. Princes William and Harry were later part of his own funeral procession, in April 2021.