Could This Really Be What It Took For William And Harry To Reconcile?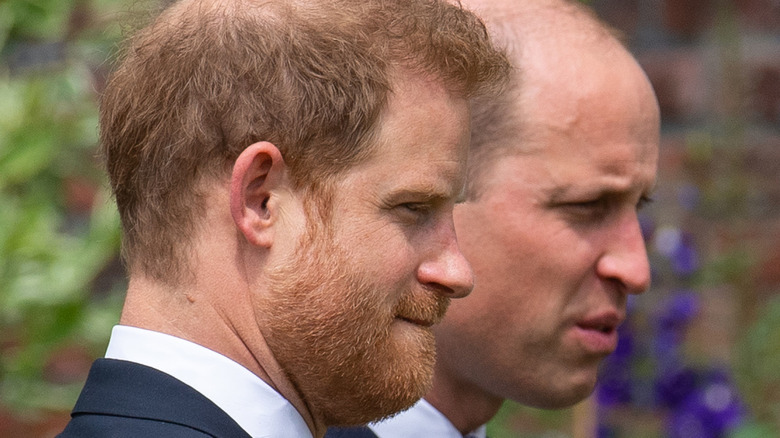 Wpa Pool/Getty Images
Observers of the royal family have been waiting for Prince William and Prince Harry to reunite and finally mend the rift that has grown between them. The brothers have reportedly been on shaky ground for years, but their feud was said to be amplified when Harry and his wife, Meghan Markle, announced their exit from the royal family in early 2020. Since that time, William and Harry have seen each other only two times in public (via Reuters). The first was at the funeral of their grandfather Prince Philip, who died back in April at the age of 99, and the second at a ceremony to unveil a statue in honor of their late mother, Princess Diana, in July.
Last month, royal expert Robert Lacey told Page Six that there had been no headway when it comes to William and Harry burying the hatchet, revealing that their relationship was "poor, definitely poor." When William hosted a party to thank those involved with Diana's statue, Harry was absent. Sources told the outlet that William seemed to still carry anger toward his younger brother.
"I've spoken to two people from that party and it was quite clear from things he said that his anger towards Harry remains," Lacey said. "He remains unhappy about what his brother has done. There is no immediate possibility of any reconciliation. I mean, it's not wanted on either side. Too many bitter things have been said."
Now a new report suggests that William and Harry may have missed their best chance at reconciliation.
Did William and Harry miss a golden opportunity?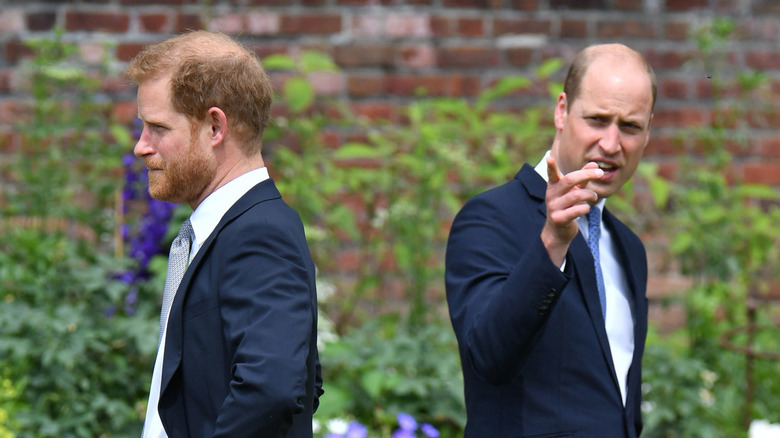 Wpa Pool/Getty Images
Town & Country reports that Prince William and Prince Harry may have missed their greatest opportunity to put their differences aside and heal the rift between them. When Harry returned to the U.K. in July for the unveiling of Princess Diana's statue at Kensington Palace, the memory of their mother on what would have been her 60th birthday should have been an emotional day for the siblings. Yet, William and Harry carried on business as usual and didn't appear to make any progress toward healing their feud.
The publication also reported that it was a bit saddening not to see any other members of the royal family in attendance at the event, as William's wife, Kate Middleton, was said to skip the ceremony out of respect for Harry's wife, Meghan Markle, who was at home recovering from childbirth. William's three children were also missing from the event.
If any time seemed like the most opportune and appropriate for William and Harry to finally settle their differences, it was on their mother's birthday. However, that apparently didn't happen; Harry quickly left the U.K. to return home to his wife and children. One month later, royal expert Kinsey Schofield revealed that mending the rift with Harry isn't something that seemed to be important to William at this time. "I don't suspect that it is a priority for Prince William to patch things up with Prince Harry as they are at severely different stages in their lives," she said, per the Mirror.