How To Create A Classic Hollywood Curls With Hot Rollers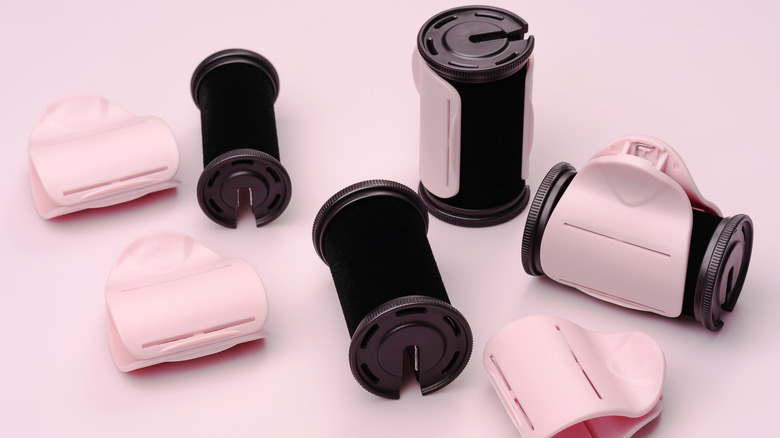 BestPix/Shutterstock
Hot rollers are making a serious impact on the hair scene. Previously thought of as vintage or old-school, this styling tool is making a big comeback (per ELLE). Hot rollers beat curling irons in terms of convenience, and their gentle heat is less likely to damage your hair (per PureWow). Instead of staying tethered to a curling iron, you're free to multitask and get ready faster.
According to Conair (via Yahoo!), hot rollers were invented in 1930 by Solomon Harper. An African-American inventor, Harper continued to tweak his invention until 1953. Modern rollers offer all kinds of options, from material to roller sizes. Wax core rollers take longer to work, but they create long-lasting curls. Sponge/foam rollers use steam power and are ideal for thin or fine hair. Ceramic rollers excel at creating smooth, shiny curls. Small rollers are useful for tight curls or shorter hair, while larger sizes work well for looser curls and longer hair (per the Chicago Tribune).
David Lopez, a celebrity hairstylist, told ELLE that hot rollers are "fool-proof" in terms of preventing heat damage to hair. Blogger Mary Orton is a big fan of hot rollers for their speed and volume. Her skilled hands can roll her whole head in 3-4 minutes. Afterward, she can focus on her make-up while the rollers work their magic (per Memorandum). With a little practice, you can up your style game and create all kinds of looks with hot rollers.
Classic tools for classic curls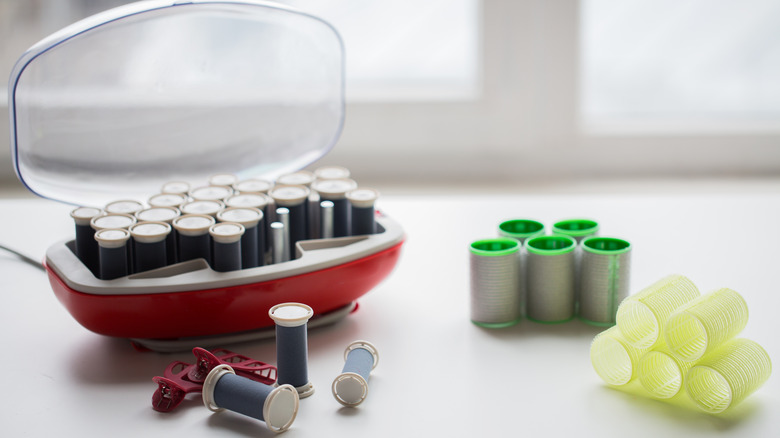 Syda Productions/Shutterstock
When you think of classic Hollywood curls, you may think of Veronica Lake (per Refinery29). During her heyday in the early 1940s, Lake was known for her long curls, and the peek-a-boo section that covered one eye (per CR Fashion Book).
To achieve this classic look at home, make sure your hair is clean and dry (to avoid any unwanted sizzling). Ashley Rubell, an editorial and celebrity hairstylist, recommends using a heat protectant spray before you start rolling (per Byrdie). To create the smoothest-possible curls, Rubell suggests using a brush and fine-tooth comb to banish any tangles.
Refinery29 offers a step-by-step curling tutorial. Start by parting your hair — a deep side part over the eyebrow's arch is key for achieving this style. In the front, roll your hair away from your part. The rollers should be sideways. Change direction for the back of the hair, and roll small sections toward the nape of your neck. To get the right amount of hair per roller, Rubell aims for sections where the thickness matches the roller's width (per Byrdie).
Give your curls between 10-30 minutes to set (per ELLE). When the rollers are cool, they're ready to remove. Blend with a brush, and spray for lasting hold. Hairspray will help lock in the curl's shape and texture (per PureWow). You can tuck the ends under as a final nod to classic style (per Classroom). Head out the door and get ready to turn some heads!