How To Properly Take Care Of Your Keratin Lash Lift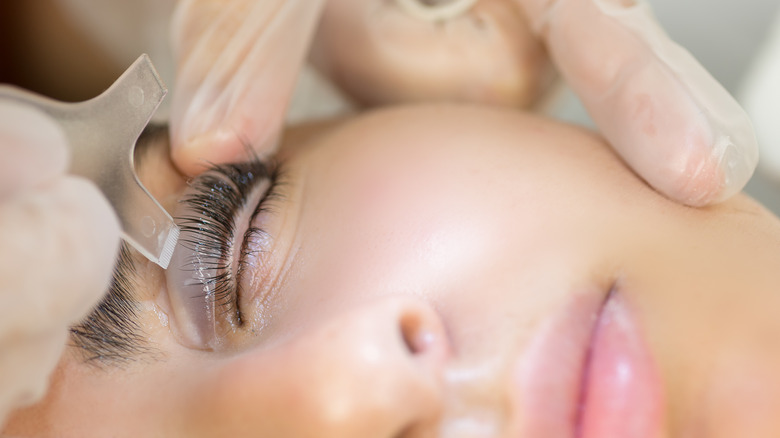 Mardoz/Shutterstock
When even the most expensive mascara and lash curling treatments won't provide the desired eyelash length, it might be time to turn to a lash lift. According to Cosmopolitan, a lash lift is essentially a perm for your eyelashes. The lash lift expert uses a perming solution to break the bonds of your lashes in order to reform their shape, thus leaving your eyelashes fuller and longer-looking after the professional lash lift.
While a standard lash lift uses a perming solution like thioglycolic acid, a keratin lash lift will use keratin. Typically, keratin is less harsh than a typical lash lift because keratin is actually a naturally-occurring material found in hair, nails, and, yes — even eyelashes, according to Byrdie. Unlike other lash lifts, keratin lash lifts create more of a natural look and less of a voluminous, dramatic look. "For the client who wants a natural 'woke up like this' appearance, the service alone is perfect," Envious Lashes founder Clementina Richardson told Refinery29. "In some cases, lifting doesn't give off the mascara effect that extensions do, especially for those with naturally very fine and light lashes."
According to Refinery29, a keratin lash lift will set you back around $175 per appointment, though that price does vary according to the salon. The keratin lash lift will take around an hour from start to finish.
How to take care of your keratin lash lift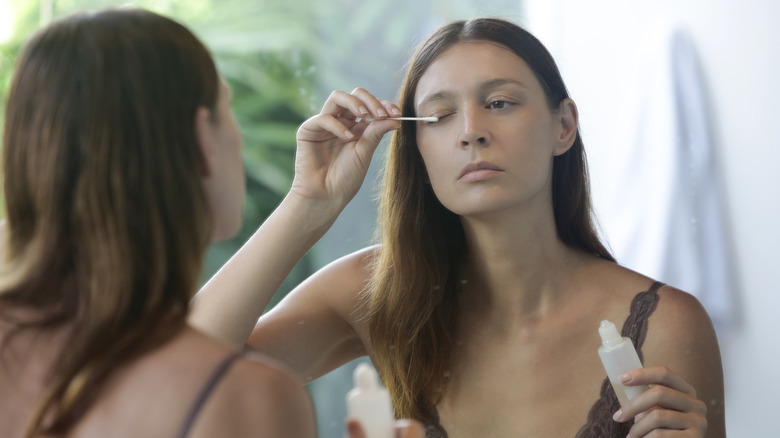 Triocean/Shutterstock
To prolong the life of your luxurious new eyelashes, it's imperative to care for them properly post-lash lift. According to The Lash Therapist, you should keep your lashes and eye area dry for at least 12 hours after your appointment. This means that you should avoid crying, sweating, or getting water around your eyes. After those 12 hours have passed, be sure to care for your new lashes by cleaning them every day and promoting their health by applying a keratin conditioning serum or clear mascara regularly.
While you're caring for your eyelashes, perhaps more than you normally would, Byrdie notes that you should avoid using oil-based products on your lashes as well. Additionally, avoid touching your eyelashes excessively, as your fingers also contain oil. Now that your eyelashes are perfectly curled, there is no need to pick up an eyelash curler — especially since it can impact the integrity and health of your lashes post-lash lift.
Typically, keratin lash lifts last for approximately 6 weeks. However, Byrdie recommends heading back to the salon for a touch-up 7-8 weeks after your first appointment. When the lashes begin growing out, The Lash Therapist recommends using an eyelash growth serum to keep your lashes looking healthy until you can head back to the salon.