Do Eyelash Growth Serums Really Work?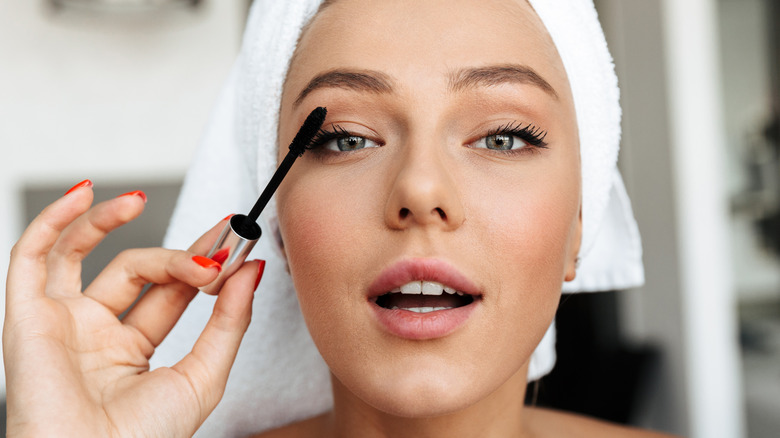 Shutterstock
For many people, having long and lustrous eyelashes is the dream. You can achieve this goal quickly and easily with fake lashes or by investing in eyelash extensions or a lash lift. However, there are also products that claim to stimulate lash growth and give you an overall thicker look. These products, from everyday castor oil to high-end formulated products, can range in price. So, do eyelash growth serums really work? The best way to find stand-out products is to understand how your eyelashes grow. 
You're born with hair follicles surrounding your eyes, but your eyelashes grow and fall out in a cycle. "There are three phases to eyelash growth: the anagen (active), catagen (transition), and telogen (resting)," optometrist Pamela A. Lowe, O.D., told Self. "Each individual lash undergoes a phase at different times. On average, replacement of a single lash is anywhere from four to eight months," she added. The Lash Lounge explains that different people's lash cycles can vary, but it's typical to shed one to five natural eyelashes every day. Nurturing your lashes in the growing stages can help to strengthen and thicken them, which, in turn, may make them look longer and thicker in the transition and resting phases.
Now that we know how our eyelashes grow, let's look at how serums work on them.
Do eyelash growth serums work?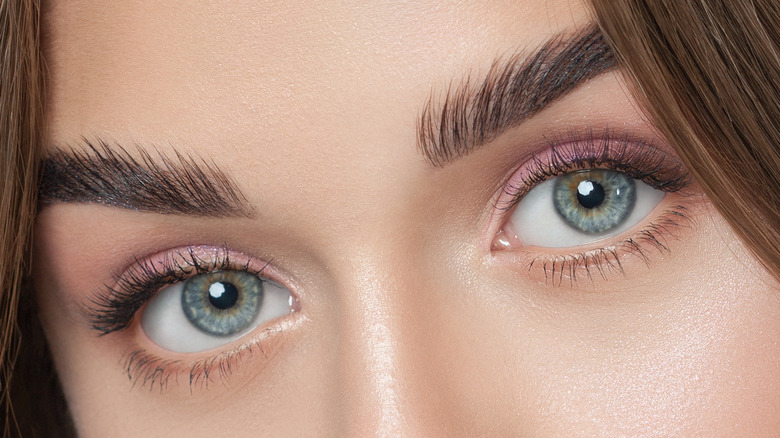 Shutterstock
If you're investing time and money into a product, you'll want to know if it'll have the desired effects. However, Byrdie writes that there's no straightforward answer as to whether eyelash growth serums work. The outlet says that although serums can help to strengthen and nourish your lashes by exposing them to peptides and collagen, they don't necessarily improve lash growth.
Chatelaine notes that many so-called lash growth serums include ingredients that will condition your lashes, but don't actually encourage growth. "Most lash serums have a combination of vitamins and oils in them which help to protect the lashes from everyday life such as pollution," senior day spa therapist Hollie Bennett told Metro. "It is these vitamins and oils that work to strengthen the hair follicles and improve each individual lash's health." Ilyse Haberman, MD, an assistant professor of ophthalmology at NYU Langone, told Cosmopolitan a similar story. "Lash conditioners may help strengthen lashes, prevent them from breaking, or lightly swell them so they look a little thicker," she said. 
Bennett, however, seems optimistic about the efficacy of these types of serums. "While lash serums do seem too good to be true, in my past experience they have been very beneficial for anyone who wants to give their lashes a boost," she said. If you're looking for serums that do just that, then you may need to seek help from over-the-counter products. Keep scrolling to learn about some products you can try.
There are several eyelash serums you can try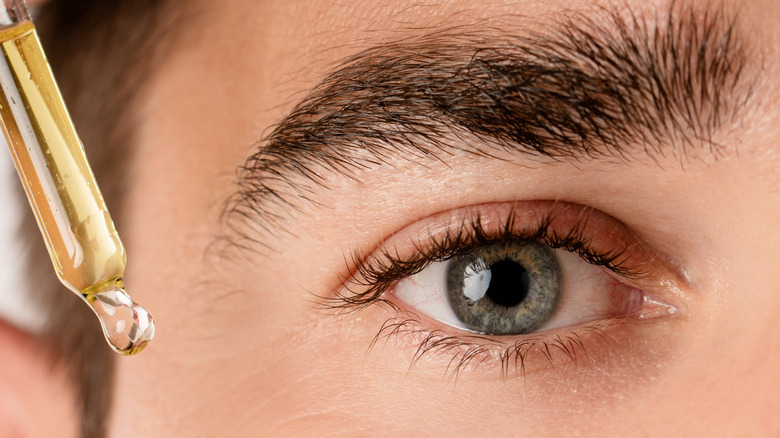 Shutterstock
Many skincare brands have expanded their ranges in recent years to cater to the growing demand for eyelash growth serums. However, there's only one FDA-approved eyelash growth serum in the U.S. Latisse is a prescription-strength eyelash serum that includes the active ingredient, bimatoprost. This helps to promote growth in your existing lashes as well as encourage new hairs to grow. Before you run out to purchase Latisse, though, you should speak to your doctor and discuss its possible side effects. Due to how strong it is, Latisse can cause eye irritation and it's even been reported that it's caused eye color to change. 
Latisse isn't the only eyelash serum on the market that comes with strong recommendations. Lancôme Cils Booster Lash Revitalizing Serum has been listed as a great option for damaged or brittle lashes. Similarly, GrandeLASH-MD Lash Enhancing Serum claims to provide "essential support for the lashes that increases their length and thickness." Lashes to Die For Turbo Nighttime Eyelash Treatment by Peter Thomas Roth is also a heavier product that includes Tahitian plankton, biotin, peptides, and aloe vera to boost the volume of your lashes. Vichy's LiftActiv Eyes and Lashes Serum is a well-reviewed product that's slightly more affordable, coming in at just under $20.
It seems that eyelash growth serums do have the opportunity to create longer and thicker-looking lashes, but it's up to you to find the product that works best for your lashes.