Moderna Has Exciting News About Its Booster Shot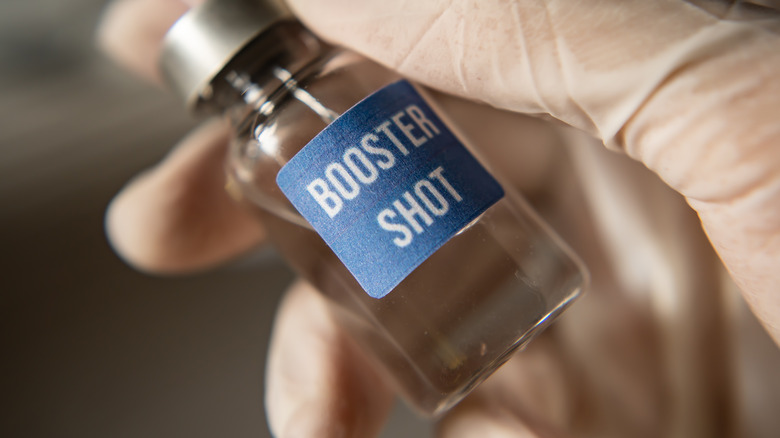 Wachiwit/Shutterstock
The COVID-19 pandemic remains ongoing, and of new concern is the coronavirus omicron variant which began spreading across the globe in November 2021. According to NBC News, the variant has now exponentially expanded across the United States and is ruining hopes for a normal Christmas around the world. Many are likening this variant to the novel virus in its severity, though how severe it gets will depend on how everyone reacts. 
"The most pessimistic scenarios are scary. And we need to sort of equip ourselves to make changes — change policies, encourage more cautionary behavior — if and when we start to see hospitalizations tick up in this country," said Lauren Ancel Meyers, the director of the UT COVID-19 Modeling Consortium at the University of Texas (via NPR).
This variant comes at a time when more and more people are getting vaccinated. However, how long Moderna and Pfizer's COVID-19 vaccines last will change depending on how long the pandemic continues — and how many new variants arise. What we know about their booster shots, though, is that they remain the best possible defense against the virus. Now, Moderna has released more exciting news about their booster shot.
Moderna released some promising news about the booster shot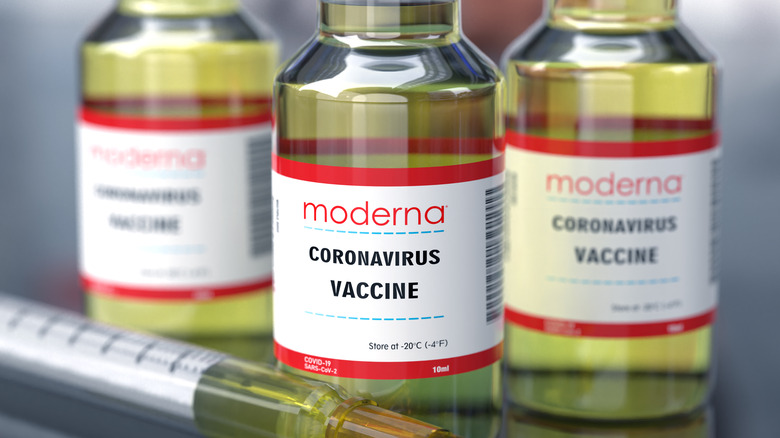 Giovanni Cancemi/Shutterstock
Moderna and Pfizer have been offering booster shots for their respective COVID-19 vaccines for some time now, and as the pandemic rages onward, more and more people are finding solace in them. When getting your booster shot, you should expect your odds of experiencing a severe case of COVID-19 to reduce. Although, you can still contract the virus when boosted, per The Wall Street Journal. However, doctors insist that getting "the extra shot still offers crucial protection."
Now, Moderna's latest news proves that booster shots are the only way to stay safe as the novel virus continues to mutate. According to People, Moderna's Monday, December 20 press release explains that their booster shot is effective against the omicron variant. Moderna's CEO, Stéphane Bancel, announced, "The dramatic increase in COVID-19 cases from the Omicron variant is concerning to all. However, these data showing that the currently authorized Moderna COVID-19 booster can boost neutralizing antibody levels 37-fold higher than pre-boost levels are reassuring."
However, in addition to this, Moderna is set to create a booster that will specifically aid against the omicron variant, as this variant appears to be the next big wave of the pandemic. "We will also continue to generate and share data across our booster strategies with public health authorities to help them make evidence-based decisions on the best vaccination strategies against SARS-CoV-2," Moderna's press release added.