Rachel McAdams' Strawberry Blonde Look That Fans Envy
Taylor Hill/Getty Images
A successful actress's career is often remembered based on two things: The movies they're featured in and their ever-changing hairstyles. Sure, you have the odd celebrity or two that have maintained the same iconic hairstyle throughout their entire career. Lisa Rinna has certainly been critiqued for wearing the same haircut for decades, but over the past couple of years, even she has cracked by experimenting with wigs to switch things up, as per Today.
Celebrity hair transformations are a constant, either due to changing trends or for dramatic new roles they're playing. But they all inevitably have that one iconic hair phase that everyone wishes they'd bring back. Fans will always idealize that hairstyle and continue to try to replicate it years after it happened. Often, the lingering memory of a celebrity's hair moment is directly linked to how memorable their career was at that time. This is absolutely the case for Rachel McAdam's strawberry blonde hairstyle that fans envy to this day.
Rachel McAdams strawberry blonde hair from The Notebook era remains a fan favorite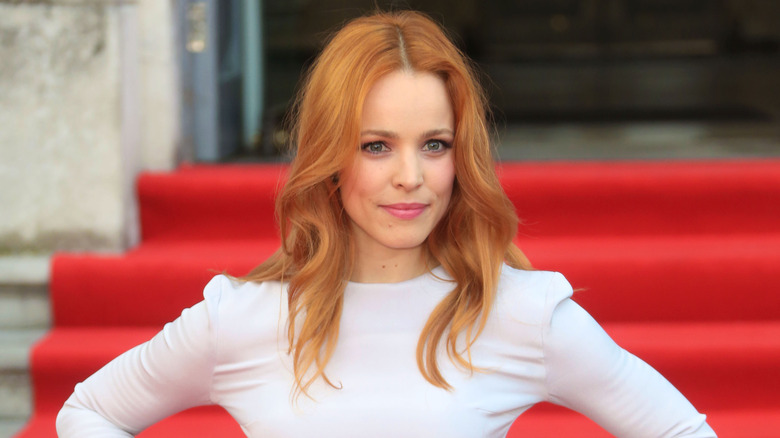 Featureflash Photo Agency/Shutterstock
Rachel McAdams isn't afraid of a hair switch-up. The star has repeatedly gone back and forth from varying blonde and dark brown shades. McAdams always pulls off every look effortlessly, and she even managed to look amazing with pink streaks in her hair in 2007, as per Allure. Considering the actress doesn't have any social media, it is hard to pin down what hair she's rocking today. However, according to a video of her accepting an award for "Eurovision Song Contest" in April 2021, she seems to have settled on blonde (via YouTube). But regardless of her many stunning hair phases, her strawberry blonde continues to stand out above the rest. Colorist Craig Moir revealed to Allure that he achieved the color by lightening her hair before recoloring and highlighting it. "Because she takes such good care of her hair, it wasn't a problem," he said.
McAdams' strawberry blonde look was short-lived, but it was during one of the most significant points of her career. It was when she landed the role of Allie Hamilton on "The Notebook." The classic romance remains a cult favorite decades after its release. Perhaps it's the fact that with so many rewatches, the strawberry blonde look is the one fans remember the most. While McAdams brought the hairstyle back in 2009 and again in 2013, she played Allie Hamilton so beautifully we're sure it's why everyone remains nostalgic for that shade.