The Haircare Product Release From Jennifer Aniston's LolaVie That You Need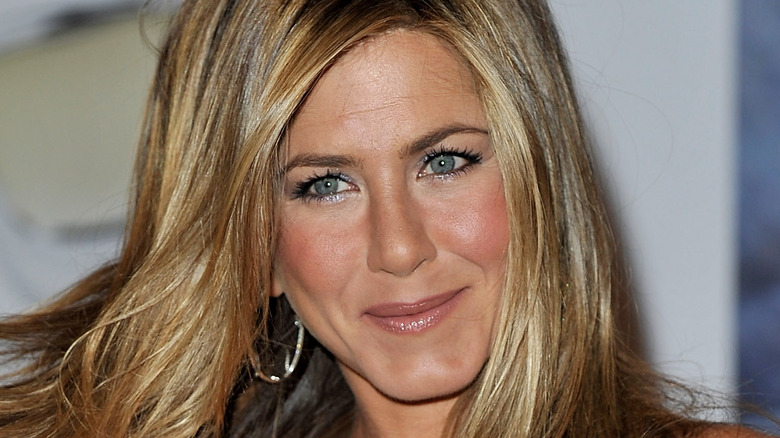 Gareth Cattermole/Getty Images
Well-known for her iconic role as Rachel Green from the '90s hit sitcom "Friends," Jennifer Aniston has become a style icon and continues to inspire women today. When Aniston first appeared on "Friends," women flocked to the salons to get the voluminous, layered "Rachel" haircut, as per L'Officiel USA. And now, you can emulate Aniston's signature sleek locks by using products from her new haircare line called LolaVie.
Aniston launched LolaVie in September 2021, dropping her first product called the Glossing Detangler (via Harper's Bazaar). She came up with the name as a combination of "Lola," the nickname given to her by close friends, and "vie," French for life. The Glossing Detangler doesn't just detangle hair, though. The product also acts as a heat protectant and leaves a silky shine. LolaVie's goal is quality and not quantity, so it is intentional with its product releases. The brand chooses to launch products individually on a slower timeline. After launching its first product in September, it has recently launched its second product at the end of October (via Allure). Aniston told Harper's Bazaar, "I wanted our first couple products to be multifunctional, like a Swiss Army Knife." Keep reading to find out more about LolaVie's most recent hair product release.
LolaVie's leave-in conditioner will leave your hair shiny
The latest release from LolaVie is the Perfecting Leave-In, as per InStyle. This leave-in conditioner claims to smooth frizz, repair damage, and even acts as a heat protectant – a true multi-tasking haircare hero. According to CNN, LolaVie's products are designed to be multifunctional, making it beneficial for everyone – from hair routine minimalists to those looking to cut down on styling time.
Jennifer Aniston told CNN, "I want everyone to know LolaVie delivers multifunctional hair care products that solve real problems without harmful ingredients. And hopefully, LolaVie products can simplify their routine and make them feel confident." The product features a concentrated formula with a lightweight texture that won't weigh your hair down. Harper's Bazaar especially recommends the leave-in conditioner for those with medium-to-thick, wavy, curly, or frizzy hair. Even Aniston's former "Friends" co-star and real-life friend, Courteney Cox, approves of the Perfecting Leave-In. Cox appeared with wet hair in an Instagram video and joked, "What does Jennifer Aniston really know about hair?" After applying the product, Cox revealed her transformation – luscious brunette waves with plenty of body. "I guess a lot," Cox remarked.
Both the Glossing Detangler and the Perfecting Leave-In are vegan and cruelty-free. They are also made from 99% natural ingredients. The leave-in conditioner contains Rose of Jericho, coconut lipids, plant-derived squalane, acai fatty acids, chia seeds, and bamboo essence. This leave-in conditioner sounds so good that you may leave all your other hair products behind.