The Hair Care Ingredients You Need If You Want Smooth Hair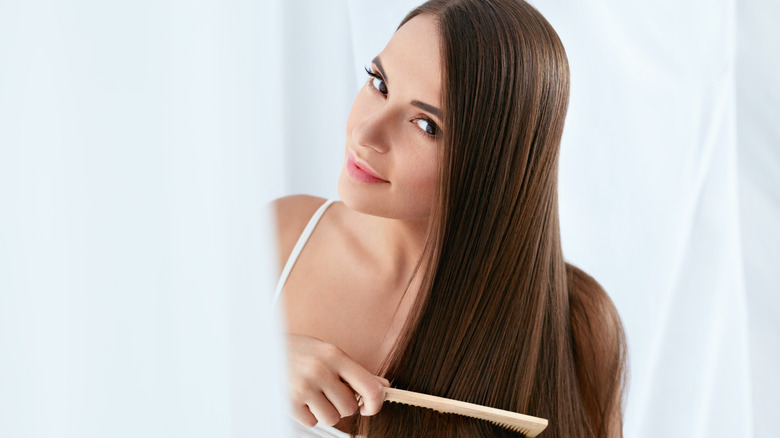 Shutterstock
Now that it is summer, taming frizzy hair can especially get challenging in humid weather. And looking for hair products with smoothing ingredients can feel like looking for a needle in a haystack. But the good news is that there are lots of natural ingredients that can make your hair more smooth, many of which are available in your pantry.
According to Healthline, it's crucial to get to know your hair type first so you know which ingredients will be optimal. Generally speaking, straight hair typically doesn't need as much hair oil as curly hair. This is because straight hair allows the natural oils that come from the scalp to make their way down and into your cuticle easier.
Regardless of your hair type, though, it's also important to use heat protectant on your hair before blow-drying or styling, per It's a 10 Haircare. Heat protectants consist of a combination of ingredients, including humectants like vitamin B5, that draw moisture into the hair shaft, amino acids that fortify hair strands, and hydrating plant oils/extracts that enclose and protect the cuticle (via Stylecraze).
Oils are crucial for smooth, silky hair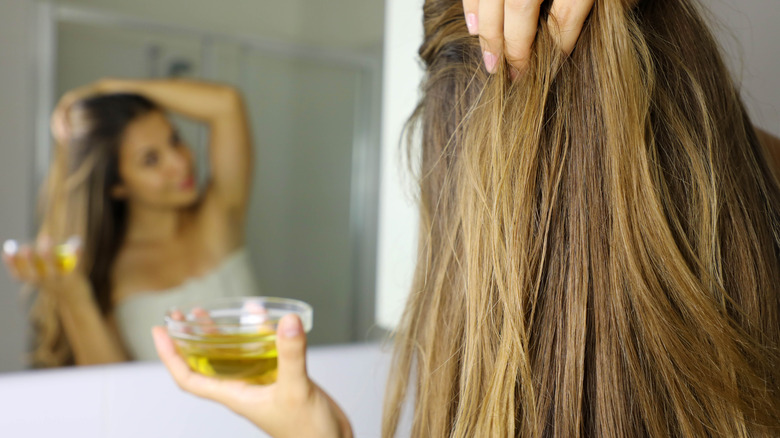 Shutterstock
Coconut oil may be able to penetrate the hair shaft, which is especially crucial for dry or damaged hair (via Healthline). According to a study published in The International Journal of Trichology, coconut oil can curtail the loss of proteins in hair, whether it is damaged or undamaged, when used as a mask or leave-in treatment. Olive oil, on the other hand, can help create a barrier surrounding the cuticle that protects your hair from any damage caused by water molecules. Since it stays on the outside of the cuticle, a little goes a long way. So it's important to apply a thin layer on damp hair and concentrate the oil on the ends, so your hair doesn't look greasy (via Glamour UK). 
Moroccan argan oil, meanwhile, which is already found in several shampoos and conditioners, is also thought to have moisturizing properties and can especially be beneficial to those with severely dry hair (per IPSY). According to Prose Hair, shea oil is a great choice for people of all hair types. It can moisturize extremely dry hair, but it also won't leave fine hair looking limp.
When using oils, you can try applying the oil or an oil-infused leave-in conditioner on damp hair after washing your hair with shampoo and conditioner. However, if your hair looks too oily, you can try applying the oil only on the ends of your hair (per Byrdie). Instead of using oils, you can also try an oil-infused moisturizing hair mask on damp hair, before shampoo.
Other ingredients that can promote smooth hair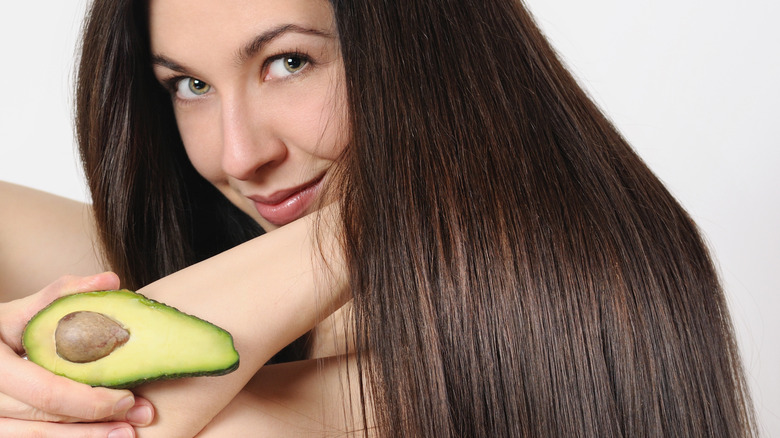 Shutterstock
If breakfast is the most important meal of the day, consider black oats to be a promising ingredient for your hair care routine, per Noughty. Black oats are able to penetrate the hair shaft and draw in moisture, as a humectant. The amino acids in black oats will also bind to damaged parts of the hair strand. So your hair will look and feel smoother. According to Byrdie, applying mayonnaise to the ends of your hair as a pre-wash treatment before shampoo can help hydrate your hair and protect it from damage. 
Avocados, which are loaded with natural fats, are recommended to use as a hydrating mask for dry/damaged hair (via Healthline). Avocados also contain amino acids and proteins, which are essential for the structure of the follicles. Honey is another natural moisturizer that can be mixed with bananas, which are rich in natural fats, to create a softening hair mask (via Femina India).
Just like you can spray your face with a hydrating face mist throughout the day, you can also create your own hydrating hair mist by mixing an aloe vera leaf with two tablespoons of water into a spray bottle (via Stylecraze). Aloe vera contains enzymes that can repair scalp damage, as well as help condition the hair and smooth frizz.