The Truth About Tucker Carlson's Wife, Susan Andrews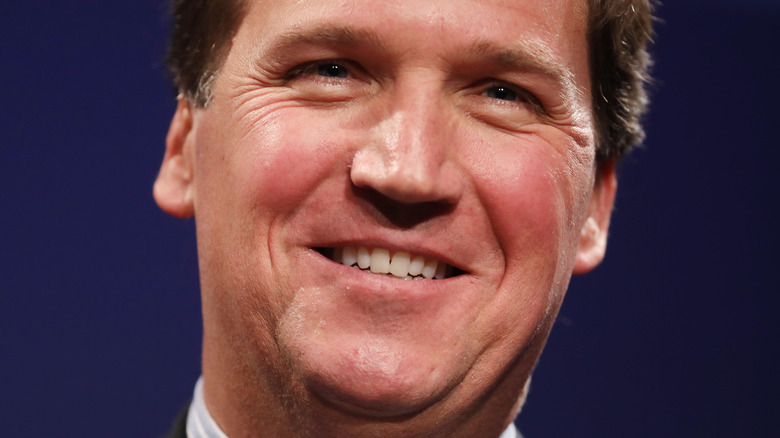 Chip Somodevilla/Getty Images
The host of Fox News' primetime cable news program, "Tucker Carlson Tonight," Tucker Carlson has made a name for himself as an outspoken conservative voice who is often raising controversial points. And while he shines in the spotlight, he isn't there on his own. Carlson has been married to his wife Susan Andrews for three decades, per The Sun, and the two have built quite the life together. Andrews does not frontline a show of her own, but she has still been a cornerstone throughout their enduring partnership.
Andrews stays largely out of the limelight, but she and Carlson have talked openly about their abiding love for one another. YourTango reports that the duo have known each other since they were children, and met when Andrews' father was the headmaster at St. George's School, where they both attended high school. As Carlson told the outlet, he felt that his wife was "the cutest 10th-grader in America." Likewise, Andrews had fond memories of young Carlson. "There was a bounce in his walk. He was in his khaki pants and ribbon belt and I thought, even then, he seemed so optimistic and positive," she told YourTango. After Andrews' father approved the union, the two went on to get married in 1991. Carlson described the process to YourTango as "all very 19th-century, but a good thing to do." 
Susan Andrews stuck by her husband during difficult times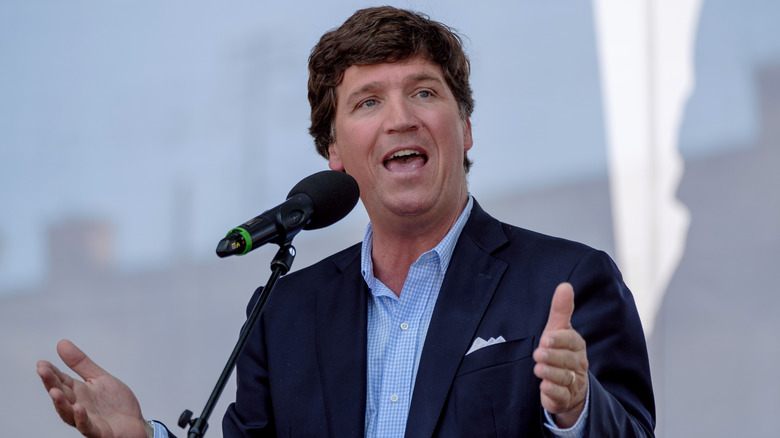 Janos Kummer/Getty Images
Susan Andrews may not be making headlines, like her husband Tucker Carlson, but that doesn't mean she hasn't kept busy. Life married to a public figure comes with its own set of challenges, and Andrews juggles these demands along with raising the couple's four children: Hopie, Buckley, Dorothy, and Lillie. Per The Sun, Hopie is reportedly the oldest, followed by Buckley, Hopie, and Dorothy. None of the children make public appearances. 
Raising children bonds any couple, but Carlson and Andrews have been through a lot together. Per the Daily Mail, Andrews stood by her husband after a woman named Kimberly Carter falsely accused Carlson of raping her in the early 2000s. The accusations might have been enough to end Carlson's marriage, but Carter later apologized and admitted to suffering from a mental health condition that made her believe her claims. In 2018, the Carlson family were victims of a break-in, as they explained to the Washington Post. "I called my wife," Carlson told the outlet. "She had been in the kitchen alone getting ready to go to dinner and she heard pounding on the front door and screaming. Someone started throwing himself against the front door and actually cracked the front door." Carlson went on to add that, "It wasn't a protest. It was a threat. They were threatening me and my family and telling me to leave my own neighborhood in the city that I grew up in."