Is Youngblood Concealer Worth It?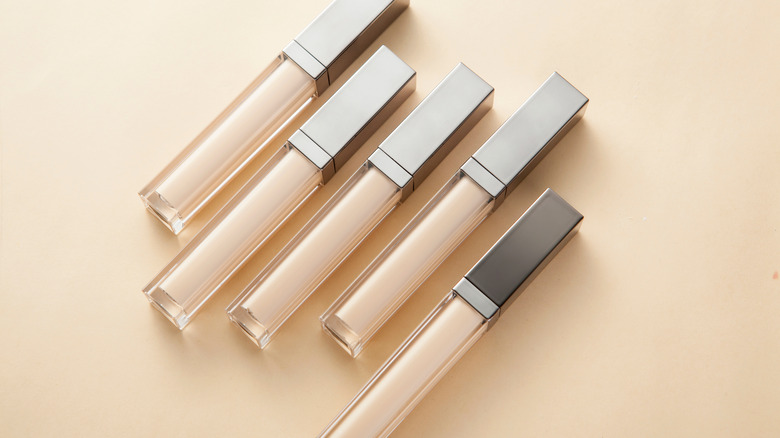 Zhang zh/Shutterstock
We may receive a commission on purchases made from links.
When it comes to choosing the right concealer, there are countless options on the market for you to consider. Recently in the makeup world, a concealer from Youngblood Mineral Cosmetics has been catching the eye of makeup gurus and enthusiasts everywhere. With a higher price tag of $33, the brand's Ultimate Concealer doesn't exactly come cheap (via Youngblood Mineral Cosmetics). Before you add the concealer to your cart and checkout, it's fair to wonder — is it worth it?
When Pauline Youngblood found Youngblood Mineral Cosmetics over 20 years ago, the makeup mogul set out to create a luxury selection of clean beauty products. When she first embarked on her clean beauty journey, Youngblood notes that clean wasn't the norm on cosmetic store shelves. Still, the newcomer persisted in the early days of her business and held each product to a high standard that is still enforced to this day. "I personally review every formula and work alongside the best chemists in the world to make sure we deliver healthy, natural, and superior products that help every woman be her best self," Youngblood says of the process, per her official bio. If you seek clean beauty, the brand is worth a look.
The Ultimate Concealer is no different, having been developed with Youngblood's signature high standard in mind, Youngblood Mineral Cosmetic's Ultimate Concealer has 43 reviews on the brand's website and another 71 on Amazon, with an average rating of 4.65 between the two, so the product is seemingly creating quite a buzz.
A little goes a long way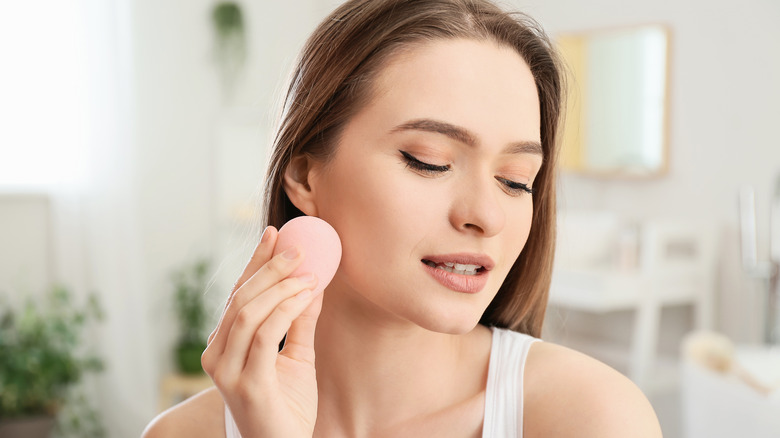 Pixel-Shot/Shutterstock
A concealer should be two things — comfortable and effective. Many cosmetic brands promise this, but they don't always deliver. With all the recent hype around Youngblood Mineral Cosmetics, those who are shopping for new products are wondering how this brand measures up to the competition. According to Youngblood's website, their Ultimate Concealer is described as a "creamy concealer that instantly camouflages imperfections" and credits the product's effectiveness to the way it reflects light in order to hide imperfection on the skin. The product page also notes that it works especially well on dark circles under the eyes. User Anitja J. wrote in a 5-star review that the concealer "works really well to cover dark circles under eyes," so it's a great option if dark circles are one of your main concerns.
Youngblood's concealer has been collecting rave reviews across the internet, with an average score of 4.8 on their own site and 4.5 on Amazon. One Amazon reviewer, Jami L., says that the Ultimate Concealer, "has been the only concealer I will use for the last 7 years. Smooth and lightweight with amazing coverage. And one tiny little container will last me 6 months. Definitely worth the price!" The Ultimate concealer pot contains just 0.1 oz of product, but many reviewers will assure you that you don't need to use too much to get the coverage you're looking for.
Shades for everyone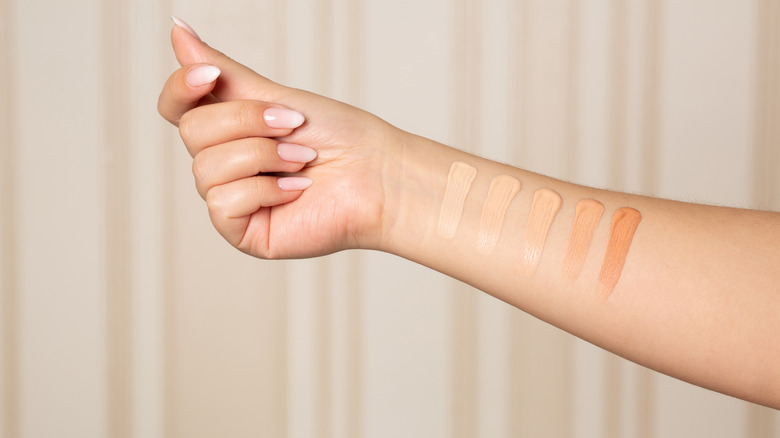 Viktoriya Pavliuk/Shutterstock
With eight available shades on Youngblood Mineral Cosmetic's site, ranging from Fair to Deep (Warm), tons of makeup users will be able to find the perfect shade in the selection. The concealers appear to be super blendable and buildable, so one shade could potentially work for a sizable range of skin tones. Makeup Alley shared a side-by-side swatch of the Youngblood shade "Fair" with The Balm's "Lighter Than Light," which shows the Ultimate Concealer as a much more muted fair shade in comparison that blends effortlessly into the user's skin. A review on the site who goes by hapabunny, who got to experience a training session with a Youngblood brand manager, notes that you may want to select a shade a bit lighter than you would normally go for.
Ultimately, those who have tried Youngblood Mineral Cosmetic's Ultimate Concealer tend to agree that it is worth a try. While some users disagree, the product gets more positive attention than negative. If you're currently in the market for a new concealer and the $33 price tag is similar to the cost of your typical concealer, you'll likely find that it is worth the price.