Here's Where Joe Biden Had A COVID-19 Exposure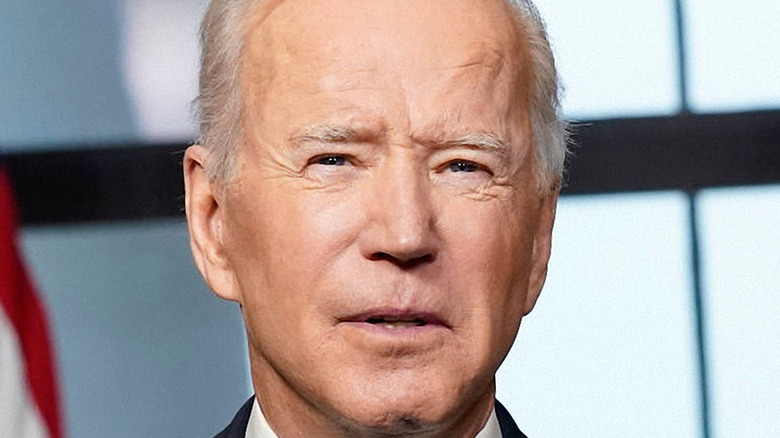 RedhoodStudios/Shutterstock
Since he was sworn into office in January 2021, one of President Joe Biden's main objectives was to help the county get through the COVID-19 pandemic. But the omicron variant has sent COVID-19 cases in the U.S. — and around the world — skyrocketing. 
In fact, according to data from the Centers for Disease Control and Prevention, 73.2% of coronavirus cases reported between Dec. 12 & 18 were omicron. That has led some experts to warn that the country is at risk of a "national viral blizzard" in the upcoming weeks.
"Even though more people who get it have milder illness, so many more people overall will get it that I think we're going to see a real challenge in our health care system over the course of the next three to eight weeks," said Michael Osterholm, director of the Center for Infectious Disease Research and Policy at the University of Minnesota, per CNN. 
He added: "We can expect 10% to 30% of health care workers to get infected during that time — people who are vaccinated who have breakthrough infections and that is only going to add to the burden then of trying to provide care all at the same time through all 50 states."
With those odds, even the president is at risk of being exposed. In fact, it was revealed that President Biden did recently come into close contact with a staff member who later tested positive for the virus.
President Joe Biden has tested negative for COVID-19 despite this scare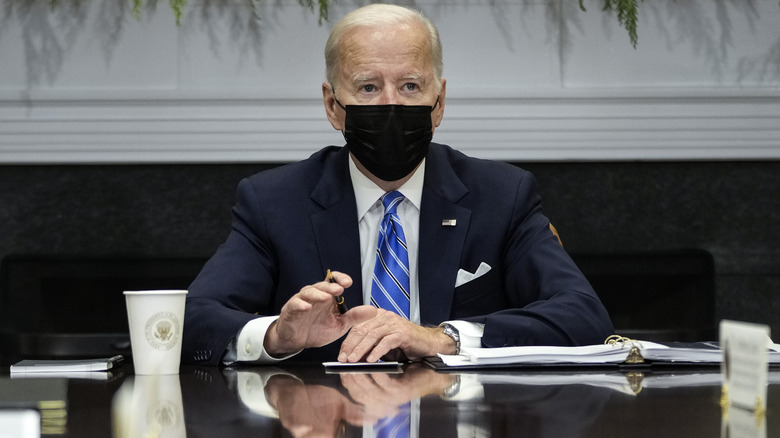 Drew Angerer/Getty Images
President Joe Biden came into close contact with a "mid-level staff member, who does not regularly have contact with the President, [who] received a positive result for a COVID-19 test," according to People. The president was with the aide for about 30 minutes while on Air Force One. 
"This staff member is fully vaccinated and boosted, and tested negative prior to boarding Air Force One, as is required for everyone traveling with the President," the statement read. "This staff member did not begin to experience symptoms until Sunday and was tested on Monday."
Luckily, President Biden — who is tested regularly — has tested negative since his interaction with the staff member. 
In the meantime, he is preparing to address the nation on Dec. 21, 2021, announcing that the United States would be purchasing 500 million at-home rapid COVID-19 tests to distribute free to Americans upon request. In addition, 1,000 military service members are being prepped to travel to overburdened hospitals across the country in January and February 2022, if needed (per CNN).
"The President will tell the American people if they're vaccinated and follow the precautions we all know well, especially masking while traveling, they should feel comfortable celebrating Christmas and the holidays as they planned," said a senior administration official.