Joe Biden Has The Internet Cracking Up With Air Force One Gaffe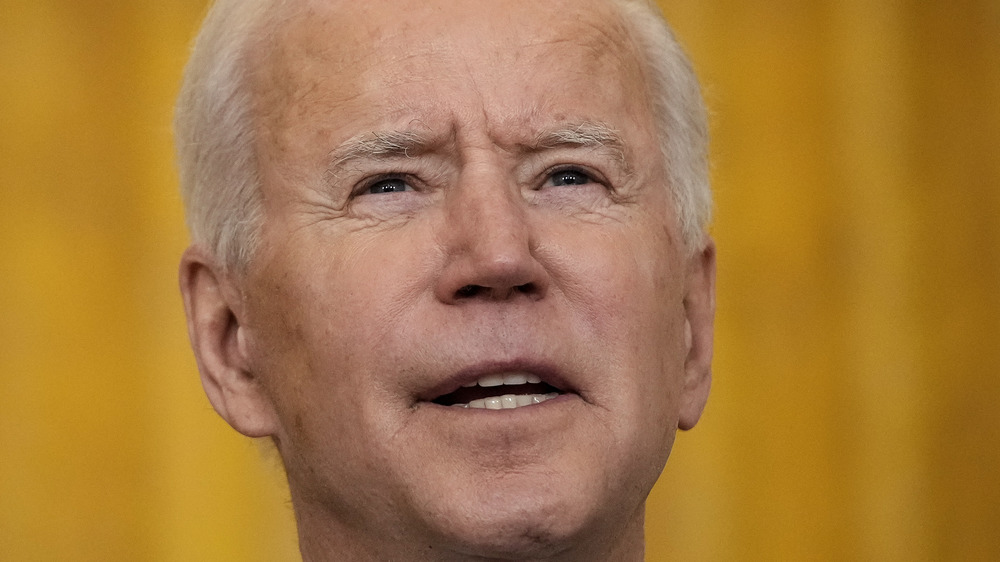 Drew Angerer/Getty Images
President Joe Biden has been in the White House for two months now, after being sworn into office on Jan. 20 along with Vice President Kamala Harris (via CNN). While Biden and his cabinet have been busy at work trying to undo some of the damage the Trump administration left behind, it's been wildly refreshing to cruise Twitter and not see a plethora of tweets discussing what the leader of the United States said, did, or who he attacked on a daily basis.
That's not to say that Biden is going to be a perfect president, though, and both Democrats and Republicans know that the 78-year-old politician is going to make some news-worthy mistakes during his time in the White House. Exhibit A: on March 19, as he was boarding Air Force One, President Biden had a little mishap on the stairs leading up to the aircraft (via Twitter), and social media users can't get enough of his staircase blunder.
Joe Biden tripped not once, but twice, while jogging up the stairs of Air Force One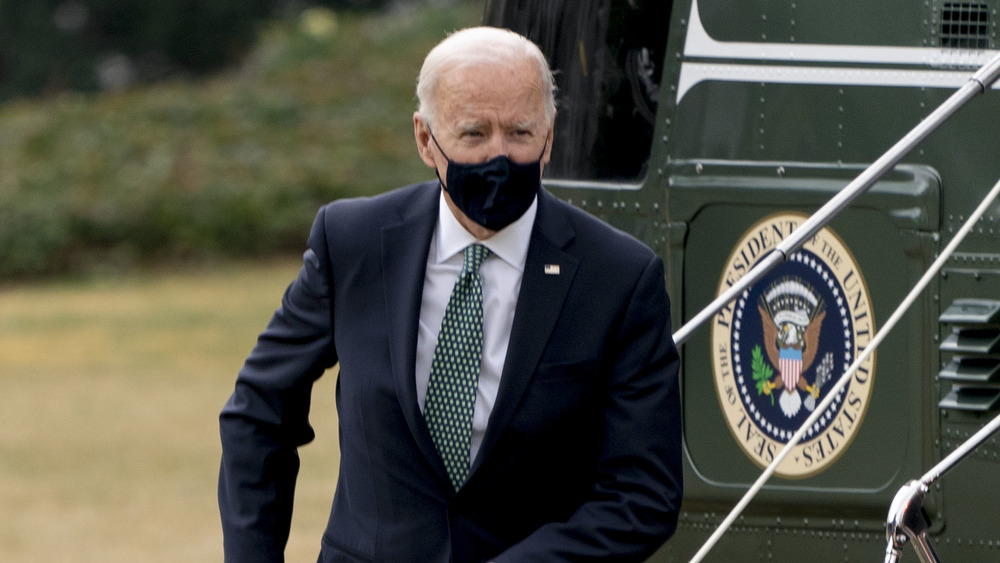 Bloomberg/Getty Images
Well, more like two-and-a-half times, as he never fully recovered from his second misstep, and took a moment to balance himself and dust off his pants as he got up and held on to both sides of the railing before making it to the top. He then saluted the crowd and disappeared into the cabin.
Ever since the video was posted to Twitter by The Hill, the internet has had a lot to say about his gaffe. "It's kind of awesome that this is the biggest scandal they can come up with these days," one Twitter user wrote. Another took a jab at former President Donald Trump, writing, "I am younger than him, relatively healthy, & yes that has happened to me as well from time to time. You know what has not happened to me? Walking ever so slowly down a ramp w/a minimal decline w/the assist of another person. Or using two hands to gingerly hold a glass of water."
The FOX news jokes also poured in, with one Twitter user writing, "FOX news will be running this on all segments until the next scandal of him wearing a tan suit surfaces," and another saying, "This will be the lead story on Fox News for the next month. Where's Sean Hannity?"
Twitter also joined in on the conversation, adding their two cents about the Air Force One fiasco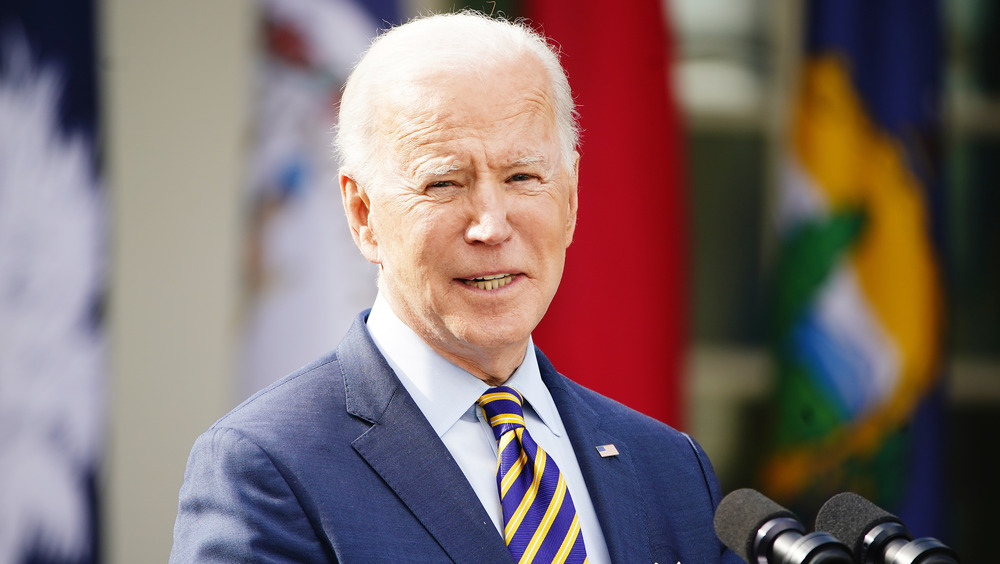 Bloomberg/Getty Images
After some right-wingers and Trump supporters entered into the conversation about Biden's trip, alleging that he's not "fit" to be the President of the United States, social media users kindly pointed out that Biden recently suffered a foot injury (via AARP), and that may have contributed to his fall. "He literally has a recent foot injury he is still recovering from. I wonder why y'all didn't add that context?" one social media user wrote, while another backed up their claim, writing, "He has that broken foot. Poor guy. He probably is in pain. Those dress shoes need to be swapped out for something more supportive."
If anything, Joe Biden's misstep really just proves one thing to the world: He's human. After all, who hasn't tripped going up the stairs, down the stairs, on a flat surface, over a crack in the sidewalk, etc.? And by the looks of it, Biden recovered just fine after his trip, which is all that matters.