Tyra Banks' Auburn Hair Color That Fans Envy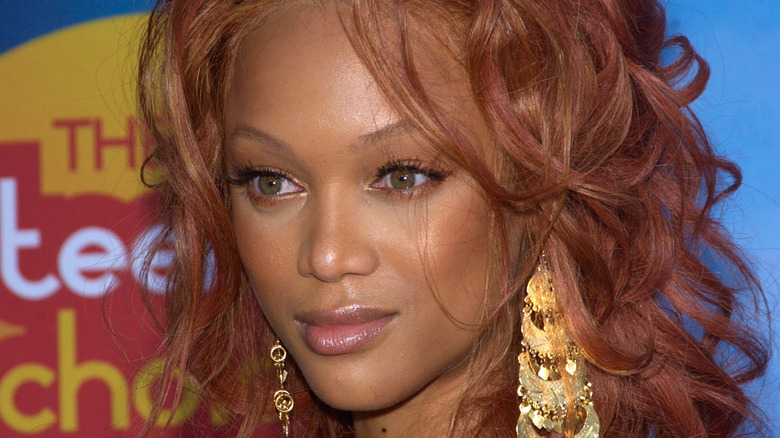 Featureflash Photo Agency/Shutterstock
Auburn is a beautiful shade of red-brown that many blondes and brunettes consider getting when it gets cooler outside. And why not? Adding a little warmth to your hair softens your look and makes you look younger, too. It's no surprise that Tyra Banks likes a good hair switch-up. The supermodel has tried about every color under the sun on photo shoots and red carpets, and her hazel eyes complement all those different hair shades. This includes red hair. Banks debuted red curly hair in 2004 and looked incredibly classy with her ginger waves, as per Elle. The deep auburn hue that Banks chose was a gorgeous shade of dark cherry. With every It-Girl going red nowadays, we have to remember that Banks has been sporting auburn hair for decades.
And there's a reason why she looks so incredible in that shade. "According to 16th- and 17th-century pagans, redheads symbolized magnetism and mysticism," says Tobias Anthony, the author of "Ginger Pride: A Redheaded History of the World" (via Allure). And who doesn't want to ooze a little mystery? If you think only fair-haired people can rock red hair, think again.
Tyra Bank's auburn hair is perfect for darker skin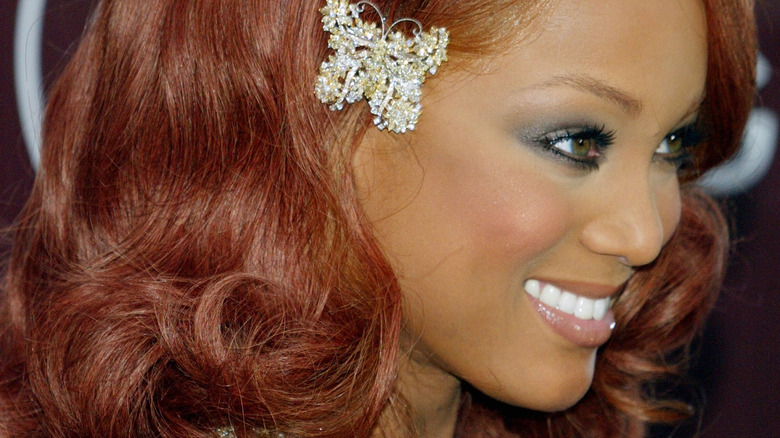 Kevin Winter/Getty Images
Tyra Banks has been experimenting with colors for years, and she keeps coming back to this sophisticated shade of auburn hair. The supermodel chose red as her signature hair color during the earlier years of "America's Next Top Model" and looked incredible, as per Revelist. If you have naturally dark hair and want to go bright, colorist Mark Mileti of Studio B Salon in New York City recommends choosing a shade that compliments your specific skin tone. "When I formulate [color] for clients and a fiery auburn is desired, it is very important not to go too far from the natural color so as not to throw off the eye color or skin color," he told Byrdie. "Too many times reds are unsuccessful because they go too fiery at the base (or root), drawing away the woman's natural coloring."
If you're nervous about making a permanent color change, colorist Jenna Perry recommended getting a hair gloss instead. It can add a red tint to your hair without bleaching or damaging it. "Glosses are not permanent, there is no damage to the hair, and they add shine and depth," Perry told Glamour. Red hair can be tricky to maintain, but it's possible if you have the right products. Colorist Olivia Casanova of IGK Salon told Cosmopolitan, "Make sure you have a color-safe, sulfate-free shampoo and conditioner to keep your shade nice and vibrant at home."