Rihanna's Auburn Hair Look That Fans Envy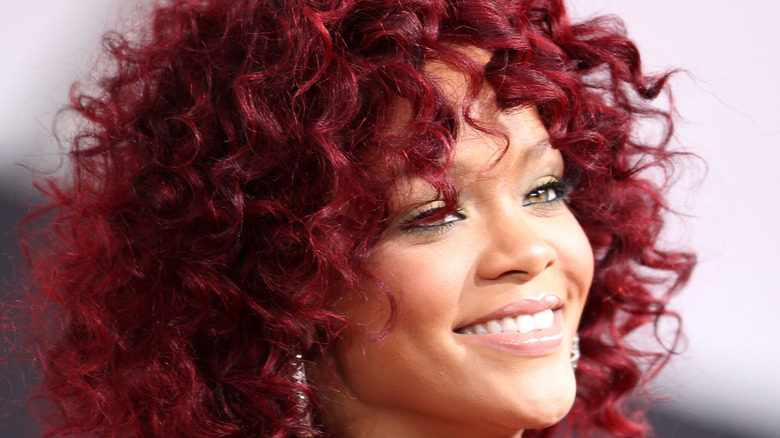 Christopher Polk/ama2010/Getty Images
Rihanna is a superstar who has continued to inspire us with her hair, makeup, style, and music since 2005. This Barbadian beauty with piercing eyes looks gorgeous in all hairstyles and, over the years, she has gone from angled bobs to long curls and everywhere in between. We are just so jealous of her every look! 
Rihanna has been working with hairstylist Yusef Williams since 2009, and when asked what his favorite Rihanna look was, Williams told Glossy, "They're all trendsetting works of art. We like to have fun; we like to create, we like to be expressive." When you are Rihanna, you look good in everything!
In 2010, RiRi debuted cherry-red hair for her music video "Last Girl On Earth," and it was so huge that thousands of people Googled the term "Rihanna Red Hair" per month (via Arogundale). She was featured on the cover of Vogue with her fiery red look, and fans everywhere wanted to look like her, and who could blame them? Another singer, Bebe Rexha, was so inspired by Rihanna's red hair circa 2010 that she decided to go red too and told Refinery29, "When Rihanna had that red, it was an iconic moment." 
The Fenty founder has amazed us with one gorgeous look after another throughout her career. She looks absolutely fabulous, whether she is a blonde, brunette, or redhead, although we have to say we especially love her auburn look. 
Rihanna's auburn hair is the perfect mix of warm tones that accentuate her eyes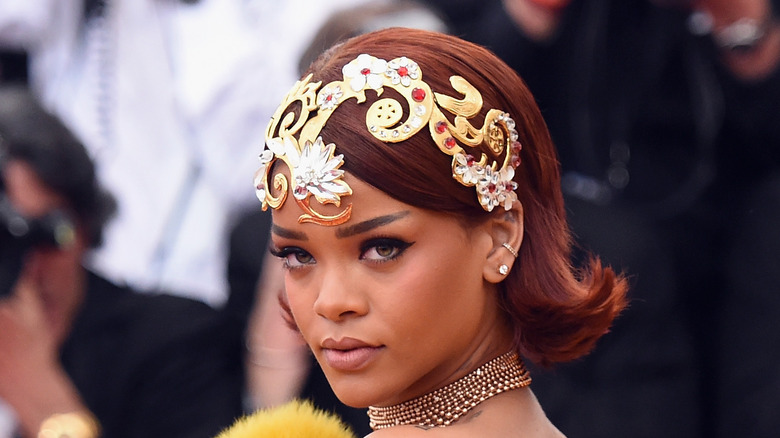 Mike Coppola/Getty Images
Did you see Rihanna at the 2015 Met Gala sporting a furry, yellow dress by Guo Pei with an extraordinary train and a short auburn bob (via PopSugar)? If anyone could pull off such a colorful look, it would be her.
If you are thinking of going auburn like Rihanna, New York City-based celebrity hair colorist Mark Mileti told Byrdie, "When determining whether a person can be a great auburn, the truth is in their eyes. I always look for warm flecks in the eye — copper or golden tones. Even blue eyes can have warm undertones." 
Honestly, we think Rihanna could rock any hair color, but her piercing hazel eyes with specks of gold look especially lovely with auburn hair. At the 2017 Grammy Awards, Rihanna showed up in long wavy auburn locks that she decided to color that same day (via Good Hair Day). 
Her hairstylist said they were going for a more laid-back look yet keeping it carefree and youthful. When asked how the hair color chameleon takes care of her ever-changing hair, Yusef Williams told Global Grind, "My top 3 care regimens that I always advise her are (1) always deep condition; (2) less is more when it comes to hair products, in other words, use less products in the hair; (3) minimize the use of heat on her hair."