The TikTok-Viral Skin Tint That Gives The Perfect Minimalist Look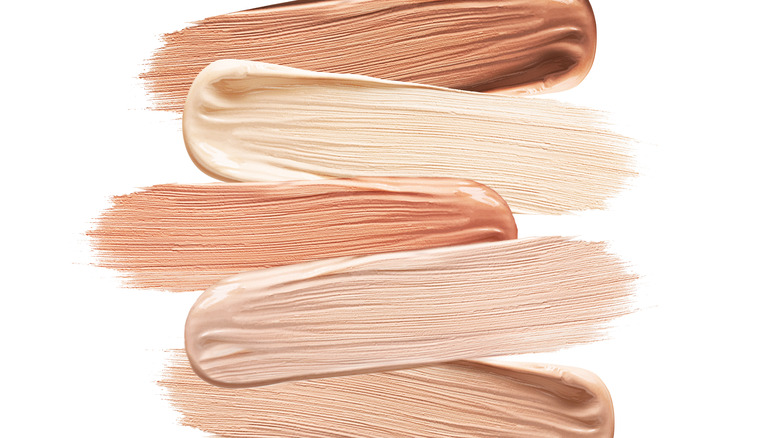 puhhha/Shutterstock
Makeup artists and beauty enthusiasts have been sharing their favorite beauty products on TikTok to help us discover what might just make our lives easier. After all, there's a good reason why TikTok's collection of TikTok Made Me Buy It videos have over 7.6 billion views, as of this writing. Among the collection of must-have items — which feature everything from a levitating bulb lamp to vinyl records — is the Ilia Super Serum Skin Tint SPF 40 Foundation. As InStyle notes, TikTok has helped the "clean beauty" trend go viral, thanks to countless videos promoting this minimalist beauty product. From users who are "obsessed" with Ilia Super Skin Serum, per TikTok, to those claiming it's perfect for all skin types, via TikTok, the social media platform is putting the product on the map in a big way.
In good news for all of us, this foundation is also approved by the experts! New York-based dermatologist Dr. Shereene Idriss advises that beauty lovers use a hydrating foundation, which "is crucial to your routine if you have dry skin, because healthy, balanced skin requires moisture," per Cosmopolitan. Idriss recommends foundation with hydrating ingredients like hyaluronic acid, which is what's included in the Ilia Super Serum. Makeup artist Tobi Henny is a fan of this clean beauty brand because they use all-natural ingredients. "I love this formula, as it can be melted into the skin with your fingers," he told Byrdie. So, what's stopping you from trying out this multi-purpose, viral product that can take care of your skin and accentuate your true beauty?
Ilia Super Serum is makeup with skincare benefits
Ilia Super Serum was named on Allure's 2020 Best of Beauty list, as it's technically makeup, but with all the benefits of skincare. Senior editor Dianna Mazzone told Allure, "I'd use this product for the glow alone, so the fact that it's loaded with the actives I usually use in serum-form is a bonus." We know that this product has a cult-like following for many reasons, and one of them is because it does the job of multiple products. If you prefer the minimalist look, then this skin tint is exactly what you need.
As Glamour reports, the hybrid skincare-makeup product includes niacinamide, hyaluronic acid, and squalane to promote even skin tone, and boost the skin's moisture level and elasticity. Ilia Super Serum comes available in 30 different shades, per Ilia Beauty, so users will easily be able to find one that perfectly matches their complexion. If you're looking for dewy skin, a few drops of this skin tint can moisturize, protect, and leave skin glowing, as Refinery29 notes. Talk about multitasking superheroes for our skin! Ilia Super Serum also features SPF to protect users from the sun, and reduce the appearance of fine lines and wrinkles. Not to mention, this product was featured among the 2020 Byrdie Eco Beauty Award winners? We might be heading out to pick up a bottle for ourselves.