Mistakes Everybody Makes When Shopping For Winter Clothes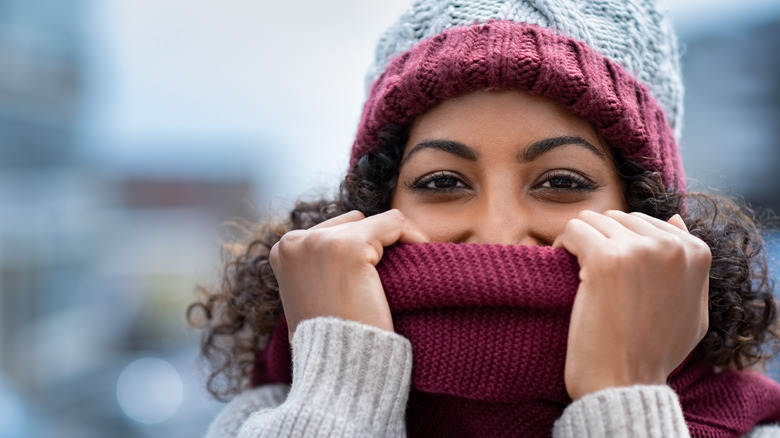 Rido/Shutterstock
Maybe winter isn't your favorite season, but you don't have to put up the white flag when it comes to fashion. Even though it's cold and gray outside, you can add some cheer to your closet. According to PureWow, vibrant, eye-catching colors like lime green, violet, and hot pink are a top trend this winter. Besides brilliant solids, bold prints are also gaining in popularity. Breathtaking geometric print coats and colorful plaid skirts are ready to banish those winter blahs (via Marie Claire).
While refreshing your wardrobe, shifting your mindset can also make winter more appealing. Kari Leibowitz, a psychology researcher who studied "wintertime mindset," told NBC News the trick to making winter more appealing is to lean into it. That means bundling up in cozy winter clothing and going outside to experience the season fully. But before you hit the stores or fill an online cart, examine your seasonal clothes and keep only the pieces you love. Donate any items that no longer fit or reflect your current style (via Escape Outdoors). After your winter clothes are pared down, it's time to fill any gaps. When you begin purchasing, be sure to avoid these common mistakes.
You choose the wrong outerwear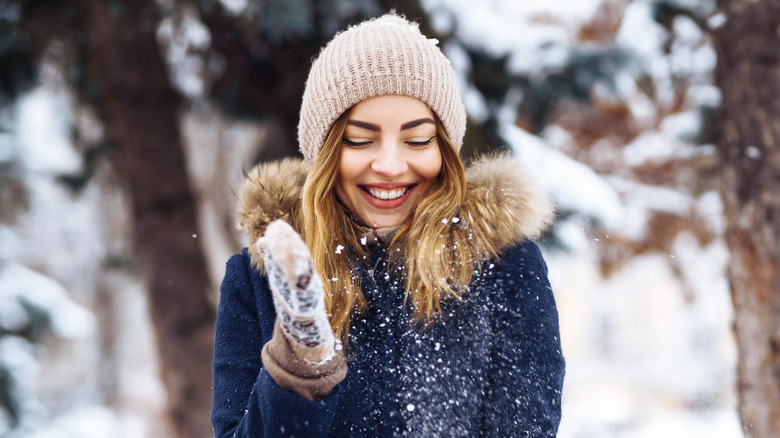 Maxbelchenko/Shutterstock
A warm, stylish coat is one of the most important investments you can make for a comfortable winter. According to Alot Living, when buying a coat, consider a trendy and classic style. Save time and money by buying a jacket you can enjoy for multiple winters. Also, choose a form-fitting coat so you look sharp and elegant. "Look for a coat that defines your waistline, is tailored to your body and accentuates your shape. Don't love what you find in the store? Take it to your tailor to better fit your body or add a belt to cinch your shape," Rebekah George, a TV host and former fashion and beauty editor, told RetailMeNot. 
If you're looking for something cozier, consider a puffer jacket. Long or short, puffer jackets are everywhere. In addition to being trendy, puffer jackets excel at insulating you from the cold and keeping you dry in the snow or rain. Styles range from shiny metallic options to classic neutrals (via Cosmopolitan). Some puffer styles also feature a belt for a retro skiwear-inspired look (via PureWow). While we're talking outerwear, don't forget your hands. A pair of stylish gloves can keep you warm and chic. Consider an elegant leather pair with touchscreen tech so you can use your phone and keep your fingers warm (via Who What Wear).
Forgetting layers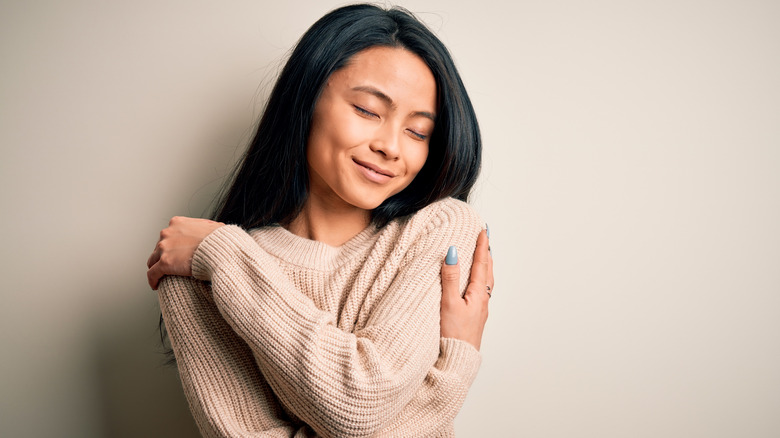 Krakenimages.com/Shutterstock
When you're styling a cold-weather outfit, layers are essential. Indoors or out, these base layers provide a warm foundation. They help extend your wardrobe and let you wear your favorite pieces over multiple seasons. A pair of insulating tights are the ideal companion for skirts and dresses. If you prefer the look of a bare leg, Escape Outdoors recommends investing in leggings that match your skin tone. Besides leggings, consider a turtleneck bodysuit to provide a warm thermal base layer for any outfit (via Vogue).
Sweaters are a perennial staple for your top layer. According to Lucia Gulbransen, a personal shopper and image consultant, chunky cable knit sweaters are popular right now. Gulbransen also likes collared sweaters for layering over long-sleeved tees (via Today). To keep your layers looking stylish, Bill Machin of CoziBear Boutique suggests combining a mix of textures, such as a cotton top paired with a wool cardigan. For a polished look, Machin advises using only two color families per outfit. As a final touch, add a scarf. This popular accessory is the perfect way to complete any outfit with a cozy elegance. With multiple ways to tie and style a scarf, you can take your layering skills to the next level (via InStyle).