How Piers Morgan's Rant About Meghan Markle Broke A Record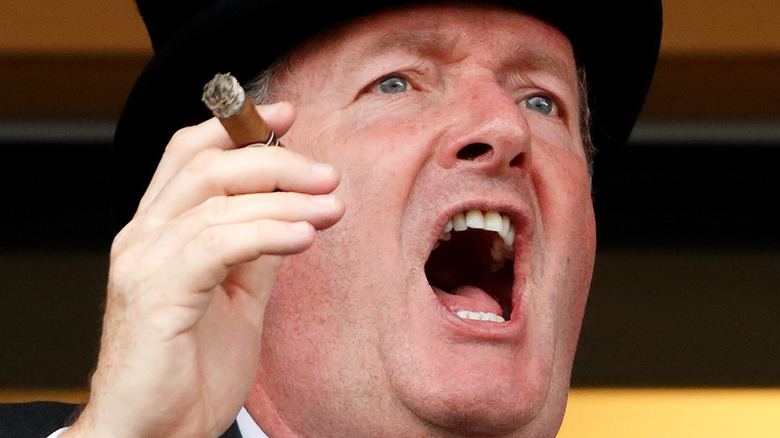 Max Mumby/Indigo/Getty Images
Piers Morgan's infamous hissy fit on "Good Morning Britain," which led to the TV personality losing his position at the hit talk show, is something even the man himself regrets. As The Independent notes, Morgan stormed off the set after a testy row with colleague Alex Beresford over Meghan Markle, whose tell-all interview with husband Prince Harry and Oprah Winfrey had just aired. Morgan railed that he "didn't believe a word" Markle said, particularly when it came to her debilitating mental health issues while she was part of the royal family. The clip was a huge hit on social media, generating tens of thousands of complaints to industry watchdog, Ofcom.
During a chat with Daily Mail, Morgan admitted, "Walking off the show was not very on-brand ... I wish I hadn't done it." He even acknowledged realizing it was the wrong move while it was actually happening. "I shouldn't have done it but I was annoyed and worried that in my state, I might've said something I regretted. I needed a little time out," the broadcaster stated, adding that he's "incredibly thick-skinned" yet "definitely thin-skinned." Morgan also argued, however, that Beresford "got too personal," which is what ultimately set him off. He doesn't regret what he said, though, reiterating that he still doesn't believe anything Markle says.
According to Morgan, ITV approached him about coming back, and he reckoned it'd be a major ratings boost (per The Sun). Judging by his record-breaking display earlier this year, he might be right.
Piers Morgan celebrated receiving this illustrious honor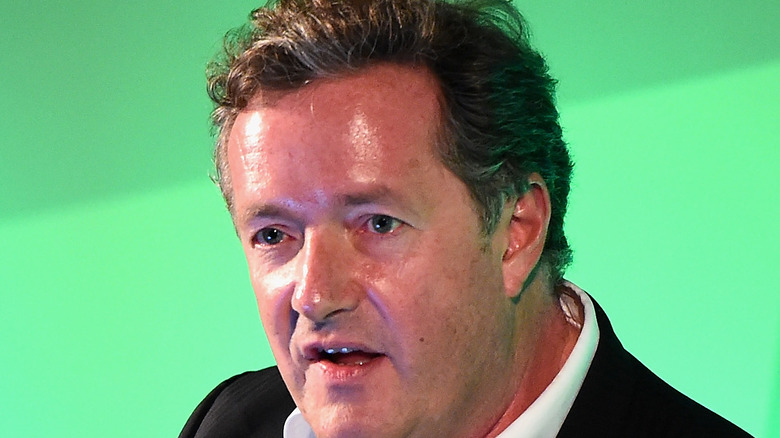 Eamonn M. Mccormack/Getty Images
Newsweek notes Piers Morgan is openly celebrating after his Meghan Markle rant was officially named the most complained about TV moment in Britain in 2021. Watchdog Ofcom released its 2021 review, and Morgan's infamous storming-off moment easily topped the list of what annoyed viewers most. Morgan gleefully shared the news on Twitter, writing, "Delighted to have perpetrated the most complained about moment on UK TV for 2021.... especially because every single one of the absurd complaints was rejected. Thanks Princess Pinocchio!" The TV presenter was, of course, utilizing his offensive nickname for Markle, which Morgan frequently deploys to reiterate how much he disbelieves her.
"Oprah with Meghan and Harry" was also among the most complained about TV moments of the year, receiving 6,486 complaints from the public. Morgan's behavior, meanwhile, garnered 54,000 complaints. During the ground-breaking chat, Markle admitted to being a victim of racism during her time as a royal, while her husband, Prince Harry, revealed they defected out of concern Markle would suffer the same fate as his late mother, Princess Diana. Morgan was initially reprimanded for his comments by Ofcom, but it ultimately determined he didn't breach broadcasting rules. Adam Baxter, director of Standards and Audience Protection at Ofcom, described it as "our highest-profile case this year" in a statement. Clearly, it was even more attention-grabbing than he realized.