Why Donald Trump Is Pleasantly Surprised By Joe Biden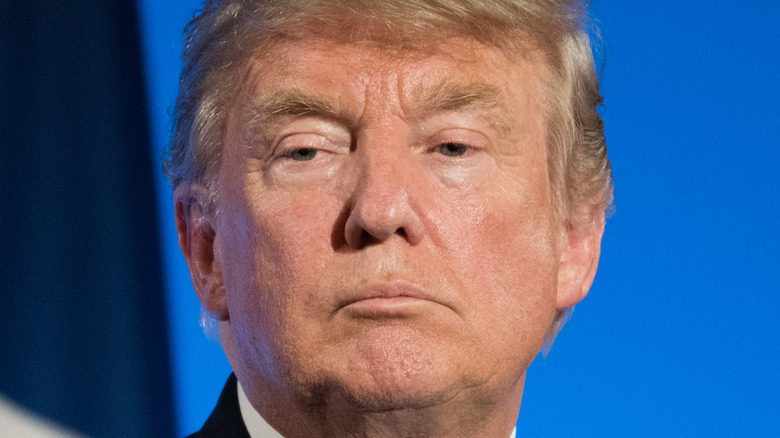 Frederic Legrand - COMEO/Shutterstock
While former and current presidents from different parties don't always agree on everything, they usually agree on some things — and the peaceful transfer of power is often one of them. 
For former President Donald Trump and current President Joe Biden, it's almost unheard of them agreeing on anything. That includes the peaceful transfer of power as Trump still refuses to concede the 2020 election and urged his supporters to march to the Capitol on Jan. 6, 2021, to stop the electoral votes from being certified.
However, there is one thing both men have agreed on from the start: getting the COVID-19 vaccine. Trump and Biden, two men in their 70s and at risk for a more severe outcome if infected, each received their first dose of the vaccine as soon as it was available to them. 
They apparently also feel the same way about booster shots, as evidenced by remarks both men made in December 2021 as the Omicron variant surged across the United States.
Donald Trump promotes the COVID-19 vaccine despite supporter protests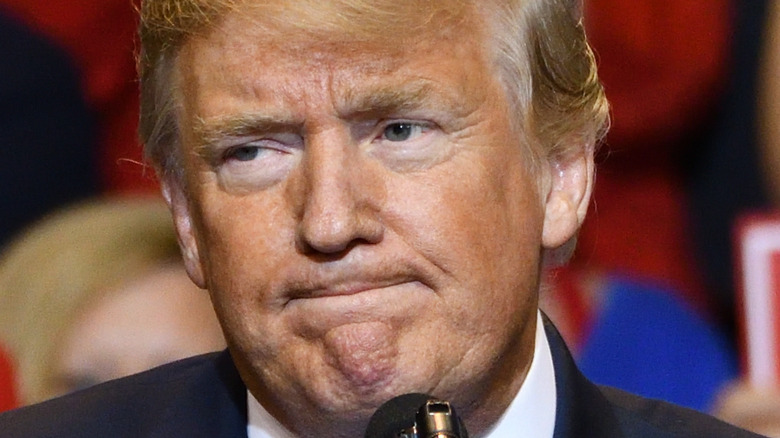 Evan El-Amin/Shutterstock
During his speaking tour with former Fox News host Bill O'Reilly, Donald Trump told the audience that he received his COVID-19 booster, promptly receiving "boos" from the audience, but that didn't deter him from continuing. 
He went on to tout the vaccine in general — something that was developed and first distributed while he was still president — while also telling the crowd that refusing the vaccine is "playing right into their hands," without specifying whose hands they might be.
"Look, we did something that was historic, we saved tens of millions of lives worldwide. We, together, all of us, not me," he said (via CNN). "Take credit for it. Take credit for it. It's great. What we've done is historic. Don't let them take it away. Don't take it away from ourselves."
He did speak out against vaccine mandates but seemed to put to rest the idea that the vaccine is dangerous or unnecessary. "If you don't want to take it, you shouldn't be forced to take it," Trump said.
Joe Biden gives surprising credit to Donald Trump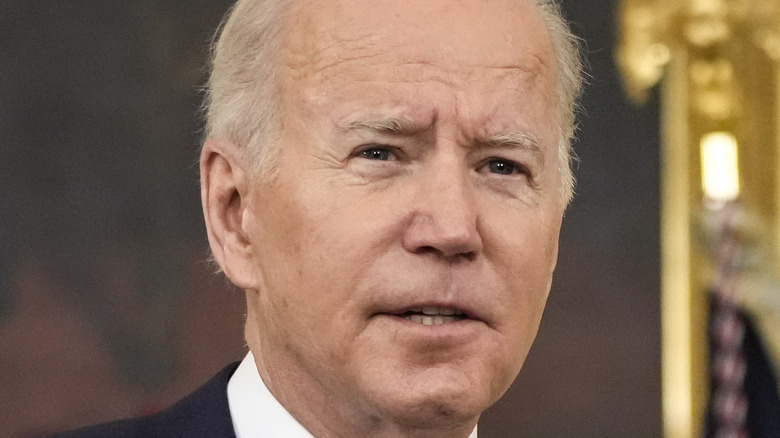 Drew Angerer/Getty Images
In a speech to the nation on Dec. 21, 2021, touting the efficacy and importance of boosters, President Joe Biden went on to explain that he had already received a booster, as did former President Donald Trump.
"I got my booster shot as soon as they were available," Biden said (via CNN). "And just the other day former President Trump announced he had gotten his booster shot. It may be one of the few things he and I agree on. People with booster shots are highly protected. Join them. Join us."
Biden also went on to give credit where credit is due, acknowledging that the vaccines were developed under the Trump administration's Operation Warp Speed. 
"Let me be clear. Thanks to the prior administration and our scientific community, America was one of the first countries to get the vaccine," Biden said. "Thanks to my administration and the hard work of Americans, we led a roll out, made America among the world leaders in getting shots in arms."
When Trump appeared on Fox News later that night, he admitted that Biden surprised him with his remarks — but in a good way.
"I'm very appreciative of that — I was surprised to hear it," Trump said. "I think it was a terrific thing, and I think it makes a lot of people happy. I think he did something very good. You know, it has to be a process of healing in this country, and that will help a lot."