The Truth About Bobby Flay's Relationship With Christina Perez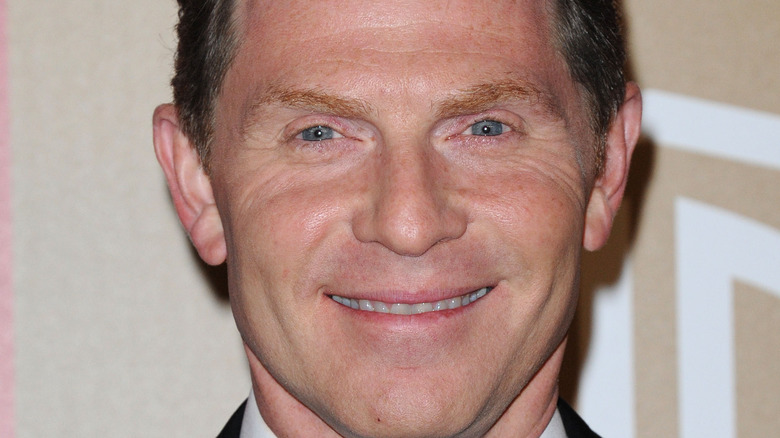 DFree/Shutterstock
Bobby Flay is one of Food Network's Iron Chefs, and he's led a decades-long career in the food industry that's included also hosting more than a handful of television shows and ultimately going on his own. Bobby Flay leaving Food Network may not have been on anyone's 2021 bingo card, but everyone can rest easy knowing that Flay and Food Network have struck a new deal late in the year with him still making content for the network and its parent company, Discovery (via The New York Post).
Flay's potential exit from Food Network is only one of the reasons his name has circulated so much in 2021. The cooking personality has led quite the interesting love life lately, which now includes his new girlfriend, writer and artist Christina Pérez.
Flay's relationships with his ex-wives have been discussed rather widely online, and so has his relationship with Giada De Laurentiis. Still, all eyes are on Pérez now, who hasn't been shy about her newfound love. This month, Pérez posted a 3 second video on Instagram that shows her widely smiling with Flay, with her kissing his cheek in the end. The two appear happy, but just what is the truth about their relationship?
Bobby Flay and Christina Pérez's relationship began over a year ago
The relationship between global superstar chef Bobby Flay and writer Christina Pérez was born a year ago, per People, as the two met each other through mutual friends. From there, the connection was rather instant. "We were at an art gallery opening, and I walked over to two friends, and I was like, 'What are you guys talking about?'" Flay told People. "They were like, 'We're talking about you! It's so nice to see you so happy."
Flay has been quick to note that everyone in his life has noticed how well the relationship has benefited him as a person. He's been brighter and happier, and everyone is telling him that their connection radiates positivity. "She's so lovely. I'm really happy to have met her," Flay continued. "My life is so crazy hectic, and she's always the light at the end of the day for me."
According to Page Six, Flay didn't reveal Pérez as his girlfriend until November 2021, nearly a year after they began dating. He arrived at the 2021 Breeders' Cup World Championships with her on November 5. Their reveal must have been good luck, too, as Flay's horse won the championship, earning him a $520,000 prize.
Pérez's personality is bubbly yet down to earth, which complements Flay's personality. Her writing credits include Harper's Bazaar, Vogue, Glamour, GQ, Condé Nast Traveler, and more, per People, and she brings all of her knowledge to her relationship. "She's teaching me to cook with a lot less meat," Flay added. "And now all of a sudden I'm a big hiker. I'm learning a little of the Zen California way."