Why Bobby Flay Is Reportedly Leaving The Food Network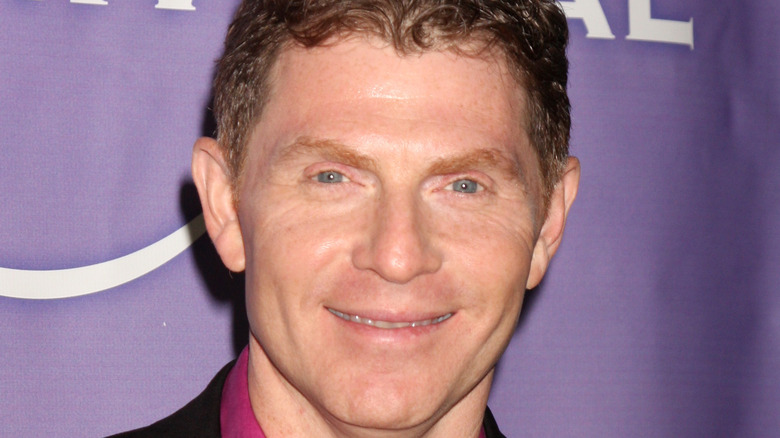 Kathy Hutchins/Shutterstock
Celebrity chef Bobby Flay is leaving the Food Network after a 27-year run (per Variety). The seasoned chef has decades of culinary experience, beginning his career as a cook when he was 17 years old and debuting on the Food Network in 1994, at 30 years old. Since then, Thrift Books reports that Flay has written 16 books, and his Food Network bio tells us he's won an Emmy award and earned a star on the Hollywood Walk of Fame. 
It's no secret that Flay's ongoing relationship with the Food Network has stoked his success. The chef was just getting fired up in his career when his first (but far from his last) show, "Grillin' & Chillin," premiered in 1996. Variety states that the Food Network helped propel the chef into the spotlight, making him one of the world's most recognized culinary figures. After close to three decades' worth of successful shows, the Food Network and Bobby Flay agree: It's time to part ways.
The Food Network has stopped contract negotiations
Variety reports that Bobby Flay and the Food Network have been negotiating a new contract for "some time," but a source shared that the network has stopped all negotiations. The steakhouse owner's most recent three-year contract with the network expires at the end of 2021, and it appears that the Food Network studio will no longer be Flay's kitchen.
Representatives for the 56-year-old chef would not comment on the situation, as they referred to their policy regarding no commenting during active negotiations. While Variety speculated that the Food Network may be playing "hardball" with their negotiating tactics, sources close to the network revealed that the decision to end talks was due to the financial terms being set so far apart. The break comes on the heels of Food Network's new contract with fellow celebrity chef Guy Fieri — three years, and $80 million, making Fieri the highest-paid chef presently on television, as Deadline reports.
The Daily Mail recalled the 16 series Flay has hosted for the Food Network, along with the incredible success the pairing has brought each other. Although negotiations have ended, we can't help but wonder if this is a temporary setback or a permanent position.