The Ugly Christmas Sweater Trend Explained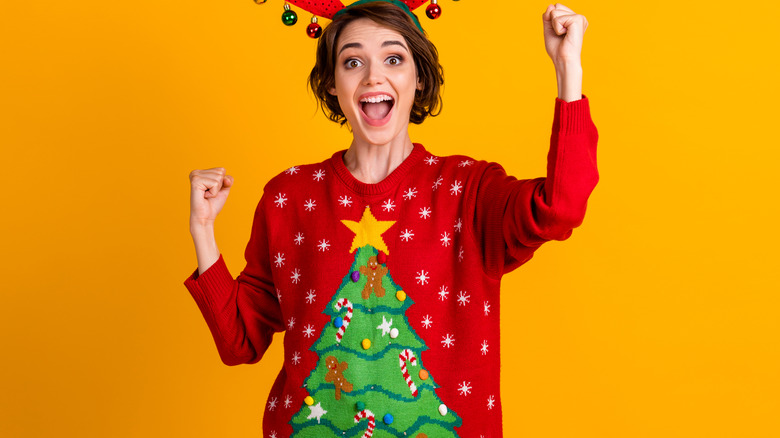 Roman Samborskyi/Shutterstock
When the most wonderful time of the year arrives, it's time to break out those boxes of lights, ornaments, and other home decor — while it's also time to break out the holiday wardrobe, as well. You might have a lonely dress for Christmas Day, something sparkly and festive to ring in the new year a week later, and of course, your favorite attire for those office parties or cookie exchange celebrations — a Christmas sweater. However, this is not any Christmas sweater, it's an ugly Christmas sweater and you're proud.
Whether the sweater has a picture of Dr. Seuss' the Grinch or Charlie Brown and his sad and pitiful little Christmas tree, it's definitely not a fashion statement that would make it onto the cover of a magazine. But, an ugly Christmas sweater is fun. You may be asking yourself where this fun trend came from and how ugly Christmas sweaters have come to define the 21st century holiday season.
Christmas traditions add a sense of calm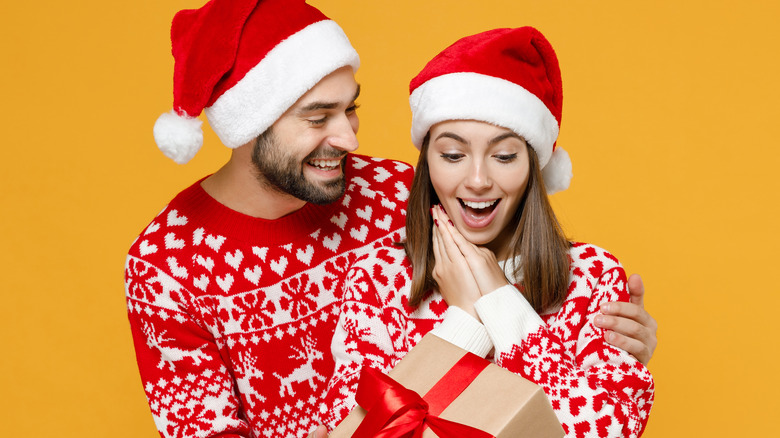 ViDI Studio/Shutterstock
Christmas traditions help give the holidays a familiar feel no matter how many difficult things might be going on in your personal life or in the real world at the moment. Keeping up with traditions can serve as a break from the hustle and bustle of shopping, wrapping, and planning — and the anxiety that comes with holidays in the age of COVID-19. Maybe you are worried if you should spend time with family if you are all vaccinated, despite National Institute of Health and Infectious Disease Director Dr. Anthony Fauci saying it's fine in 2021, according to CNN. Traditions help remove some of that stress.
From fooling your kids with by moving an Elf on the Shelf each night so the little ones think Santa's helper is checking if they are naughty or nice, to keeping an advent calendar counting down the days until December 25 arrives (via Good Housekeeping), traditions are familiar and soothing in a world that often seems like it's gone mad. One such tradition is donning a completely tacky holiday-themed sweater, known as the ugly Christmas sweater, and wearing it at home, to work, or to parties with other vaccinated family and friends. But where did this tradition even come from?
A new kind of Christmas trend meant for fun
While the tradition of wearing what The New York Times refers to as a "kitschy holiday sweater" or "novelty holiday sweater" originated in the middle of the 20th century, we can thank pop culture for turning these fun sweaters into a holiday tradition now known as the "ugly Christmas sweater."
When Chevy Chase's Clark Griswold donned one in "National Lampoon's Christmas Vacation," a new kind of holiday wear was born. Sure, it had been around for generations as a warm and cozy sweater with winter designs on it, but when comedy campiness was introduced, this type of sweater became a tradition unto itself. Of course, ugly is in the eye of the beholder, but if you have a sweater decked out with a giant reindeer head emblazoned on the front with large snowflakes falling around it, odds are you are wearing an ugly Christmas sweater.
Now, people throw ugly Christmas sweater parties to see who can outdo the other, with prizes given out at the end of the night. And even comedian Jimmy Fallon holds a "12 Days of Christmas Sweaters" countdown on "The Tonight Show Starring Jimmy Fallon" each year. So, while the world around you seems to be upside down in the third decade of the 21st century, you know you can count on an ugly Christmas sweater to make you smile, laugh, and feel the joy of the holiday season.