Is Rare Beauty Liquid Foundation Worth It?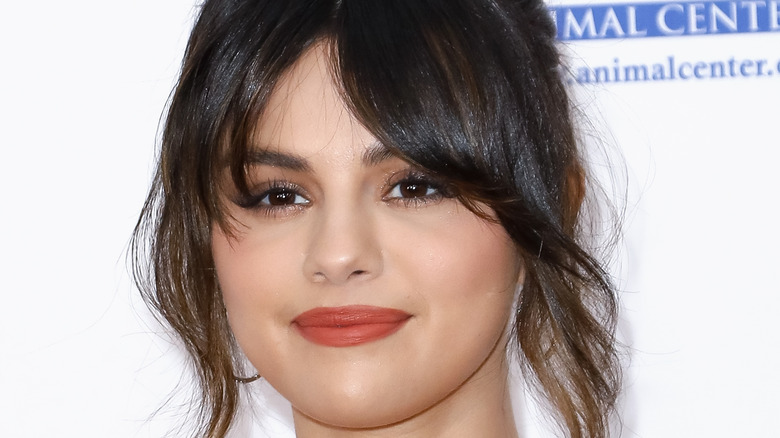 Tibrina Hobson/Getty Images
The world loves Selena Gomez because she has gracefully transitioned from a Disney star to America's sweetheart. In Hollywood, where it's hard to know what's real, Gomez has maintained a loyal set of celeb friends and been quite vocal about her struggles with mental health (via Harper's Bazaar). 
Even when Gomez came out with her own beauty line, it was different from others. She told CNN, "I view makeup as an accessory and something to be excited about. And that's really what I want Rare Beauty to embody." Gomez added that she used to wear makeup in the past to feel pretty, but her line's goal is to let people choose as much or as little makeup to feel comfortable. Founded in 2020, Rare Beauty promises to donate 1% of all sales to mental health resources in underserved communities with the hopes to raise $100 million in the next decade (via Fox Business). It makes you feel good to use makeup that gives back to the community. It also helps when the product itself is good. 
Rare Beauty Liquid Touch Weightless Foundation is among the most popular items in the makeup line (via Byrdie). This liquid foundation feels like a serum but is highly pigmented, and you can customize the coverage. It has a very natural finish when you apply one layer, and if areas of your face require more coverage, you can do that without looking too cakey (via PopSugar). That's a win-win.
The Rare Beauty liquid foundation just melts onto your skin
Rare Beauty Liquid Touch Weightless Foundation is also a long-lasting foundation with a serum's lightness. It can even out your skin tone and smooth all the pores without drying them out. Kudos to Selena Gomez for supporting inclusivity in her beauty line as well by creating a foundation that has 48 shades. Gomez told Byrdie, "I wanted every single person to be able to find their perfect shade." Not only is it inclusive, but it's well-beloved. 
Glamour loves this foundation because it goes on smooth without creasing and feels very lightweight. Allure also recommends the liquid foundation because it blends beautifully with just your fingers. It has a doe-foot wand that makes it easy to conceal redness and dark spots. 
Insider is a fan of its breathability and the fact that it lasts all day, which makes it definitely worth buying. The "Only Murders in the Building" star even told Elle, "I wanted the brand to be there for girls and guys and whoever to feel like it's okay to not look like everybody else." And, we love that. 
The Rare Beauty Liquid Touch Weightless Foundation retails for $29, which falls in foundations' mid-range cost. Given the airbrushed finish, weightless feel, and price, we definitely think this foundation deserves a place in your vanity.