Facial Oils That Are Safe For Acne-Prone Skin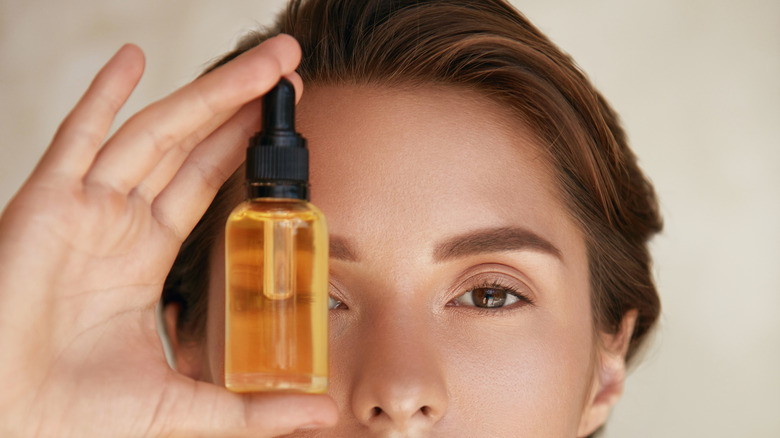 puhhha/Shutterstock
It may sound like an oxymoron when we say some facial oils are great for acne-prone skin because the last thing you need is something clogging your pores to give you more zits. However, you will be pleased to hear that some non-comedogenic facial oils exist and won't clog your pores. Non-comedogenic oils keep acne-prone skin hydrated, soft, and free from breakouts (via Healthline). Board-certified dermatologist Jennifer Herrmann told Byrdie, "Plant-based oils contain essential fatty acids, vitamins, and antioxidants, which nourish the skin but also strengthen its barrier." She added that some plant-based oils are helpful for acne-prone skin.
It is helpful to learn the comedogenic scale before choosing the right facial oil for you, though. The comedogenic scale helps measure how much a product may or may not clog your pores based on its ingredients (via The Beauty Holistic). With 0 meaning it will not clog your pores at all to 5 meaning it has the highest chance to clog your pores. Choosing a facial oil with lower comedogenic ratings will be beneficial and improve the quality of your blemish-prone skin (via Allure). Chemists Gloria Lu and Victoria Fu of Chemist Confessions told Byrdie, "Oils can impact individuals differently." They added there is no universal oil that works for everyone, so it is best to do a patch test to see if the facial oil is the right choice for you.
These facial oils can soothe and transform your acne-prone skin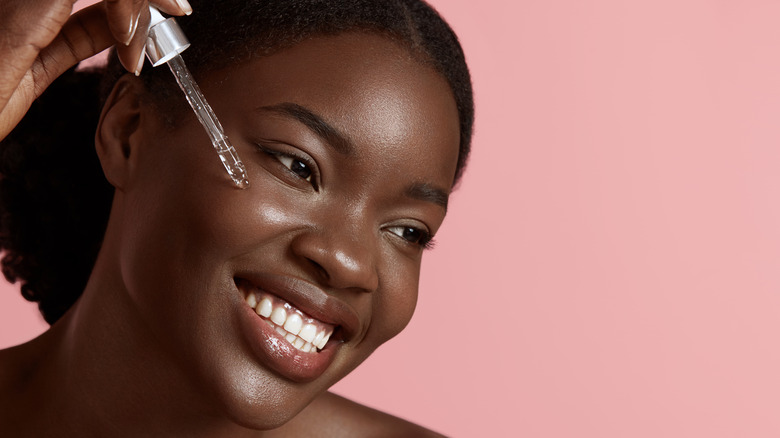 puhhha/Shutterstock
 If you are particularly prone to acne, you should look for oils with linoleic acid with anti-inflammatory properties like rosehip oil (via Byrdie). The Better Oil by Chemist Confessions has rosehip oil but feels light and moisturizes your skin. If you want a more affordable option, you can try 100% Organic Cold-Pressed Rose Hip Deed Oil by The Ordinary because it can fade acne scars and is under $10. Allure recommends the Biossance's Squalane + Vitamin C Rose Oil because it is suitable for sensitive and oily skin, with the benefits of Vitamin C to brighten your skin and lighten dark spots. Squalane is another very safe option for acne-prone skin because it can treat acne scars and prevent new ones from forming. No wonder it is a 2021 Allure Reader's Choice Award Winner.
The Strategist loves Mara Evening Primrose + Green Tea Algae Retinol Oil because it helps with hormonal breakouts along the jawline and the green tea prevents further pimples from forming. It also has retinol that helps with cell turnover for quick healing. Sunday Riley U.F.O. Acne Treatment Face Oil is considered one of the top oils for oily and acne-prone skin because it can help clear blemishes to give you beautiful, glowing skin (via IPSY). The tea tree oil shrinks pores and 1.5% salicylic acid treats acne. If you want a vegan option, Bustle loves Herbivore Botanicals Lapis All Natural Facial Oil because it has anti-inflammatory German blue chamomile and oil-balancing Blue Yarrow.
As you can see, there are plenty of face oil options out there for even acne-prone skin.