Memphis Shares What 90 Day Fiancé Is Really Like Behind The Scenes - Exclusive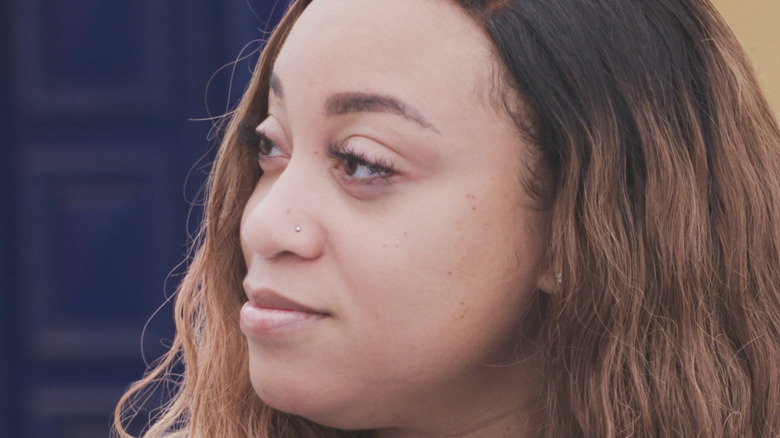 TLC
Imagine watching your favorite reality television show, and envisioning yourself in front of the camera. Now we know that isn't exactly realistic when thinking of the shows like "Keeping Up With the Kardashians," but when it comes to "The Bachelor" or "Wipe Out," it's a little easier to picture yourself as the star of all the action. After all, some reality television shows certainly source their subjects from the crowds of all of us just hoping to have our 15 minutes in the spotlight. One such franchise is TLC's "90 Day Fiancé." The hit show and its spin-offs have kept viewers coming back season after season, show after show, and it's not hard to understand why. Watching the romance between international couples unfold –- all while the K-1 visa application is looming -– is a riveting use of television time, and we can't but imagine what it'd be like to go from fans of the franchise to stars. That was the case for Memphis, who found herself in front of the camera during the spin-off, "90 Day Fiancé: Before the 90 Days." A fan of the franchise and an avid viewer of all things "90 Days," Memphis embarked on her own international romance, and found herself in front of the cameras as she navigated her new romance with Hamza.
With Season 2 of "Before the 90 Days" already kicking up attention, we had to jump on the chance to talk to Memphis. From her family's response to her new, international romance to what it's been like representing a multilingual, multiracial relationship on-screen, The List chatted with Memphis about a whole array of topics related to her time on the show. Of course, we wanted to know what behind-the-scenes moments didn't make it on camera, and what the process was like filming. After all, going from fan to star must've been a fascinating experience. Here's what Memphis shared about what "90 Day Fiancé" is really like behind the scenes.
Memphis was 'naive' about the 90 Day Fiancé filming process
When we found out that Memphis was a big fan of the "90 Day Fiancé" franchise before she made it to TLC herself, we immediately had to ask her what it was like to go from fan to star. Trying to put ourselves in her shoes -– because we've watched the show so many times, too –- we were dying to know what it was like for her to be on a reality television show for the first time, and what the production/behind the camera life was like. "Oh my gosh," Memphis started. "Being on reality TV, I don't think that we understand, as a fan, how much goes into it. You're very busy and there's a lot that you have to do. You think that, 'Oh, okay, you film here and there and that's about it,' but no. It was way more extensive than I ever anticipated it to be."
Telling us that not one day on set was like the one prior, Memphis continued by explaining that so many extraneous factors impacted what behind the scenes life was like. Explaining that she was a little naive about the whole filming process, Memphis shared that influencing factors such as weather, moods, and of course COVID-19, could easily switch things up. "You get a bunch of people together and you have to go with the flow pretty much," she said. "I was like, 'Oh, it doesn't seem too bad.' But then once I got into it, I was like, 'Holy moly.' You know what I mean? So it is quite a lot of work. It can be a little bit draining at times, but a good experience."
Hamza came to Memphis' rescue during this off-camera moment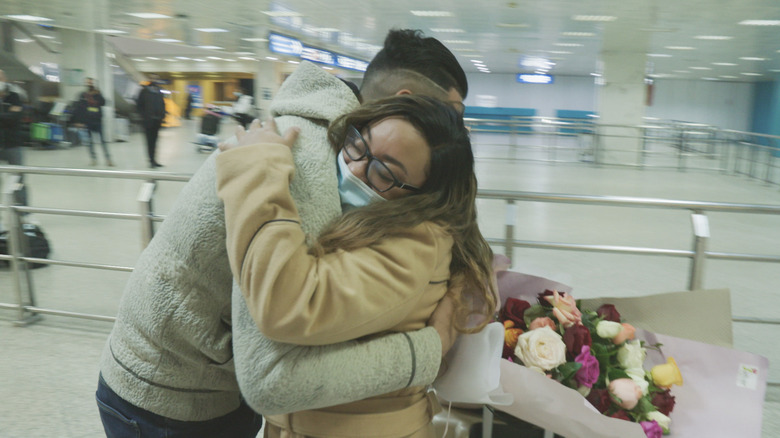 TLC
If you think that the on-screen dynamics between the couples during "90 Day Fiancé: Before the 90 Days" is dramatic, just wait until you hear about this behind-the-scenes story. During our exclusive sit down with Memphis, she shared that during a day out on the town, Hamza stepped in and pretty much saved the day. While we could explain what happened ourselves, it's best to leave Memphis to tell you about the life saving act that Hamza did –- seemingly without thinking twice.
"We were in some type of medina and I was just standing on the side of the road with another producer, not paying attention, of course," Memphis shared. "And all of a sudden, Hamza just jumps in front of me and pushes me to the side. A car was literally coming by and he pushed me to the side, and me and the producer were looking at each other and she's like, 'Did you just see that?' I'm like, 'Yes.'"
Talk about a behind-the-scenes moment that's just as riveting as what we watch during the "90 Day Fiancé" spin-off show –- and the only thing we could say in response was, "Oh, my God. You found a good one, it sounds like." So does everything work out for Memphis and her seemingly Superman-stunt double, Hamza? We're just going to have to sit tight and watch it all unfold.
New episodes premiere on Sundays at 8 p.m. ET/PT on TLC and discovery+.