The Best Petroleum Jelly Products For Your Skin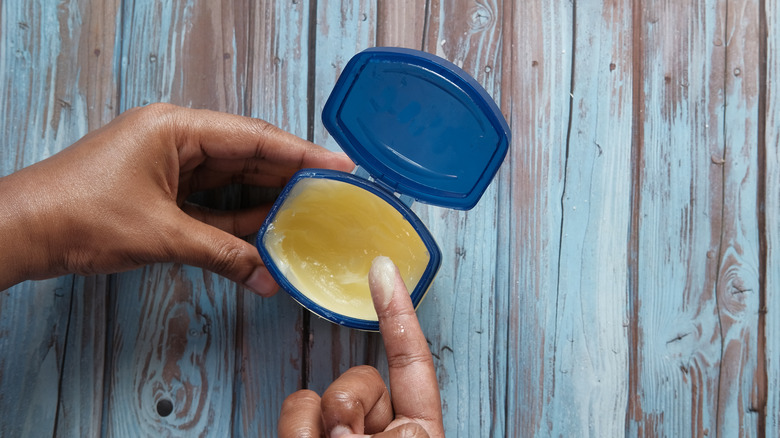 Towfiqu ahamed barbhuiya/Shutterstock
We may receive a commission on purchases made from links.
Petroleum jelly (also called petrolatum) is probably one of the oldest, cheapest, and most moisturizing ingredients that we have been using since our grandmothers and mothers tend to always have it in their homes. It is often recommended by dermatologists for its protective properties. Dermatologist Sandra Lee told Well+Good, "Petroleum jelly is very occlusive, meaning it works to keep moisture from leaving your skin by blocking exposure of the skin to air." Lee added that this star ingredient strengthens the skin's barrier and doesn't let it dry quickly.
Petroleum jelly has many uses other than just moisturizing our faces and bodies as well as healing our cracked heels and chapped lips. It can also help prevent diaper rash, remove eye makeup, and prevent stains from hair dye! (via Healthline). Petroleum jelly can also treat eczema and accelerate wound healing, according to Byrdie. Dermatologist Lily Talakoub told the publication, "Petroleum jelly is one of the safest products for the skin. It is safe on all skin types and has very little allergenic or irritant potential." However, it is not considered great for those prone to acne, as it may clog pores and cause inflammation (via The Derm Review). 
In addition to hydrating and healing, though, petroleum jelly can also help set your brows and work as a highlighter (via Glamour). With this much love and trust from doctors, no wonder it has been a staple in our makeup kits and medicine cabinets for decades.
Petroleum jelly products can soften your skin and heal your wounds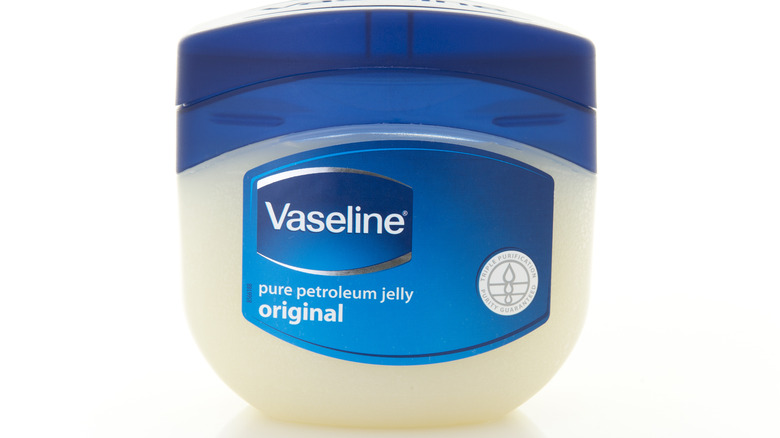 urbanbuzz/Shutterstock
Petroleum jelly is a semi-solid mix of mineral oils and waxes, first discovered by Robert Augustus Chesebrough in 1859 (via The New Times). Chesebrough packaged this jelly and called it "Vaseline" after seeing oil workers use it on their wounds. Allure recommends Vaseline 100% Pure Petroleum Jelly ($4) made of white petroleum because it can coat and soothe cracked and dry skin. It is a winner of the 2021 Allure Reader's Choice Award because this classic multitasker has no additives or fragrance, and can also be safely used by people who have eczema.
Dermatologist Flora Kim told Byrdie, "The majority of dermatologists recommend Aquaphor Ointment or CeraVe's Healing Ointment — cleaner formulations with a few extra bells and whistles added to enhance desired efficacy." People trust Aquaphor Healing Ointment ($7.49) because it can be used on irritated skin, and CeraVe Healing Ointment ($10.99) because it is also fragrance-free and has ceramides for hydration. This ointment is lanolin-free and approved by the National Eczema Association. Even New York City-based dermatologist Y. Claire Chang told Well+Good, "I commonly recommend petrolatum-containing products, like Vaseline and Aquaphor ointment, to help with healing wounds, dry skin, and eczema."
Deborah Weatherspoon, Ph.D., told Healthline, "Vaseline is the original name brand for petroleum jelly. Theoretically, there is no difference between the name brand and generic brands." Weatherspoon added that Vaseline claims to only use the highest quality ingredients and a special purification and filtration process.