Is The Hoola Bronzer Really Worth It?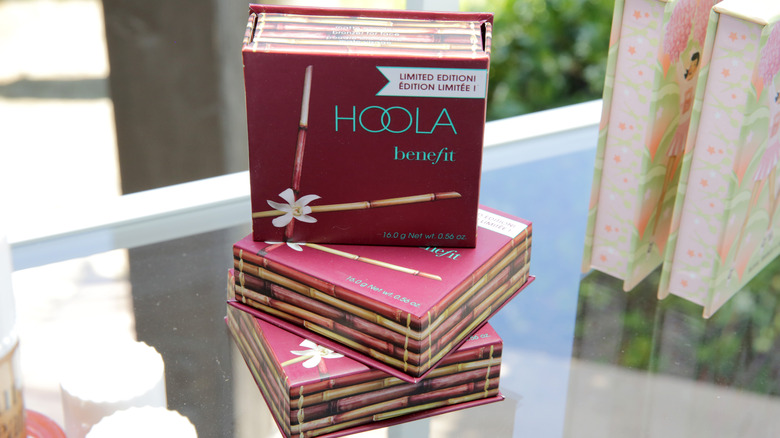 Rachel Murray/Getty Images
Wouldn't it be amazing if we always looked sun-kissed? Unfortunately, the sun isn't kind to us year-round and most of us are not born with chiseled features, so we get a little help from bronzers. Say hello to Benefit Cosmetics Hoola Matte Bronzer, which is considered a holy grail product by many makeup aficionados. There is a reason this product has been selected as the top bronzer year after year by beauty magazines and makeup enthusiasts. Good Housekeeping chose the cult classic as one of the best bronzers of 2020. GH Beauty Lab chemist Danusia Wnek told the publication, "One swipe over my face is enough for me, but you can easily build it up for a more intense contour." She added that the original shade is excellent for people with light to medium skin tones.
Makeup Consumers named Hoola Bronzing Powder the best bronzer of 2021 because it doesn't have any shimmer, which makes it look natural against your skin by giving you a "tanned glow." It's amazing how a subtle sweep on the high points of your cheeks can create a subtle definition that can change your entire look. Look at the Kardashians — they know their bronzer game. This Allure Best of Beauty Award 2020 Winner debuted in 2001 and has remained a staple in this ever-evolving world of beauty (via Allure). Currently, there are four shades of Hoola to match all skin tones, but are they worth it?
Hoola Bronzer leaves you looking naturally sun-kissed
Benefit's Hoola Bronzer is undoubtedly one of the most popular bronzers on the market. It comes with a mirror and natural bristle brush for easy application (via Byrdie). When it comes to price, it is a mid-range powder bronzer because a regular size costs $30. It is more expensive than a drugstore brand, but the quality and results are hard to beat. Plus, one bronzer lasts for 18 months, according to Marie Claire, so $30 doesn't seem like a lot for that amount of time.
Plus, this cult favorite is loved by many because the original shade (medium) compliments a wide range of complexions. Based on your coloring, you could use one swipe if you have fair skin and a couple of layers if you are more tan (via Beauty Mag). If you aren't ready to fully commit, you can try the bronzer in a mini size for $17. It is so popular that it is also available in a jumbo size for $44. 
Given this iconic bronzer's neutral-warm shade that compliments most skin tones, tons of dupes are in the market for those looking for a more affordable option as well (via SheFinds). You know a product is good when other brands come up with a cheaper version of the original. This masterpiece's shade, buildability, and blendability are still hard to match. It is almost irreplaceable.
Hilary Duff and Shay Mitchell swear by Benefit's Hoola Bronzer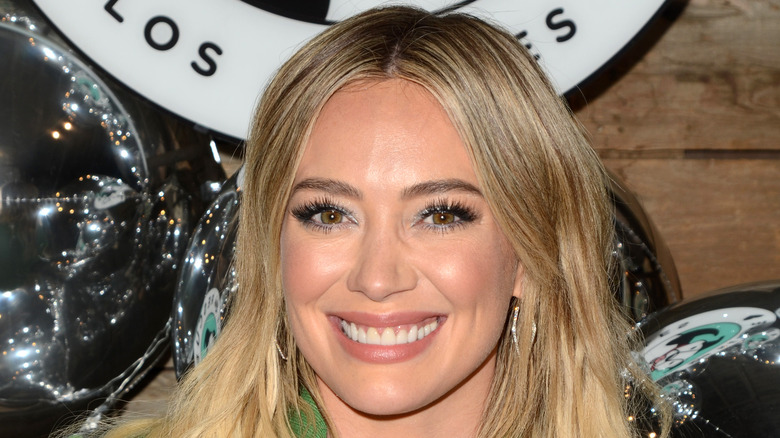 Kathy Hutchins/Shutterstock
Makeup artist Nekussa Murdick, who works with Selena Gomez, told InStyle, "Bronzers with shimmer are fine in small doses, but in the sunlight, they can look glittery and fake, [which is why] you're better off with a bronzer like Hoola that has no shimmer." She added it is best to apply bronzer after foundation but before blush with a fluffy brush. Nothing wrong with faking a natural glow, right? Both Kyle Richards and Cameran Wimberly from "Southern Charm" love this magical bronzer, too (via Blushing in Hollywood).
Celebrity makeup artist Patrick Ta called this bronzer "a must-have" and told Harper's Bazaar, "It provides a depth that can be used just to warm up the face, but also can be used for a natural-looking contour." Another celebrity makeup artist, Ariel Tejada, who has worked with Kylie Jenner and Kim Kardashian, told Cosmopolitan, "When I want a matte bronzer, I use Benefit Hoola, it's a classic." Shay Mitchell even included this legendary bronzer as part of her easy 10-minute makeup routine (via Allure). 
In an interview with Refinery29, Hilary Duff also listed this same cult-status item as a part of her quarantine makeup routine because this shimmer-free bronzer gives her a sun-kissed glow. It will cost you $30 to get the same look as your favorite celebs, so the decision is yours.