The Truth About Dave Bautista And Sarah Jade's Divorce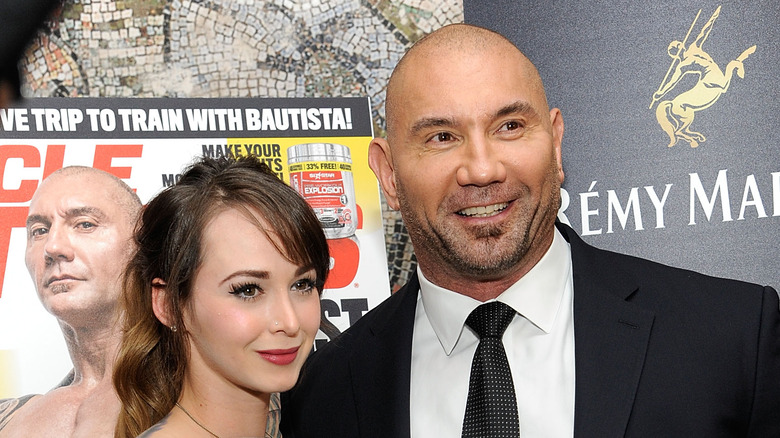 Rabbani And Solimene Photography/Getty Images
Dave Bautista has been lucky in a lot of areas of life. After a highly successful wrestling in the WWE under the name Batista, earning a place in the WWE Hall of Fame Class of 2020, he went on to launch a highly successful career in Hollywood. With roles in big film franchises like "Guardians of the Galaxy" and "Army of the Dead," he has found his place among the likes of Dwayne the Rock Johnson and John Cena. But Bautista's personal life hasn't been quite as smooth. Case in point, Dave Bautista's divorce from wife Sarah Jade. 
Jade was born on December 12, 1987 in Tampa, Florida, per Biography Pedia. She has worked as a professional pole dancer and instructor for years, but primarily rose to fame through her connection to Bautista. The pair tied the knot in 2015 in an intimate outdoor ceremony in front of several of Bautista's fellow wrestlers and director James Gunn, after several years of dating, per Closer Weekly. The marriage lasted just four years, with the couple heading towards divorce in 2020. Neither Jade nor Bautista have spoken publicly about what led their marriage to end, but there are several factors that could have come into play. Jade and Bautista have a 20 year age gap, for instance, and Bautista has had a somewhat rocky relationship history. 
Dave Bautista's marriage struggles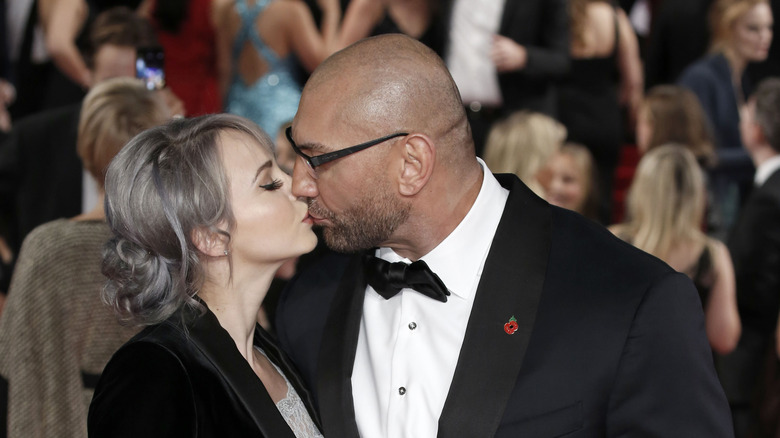 John Phillips/Getty Images
Rumors circulated in 2019 that Dave Bautista and Sarah Jade were separating, per Heightline. The couple did what they could to keep their private life private, but that didn't stop the media from speculating about what led to the strife. The fact that they shared dogs, in particular, prompted questions from news outlets about how their joint lives would be divided.
Bautista's relationship history has been on the rocky side, suggesting that perhaps the busy nature of his life may make it difficult to have a successful relationship. His first marriage was to a woman named Glenda. She and Bautista got married in 1990 and welcomed two daughters before later divorcing in 1998, per Celeb Critics. Bautista married his second wife, Angie, in the same year that he and Glenda divorced, and he went on to support her as she battled with cancer, per Facts Ninja. While their marriage didn't ultimately last, the two seemed to have had a strong bond. 
Speaking with Comic Book, Bautista explained that his WWE work schedule didn't allow for much time at home. "I have sacrificed a lot. I have been through a lot of injuries, a lot of lost time with family ... I was never home. I lost a marriage with someone who was a very, very close friend of mine. We still remain friends, but just never being home just tore our marriage apart." Perhaps that's ultimately what happened with him and Sarah Jade as well.