Kamala Harris Makes Passionate Statements About Student Loans
Mark Makela/Getty Images
Americans who have not been making student loan payments since the start of the coronavirus pandemic were getting ready to start doing so again as the new year approached. Although President Joe Biden extended the federal student loan repayment freeze on two occasions, the pause was set to expire on January 31, 2022, The New York Times reported 
However, as December drew to a close, the Biden administration gave borrowers yet another reprieve, with the payment pause now set to end on May 1, 2022. 
But is that even remotely enough to provide any real relief to the more than 40 million borrowers owing money to the federal student loan system? Well, President Biden himself didn't think so when he campaigned for president back in 2020. "We should forgive a minimum of $10,000/person of federal student loans, as proposed by Senator Warren and colleagues," the Biden campaign tweeted in March 2020. "Young people and other student debt holders bore the brunt of the last crisis. It shouldn't happen again," the tweet concluded. 
Now, Vice President Kamala Harris is speaking out about the United States student loan debt crisis and made a passionate statement. 
Kamala Harris promised creative ways to tackle student loan debt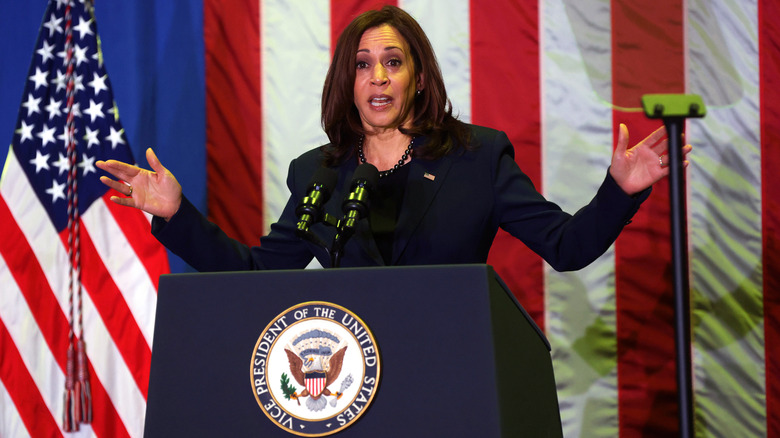 Alex Wong/Getty Images
When appearing on CBS' "Face the Nation" on December 26, 2021, Vice President Kamala Harris shared her own experience of paying back student loans, while also acknowledging that student debt is crippling Americans financially and forcing them to make tough choices in their lives because of it. 
"Students across — well graduates and former students across our country are literally making decisions about whether they can have a family, whether they can buy a home," Harris said, adding, "You know, I'll date myself, but you know, I had student loan debt. I remember that coupon book, and I had to fill out the coupon and write the check every month."
When reporter Margaret Brennan pressed Harris on the campaign promise to relieve $10,000 of student debt per borrower, the vice president acknowledged that something has to be done. "I think that we have to continue to do what we're doing and figure out how we can creatively relieve the pressure that students are feeling because of their student loan debt," Harris declared.