What Nicole Martin Wants Real Housewives Fans To Realize - Exclusive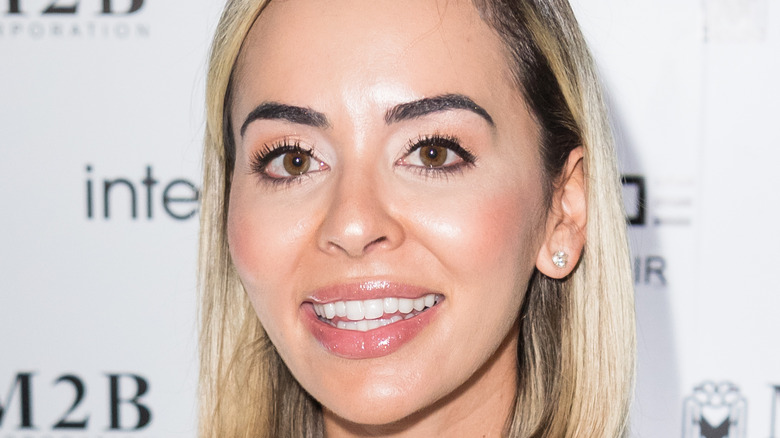 Jason Koerner/Getty Images
There is a caliber of reality television that keeps us entertained, shocks us with drama, and makes us a little jealous of designer wardrobes. From the Kardashians to the likes of Paris Hilton, some reality shows have certainly allowed viewers to take a look into the lives of the ultra-rich, and the OG show that started it all is "The Real Housewives." From Beverly Hills to Atlanta to New York, the housewives — with their expensive cars, designer ensembles, and plenty of drama — have kept us fixated season after season. 
Of course, some fans were disappointed when the spinoff "The Real Housewives of Miami" was canceled by Bravo after three seasons. But fear not, fans, because the sunshine state is making a comeback on the NBC streaming service Peacock and is bringing both familiar faces and newcomers to the screen. One such newcomer is Nicole Martin, a successful (and gorgeous, we should add) anesthesiologist who never saw herself starring on a reality television show. How did she come to the screen? What was life like in front of the camera? These were all questions we asked her during an exclusive sit-down interview. 
Obviously enthralled by Martin's dedication to her professional and personal life, we had to ask her what it's been like to present her experiences on-screen. She was quick to chat about social media, how life is very rarely what it looks like on camera, and what she wants viewers to take away from her story on "The Real Housewives of Miami." This is far from the drama, legal troubles, or petty fights that "The Real Housewives" is known for — in a very down-to-earth moment, Martin told us what she wants people to realize about her time on "The Real Housewives of Miami."
What it was like for Nicole Martin to enter the franchise as a newcomer
To say that we live in a reality television-driven world is an understatement. Many of us are motivated by what we see on-screen, and it's incredibly easy to think that the content we consume — and subsequently, the lives that we observe — are as authentic as our own interactions. When we chatted with Nicole Martin about this, and about her time on "The Real Housewives of Miami," she didn't hold back.
Discussing her experience coming onto the show as a newcomer, Martin said, "Like in any group of friends, there's ups, there's downs, there's fun times, but there's certainly a lot of drama. A lot of these women have been friends for years." And she's right — "The Real Housewives of Miami" went off the air eight years ago, and the original cast has almost certainly kept in touch over the long hiatus. "Some of these ladies have been friends for almost a decade," Martin continued, "And here we are, a couple new faces, trying to find their place in the group, and that's met with some smiles and some other faces."
Martin was certainly tight-lipped when it came to exactly what we'll see on the screen — and we're dying to know what those "other faces" are going to look like — but that didn't stop us from asking her what it was like to disrupt the already established friend group. "[We'd] imagine that there might be a little bit of disruption of not necessarily friendships, but of the status quo," we pitched to her during our exclusive sit-down interview. "You'll have to stay tuned [in]," she said. 
What fans see on-screen isn't always the full picture, according to Nicole Martin
It's easy to forget when watching a show like "The Real Housewives of Miami" that we're not observing characters acting out an elaborate plot, but rather real people living their lives as they see fit — they just happen to be captured on camera while doing so. But is what we see really authentic? Is the "character" we see on-screen truly an accurate reflection of the person way deep down? We chatted with Nicole Martin about this, and asked what she hopes viewers will realize while watching her journey unfold on the new Peacock show. Her response? "Not everything is sparkles and rainbows."
"People have challenges, and just because you don't see it on social media doesn't mean they don't exist," she said. "And I think that's a problem with today's youth, right? They think everything's supposed to be perfect, and it's okay when they're not perfect, and it's okay to have challenges. It's how you react to those challenges that really defines you." 
Martin went on to explain that the challenges that she's faced in her own life have proven to her that people have the ability to "rise above whatever those challenges are" — to not only arrive at adversity but to "face [it] head-on." It's an element of her life that was clearly very important, and one that Martin had no trouble sharing her opinion on.
"It's just a snap," Martin said of social media and the "best foot forward" approach that so many people have when it comes to their public lives and reputations. As for Martin, she seems determined to show people exactly who she is.
New episodes of "The Real Housewives of Miami" are available Thursdays on Peacock.