What Cynthia Watros Has To Say About Nina And Carly's Feud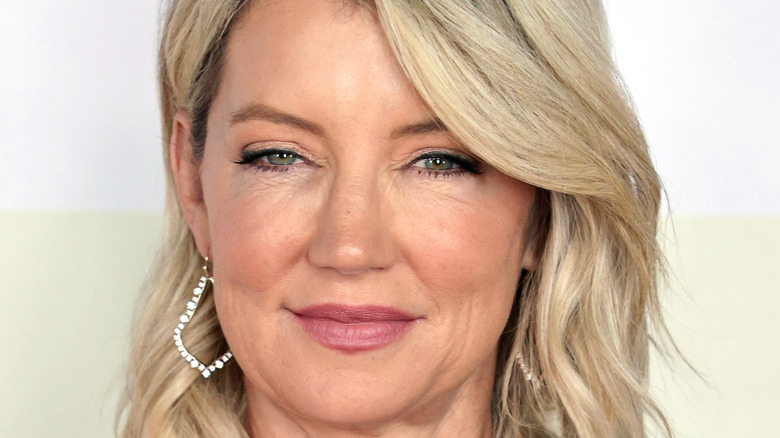 Kevin Winter/Getty Images
The Nina and Carly feud on "General Hospital" has reached new heights. Willow Tait has crumbled on the witness stand at Nina Reeves' preliminary trial for fake identity theft charges, revealing that Sonny Corinthos and Nina had fallen in love when they spent six months in a small Pennsylvania town while Sonny had amnesia. 
The look on Carly's face as Willow said the word "love" on the witness stand should have been a warning for all of Port Charles that Hurricane Carly was about to blow through — with Nina in the eye of the storm (via Soap Hub).
In Carly's mind, Nina took nine months of her life with Sonny away from her (it was really six; Carly keeps getting this wrong), but she doesn't want to really discuss the fact that, when Sonny was presumed dead, she married Jason before Sonny's empty grave was even cold. 
In Nina's mind, Carly took it upon herself to keep the truth from her that Nelle Benson was Nina's long-lost daughter. Once Nina found out, Nelle was presumed dead, according to Soap Hub. 
That right there is a good start to an epic soap rivalry, but Carly learning that Nina and Sonny fell in love this year elevates the entire story, and actress Cynthia Watros couldn't be more thrilled with how this plotline brings her back to the past, according to Soap Opera Digest.
Nina and Carly's feud brings back old memories for Cynthia Watros
For actress Cynthia Watros, who plays Nina, the entire tale brings her back years to when both she and Laura Wright, who plays Carly, portrayed enemies on the now-defunct CBS soap "Guiding Light," for which Watros won a Daytime Emmy Award in 1998 (via IMDb).
"It's funny because on 'Guiding Light,' it was Annie [Dutton] and Cassie [Layne Winslow] fighting, and now it's Nina Carly, and it just brings up all these memories of us fighting on 'Guiding Light,'" Watros told Soap Opera Digest of the characters she and Wright once played all those years ago. 
Annie Dutton was definitely the crazier one of the two, with Cassie the scrappy one fighting for what she believed she deserved.
Now, the two performers have come full circle, playing two strong, mature women who refuse to allow the other to get the best of them and who believe their gripes with each other are completely justified.
Cynthia Watros loves her soapy reunion with Laura Wright on 'General Hospital'
Cynthia Watros admits that she is having just as much fun playing Laura Wright's arch-enemy as she did back in their "Guiding Light" days, and she credits her co-star's professionalism and talent for how their scenes have been turning out.
"She is so amazing and good and giving as an actor that the scenes are challenging but also, in a way, kind of fun, because you play off each other," Watros told Soap Opera Digest of Wright. 
"Like, there was one point where I said something awful to her and she said, 'You've got to leave right away, because I would just punch you!' And I was like, 'Oh, I'm leaving! Don't worry, I'm gonna go!'" 
She continued: "So, having that back and forth as actors is so fun and she's so professional that they are challenging but I also love ... stuff that you can really explore and play with."
With Carly now knowing the truth about Nina and Sonny, "General Hospital" fans are about to see this rivalry go to an entirely new level.