Meghan And Harry Are Finally Resuming Their Spotify Podcast. Here's What We Know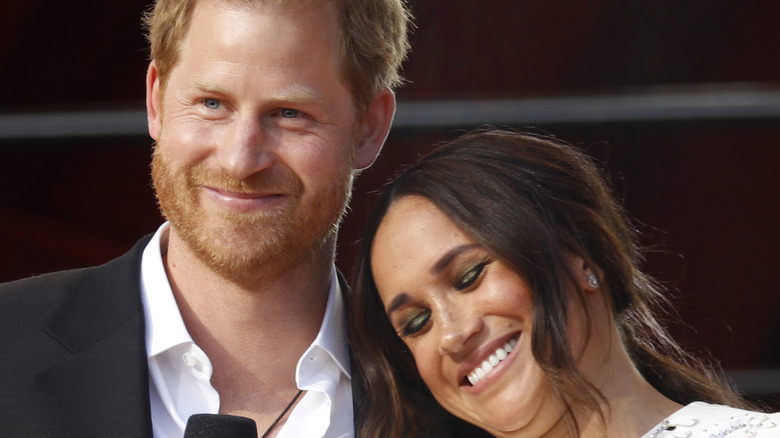 John Lamparski/Getty Images
Last year, Meghan Markle and Prince Harry celebrated the holiday season and the end of 2020 with their very first podcast episode produced by Archewell Audio and Spotify's Gimlet. In the standalone episode, Markle and Prince Harry shared a collection of inspirational stories from celebrity guests like Stacey Abrams, Brené Brown, Deepak Chopra, James Corden, Sir Elton John, Naomi Osaka, Tyler Perry, and more, according to Variety. Around the same time that they released their standalone holiday special, Markle and Prince Harry signed a $25 million deal with Spotify to create a podcast series that "uplifts and entertains audiences around the world," according to Page Six. "What we love about podcasting is that it reminds all of us to take a moment and to really listen, to connect to one another without distraction," the couple said in a Spotify press release.
Spotify announced that the royal couple would be putting together an entirely new series in 2021, though, as Mercury News reported, Markle and Prince Harry have yet to release another episode since their 2020 holiday special. Earlier this month, a source revealed to The Sun that Spotify was a bit bewildered by the couple's lack of material in the past year. "Spotify were delighted when they signed the couple, but the lack of content has mystified them," they said. "Particularly as they seem to have no problem producing content for other platforms."
The Duke and Duchess of Sussex are reportedly releasing new podcast episodes soon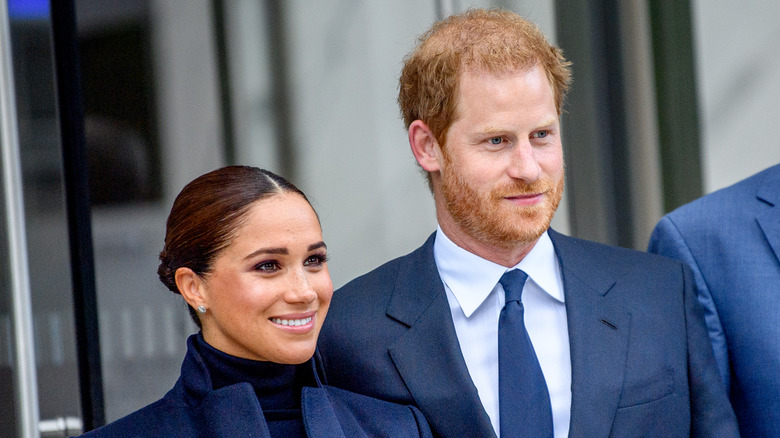 Roy Rochlin/Getty Images
While many appear to be a bit dismayed over the lack of Spotify podcast episodes produced by Meghan Markle and Prince Harry, they have had quite a bit on their plate lately. Just this year alone, Markle and Prince Harry have welcomed their second child and first daughter, Lilibet, and gave an explosive tell-all interview with Oprah Winfrey. Additionally, Markle released a children's book, "The Bench," and Prince Harry became the chief impact officer at mental health startup, BetterUp, per Mercury News. 
Despite their busy schedules, The Sun reported that Spotify leadership gently reminded them of their obligation to produce more content just last month. However, The Sun also reported that Markle and Prince Harry were expected to drop at least a few new episodes of their Spotify podcast in time for the 2021 holiday season — and that has yet to materialize.
Last month, when approached for a comment about new podcast episodes by Archewell Audio by The Sun, Spotify simply said, "Big things are coming. Stay tuned." A source told The Sun that the royal couple's absence from Spotify might have to do with the fact that they had to take the time to put together a more sophisticated podcasting team. "When Harry and Meghan signed the Spotify deal in December, they didn't really have a full audio team behind them, there were no scripts ready and they hadn't made podcasts before," they revealed. 
It is still unclear when the royal couple will be putting out new Spotify content.