Why Cloth Face Masks Might Not Be Enough To Slow The Spread Of Omicron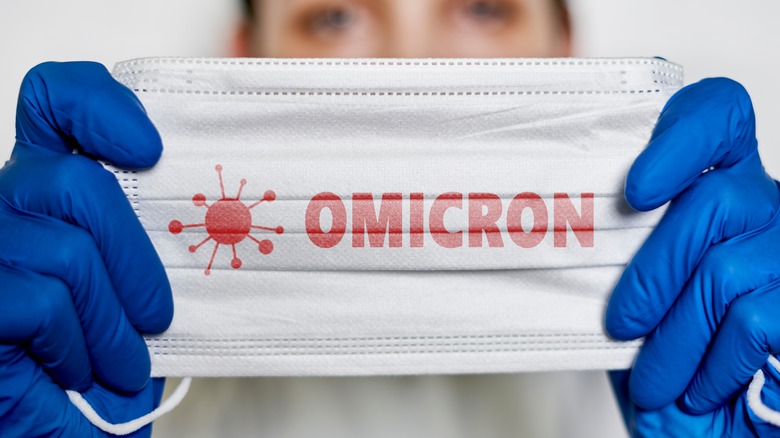 G.Tbov/Shutterstock
Just when many have thought the COVID-19 pandemic was seeing its way out, it ushered in a new wave. This new wave, the Omicron variant, is similar to the previous Delta variant of the novel coronavirus. However, it's proving potentially even more infectious than not only the Delta variant but also the original COVID strain (via Yale Medicine). It's slated to become the dominant strain of COVID-19 in the U.S.
Dr. Anthony Fauci has offered a scary warning about Omicron but some aren't listening. Many continue to travel during the holiday season, which is spreading the virus further. In fact, the U.S. is so overwhelmed with Omicron that it's hard to get a COVID test right now (via The New York Times). As these pressures continue to mount, many are wondering what they can do to stay safe and stop the spread of this virus. After all, this variant first appeared in approximately 15 U.S. states but is so infectious that it's now across the nation, per Reuters.
What you need to know about this COVID mutation then is that masking will absolutely help, but limiting your exposure to others is also key. The type of mask you wear may also greatly impact your chances of contracting the Omicron variant. More specifically, cloth masks may not be as defensive against this variant like the novel coronavirus or its previous variants.
Cloth masks aren't enough to stop the Omicron variant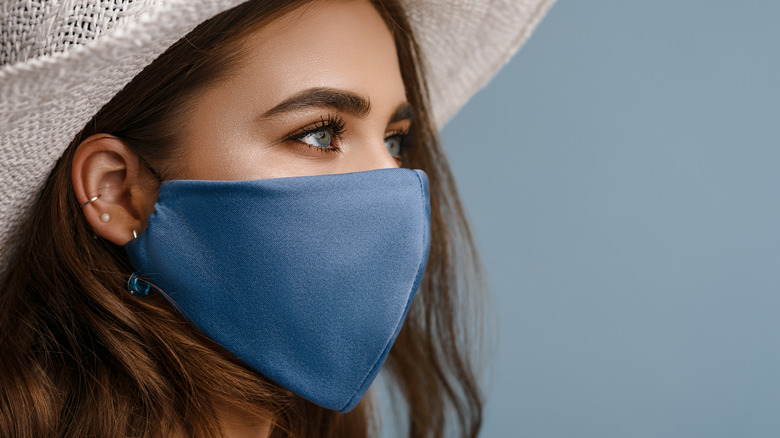 Victoria Chudinova/Shutterstock
The Omicron variant of COVID-19 has proven in its short tenure to be infectious and fatal, and as more research and hospitalizations show that this variant isn't going anywhere anytime soon, health experts are realizing that the types of masks we're wearing play a direct role in helping protect us. In fact, CNN's medical analyst, Dr. Leana Wen, likened cloth masks in the omicron era to "facial decorations" (via CNN).
"There's no place for them in light of Omicron," Wen explained. However, she also noted that the push to nix cloth masks arose before Omicron. "This is what scientists and public health officials have been saying for months, many months, in fact."
As for what Wen believes people should be wearing, she added, "We need to be wearing at least a three-ply surgical mask. You can wear a cloth mask on top of that, but do not just wear a cloth mask alone" (via People). People notes, however, that Wen's recommendations conflict in part with the CDC's masking guidelines. The CDC continues to recommend that everyday civilians wear masks with "two or more layers of washable, breathable fabric," whereas Wen recommends everyone don KN95 or N95 masks for maximum protection.
Ultimately, the decision is yours, but it's becoming increasingly clear that cloth masks are not meant to handle the Omicron variant.