Is SkinCeuticals New Advanced Scar Control Worth The Money?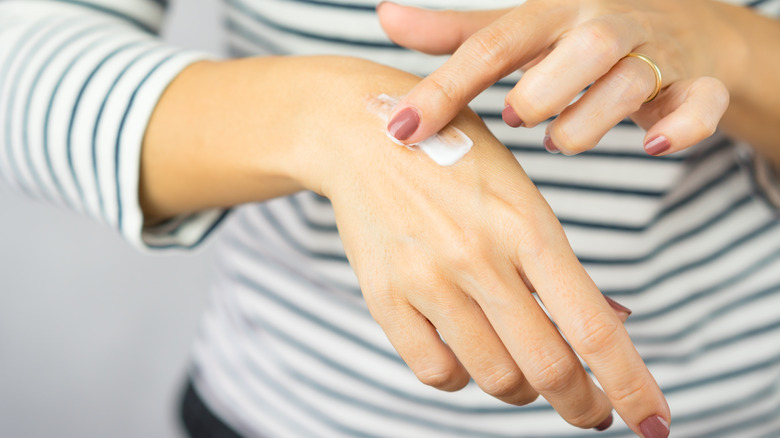 myboys.me/Shutterstock
Beauty and skincare brand SkinCeuticals is adored by dermatologists, celebrities, and everyday users because it is known for creating quality skincare products backed by science. Speaking to HelloGiggles, dermatologist Dr. Shereene Idriss recommended SkinCeuticals' Phloretin CF Vitamin C Serum for the acne-prone. "I like this one since it's geared towards people who get breakouts, and I've been getting more breakouts on the lower half of my face from wearing a mask all day," she told the outlet in March 2021. According to Vogue, actor Kristen Bell reaches for another of the brand's products — the Phyto Corrective Gel — to help combat any pesky pimples. Though SkinCeuticals can be pricey, it clearly lives up to the hype!
According to a press release, SkinCeuticals expanded its product lineup with the release of Advanced Scar Control in 2021. Per Byrdie, Advanced Scar Control is designed by derms to shield and improve the presence of scars. It is made up of silicones that help break down collagen, which forms the scars during the healing process. Previously, this treatment was only available at the dermatologists' office, but now users are able to buy a bottle for themselves to use at home, via Well+Good. This gel has a texture and feel of a healing balm, which locks in moisture and makes small, fresh scars less noticeable in as little time as a week. But is the $110 price tag worth the results?
SkinCeuticals Advanced Scar Control can improve the appearance of new scars
SkinCeuticals Advanced Scar Control is a gel serum made of 95% silicones, 0.5% Allantoin (an emollient), and 2% fatty acids, per a press release by the brand. The hero ingredient is the silicones, as reconstructive surgeon Dr. Catherine Chang told Byrdie. "Silicones are considered to be the gold standard protective ingredient in the medical community for scar care, as they are known for their occlusive properties," she said. Together with the other ingredients, silicones help improve the scar's overall appearance, especially if applied early on while the scar is still forming. Board-certified dermatologist Mona Gohara agreed with Chang, telling Well+Good that scars form as a result of too much collagen. "Silicones break down the collagen so that it's less likely to build up and create a thick scar," she added. While Advanced Scar Control seems especially potent in combatting new scars, it also prevents fresh cuts and burns from turning into dark, raised scars, as Allure explains. That said, it may not have the same power to heal older scars.
SkinCeuticals' Advanced Scar Control retails for $110 per 1.7 oz., which is a steep price to pay. Though it shows promising results in reducing the appearance of newer scars/wounds, it doesn't guarantee zero scarring. Anyone who's not willing to shell out the cash may be able to find similar results from silicone gel scar scream X•SCAR Original for half the price, as Verywell Health notes.