What's The Difference Between Refined Petroleum Jelly And Unrefined Petroleum Jelly?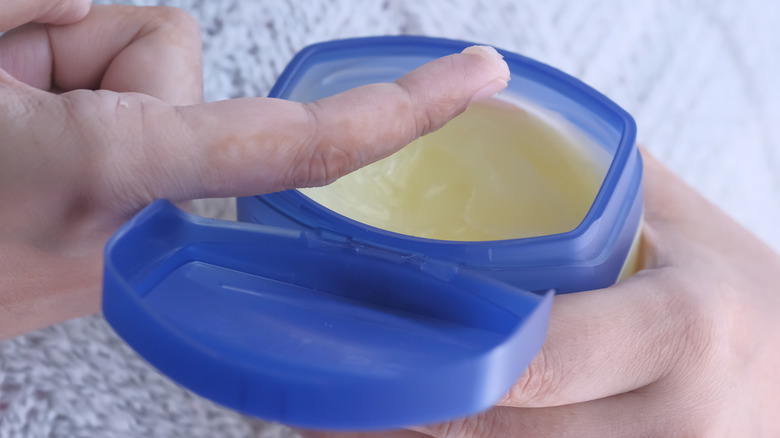 Towfiqu Ahamed Barbhuiya/Shutterstock
Petroleum jelly has found a major use within the cosmetic and skincare world. According to Byrdie, the jelly-like substance was first discovered in 1859 after thick oil was found to be clogging machinery at oil drilling sites. This by-product was eventually converted into petroleum jelly, which employees would use to help heal burns and cuts on the skin as a result of injuries sustained while working at the job sites.
Today, refined petroleum jelly can be found in "a wide range of moisturizers, conditioners, lip balms, baby care, and beauty products," according to Sustainably Chic, with Vaseline being the most widely known brand. Dermatologist Dr. Flora Kim referred to Vaseline as "the quintessential petroleum jelly" while speaking to Byrdie. Vaseline is a refined petroleum jelly that has been used for decades as a product to heal dry skin "from dry, cracked hands to hard skin on heels," as well as "softening the lips or highlighting the cheekbones" (via Vaseline).
But what is the difference between refined and unrefined petroleum jelly?
The difference comes down to how it's made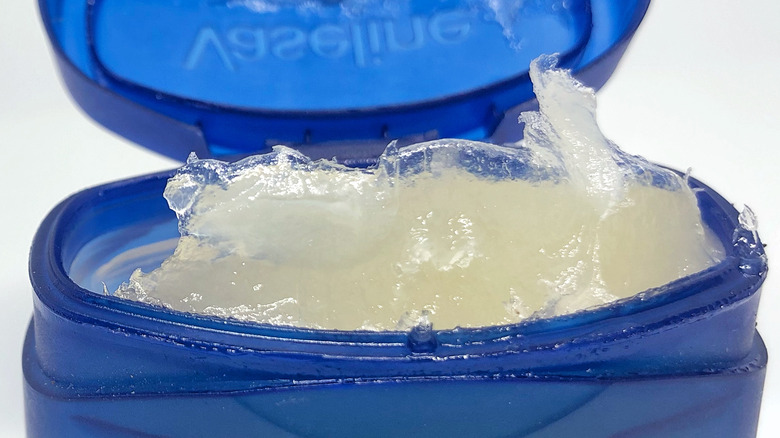 Syam Fireshark/Shutterstock
According to Medical News Today, the difference lies in the manufacturing process. Refined petroleum jelly, like Vaseline, goes through a rigorous distillation process to harness a mixture of "natural waxes and mineral oils," resulting in a product that benefits the skin. As Vaseline notes on its website, its product, in particular, is "triple purified petroleum jelly." 
According to the Environmental Working Group, Vaseline carries a low risk of "exposing users to carcinogens and other dangerous ingredients," and like other white petroleum jellies, it has passed "the safety standards of the FDA for use in food and cosmetics" (via Byrdie). Carcinogens are a group of agents that have the "capacity to cause cancer in humans," according to the National Human Genome Research Institute.
Non-refined petroleum jelly, in particular, may possess these harmful chemicals. Byrdie notes that one group of carcinogens, known as polycyclic aromatic hydrocarbons, can be present in non-refined petroleum jelly. They have the potential to cause "cancer and damage to the reproductive organs (via Medical News Today).