Emma Watson Reveals The Exact Moment She Fell For Her Harry Potter Co-Star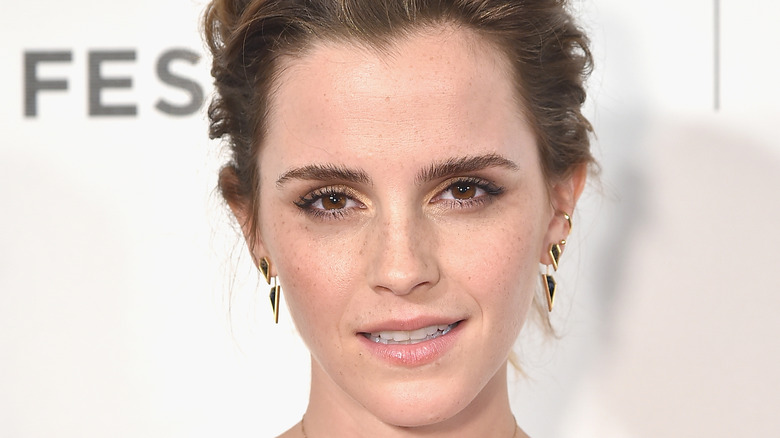 Theo Wargo/Getty Images
We're just days away from the release of the highly-anticipated reunion special "Harry Potter 20th Anniversary: Return to Hogwarts," but already major tea is being spilled. Taking part in the special are original leads Daniel Radcliffe, Rupert Grint, and Emma Watson. Series creator J.K. Rowling, however, appears only briefly, via an interview filmed in 2019, as per The Independent. The formerly beloved author has endured a spectacular fall from grace in recent years due to her virulent transphobic comments, which Radcliffe, Watson, and Grint all spoke out against, among others.
Although various cast-members acknowledge the impact the "Harry Potter" books had on them, Rowling herself features only as a peripheral presence. Discussion later turns to on-set crushes, with Marie Claire Australia pointing out Radcliffe's longtime affection for Helena Bonham Carter, who played the villainous Bellatrix Lestrange in the movies. The young actor even confessed his love in a note written when the franchise wrapped, back in 2011. As Matthew Lewis (Neville Longbottom) revealed, "There were endless crushes, people were going out with each other, breaking up."
One crush in particular is gaining traction for making a whole raft of Potter shippers very happy indeed.
Emma Watson harbored a crush on her co-star for years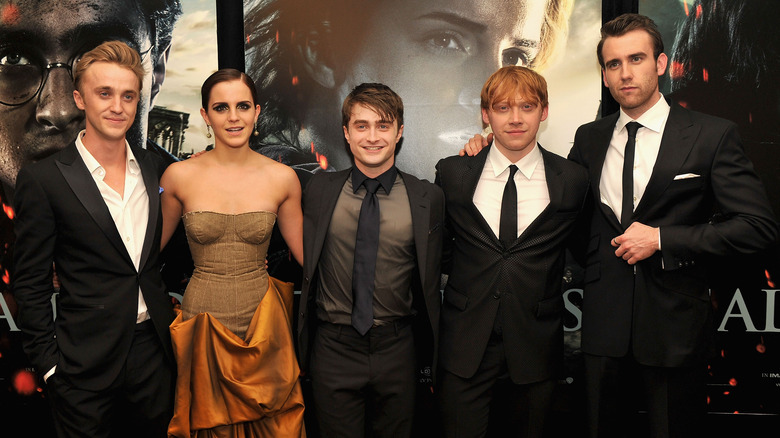 Stephen Lovekin/Getty Images
As Us Weekly notes, Emma Watson admitted to having a long-time crush on co-star Tom Felton during their stint on "Harry Potter." Watson played Hermione Granger while Felton was her frequent foil, Draco Malfoy. Fans have wondered for years whether the two actors were romantically involved behind the scenes, but sadly, as Watson revealed, Felton saw her more as a "little sister" than anything else. "Emma and I have always loved each other, really," Felton gushed in reunion special "Harry Potter 20th Anniversary: Return to Hogwarts," though Watson clarified, "Nothing has ever, ever, ever, ever happened romantically with us," while acknowledging their deep bond as friends.
The "Little Women" star pinpointed the exact moment she fell for Felton, sharing, "I walked into the room where we were having tutoring. The assignment that had been given was to draw what you thought God had looked like and Tom had drawn a girl with a backward cap on, on a skateboard. And I just don't know how to say it, I just fell in love with him." 
She later acknowledged Felton was the only person with whom she could be properly vulnerable, but that didn't stop Watson looking for his name on the call sheet every day, revealing it would make her day each time she saw it on there. Although nothing happened, co-star Rupert Grint previously revealed, "There was a little bit of a spark" between them (via ET).