This Coffee Maker Is An Affordable Replacement For The Keurig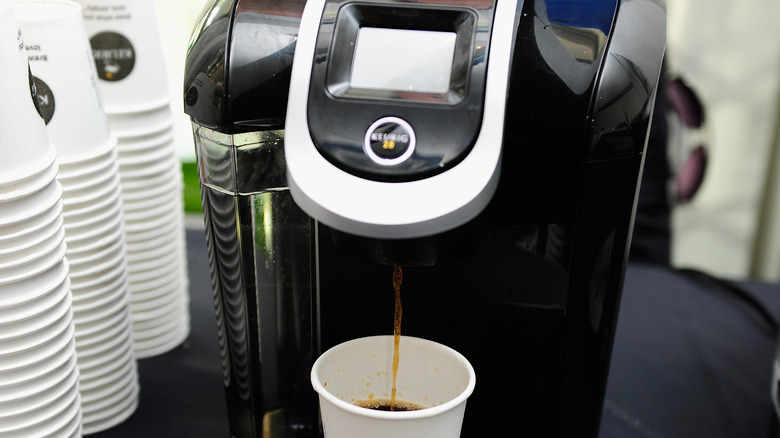 Sergi Alexander/Getty Images
We may receive a commission on purchases made from links.
Many of us need to drink coffee every day for our bodies to fully wake up and get us through the day. However, buying coffee from Starbucks or other coffee shops every day can cost exorbitant amounts of money, and high-end coffee machines for the home, while nice investments for serious coffee drinkers, can cost a fortune.
On today's market, the Keurig is the standard coffee maker. It's different from traditional coffee pots in that it typically brews one cup of drip coffee at a time, though fancier models now offer both single cup and carafe brewing options. People make mistakes with Keurigs, though, and having to repair or replace these machines can leave your pockets sorely hurting.
According to All Women's Talk, Keurigs have many cons despite their many positive attributes. Where they make quick cups of coffee and there's a wide variety of coffee pod options for flavor and roast, Keurig coffees are often weak. This compounds with the fact that you can only make one cup at a time. Weak coffee won't keep many people going. Worth noting, though, is that there are reusable, eco-friendly coffee pods in which you can pack your own grounds, so there's potential to make stronger coffee in your Keurig.
Still, it may not be worth the hefty price tag to some. Here is one affordable replacement for the Keurig that can keep you caffeinated and motivated on a budget.
The AeroPress Coffee Maker is a steal for its price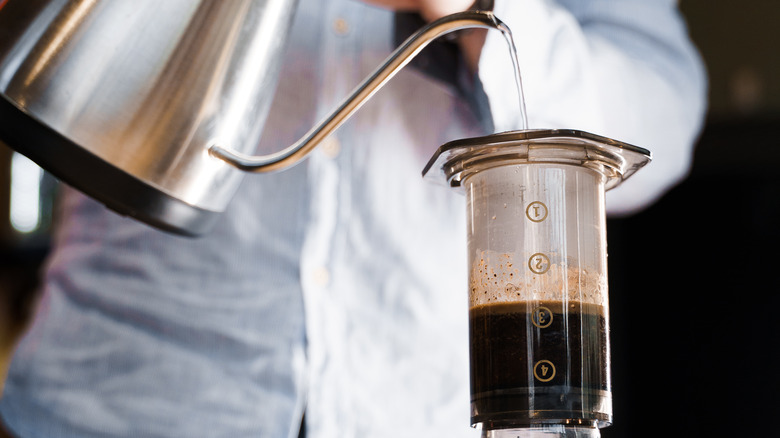 Rabizo Anatolii/Shutterstock
You don't need an expensive coffee maker to make fantastic coffee. In fact, your coffee beans or grounds and how you dress up your coffee once brewed are likely more important than the machine you use. Keurig machines may cost over $100, though basic models can dip to around $60 (via Walmart). Instead of spending too much, you can invest in the AeroPress Coffee and Espresso Maker.
This coffee maker, as seen on Amazon, retails for around $30 and includes free shipping if buyers have Amazing Prime. This machine's name alone assures that it's better than the Keurig because one of the latter's biggest complaints is that its coffee is weak, whereas the AeroPress makes espresso, too. AeroPress describes its coffee as "smooth, rich, delicious," and that it can also make cold brew.
The AeroPress is the new age French press. It makes coffee very quickly, and its process results in a drink that is much less acidic than traditional coffee, meaning it'll go down smoother. In fact, it can make 1-3 cups of coffee in roughly a minute, so you can be on the go as soon as you wake up. This machine doesn't take up as much space as a Keurig, either. It sits on top of your mug and drips the brewed coffee down into your vessel.
Ultimately, the AeroPress Coffee and Espresso Maker is a steal and perfect for coffee drinkers of any expertise level.