Tori Spelling Reveals She Was Bullied For Her Looks On 90210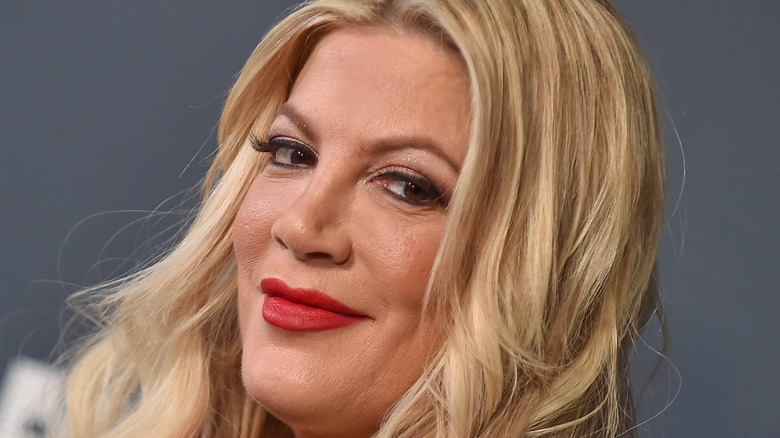 DFree/Shutterstock
Tori Spelling is a veteran in the limelight. Daughter of iconic film and television producer, Aaron Spelling, the actor, author, and mother of five is a household name in Hollywood. She had a few one-line roles as a teenager. But Spelling's breakthrough role was Donna in "Beverly Hills 90210" when she was just 16. Given to her by none other than the show's producer, her father.
It may appear Spelling was on top of the world during her time on "90210," enjoying the perks of fame and getting to ride to work with dad. After all, starring in a smash hit TV show is an actor's dream. Though recently, Spelling admitted the years she spent playing Donna was a time when she faced some damaging criticism over her appearance. "I used to hate my eyes. When I started 90210 at 16 I was filled with low self confidence. Then, internet trolls (yep we had them back then too!) called me frog and bug eyed," she revealed on a social media post (via Instagram).
Today Tori Spelling loves her eyes and feels worthy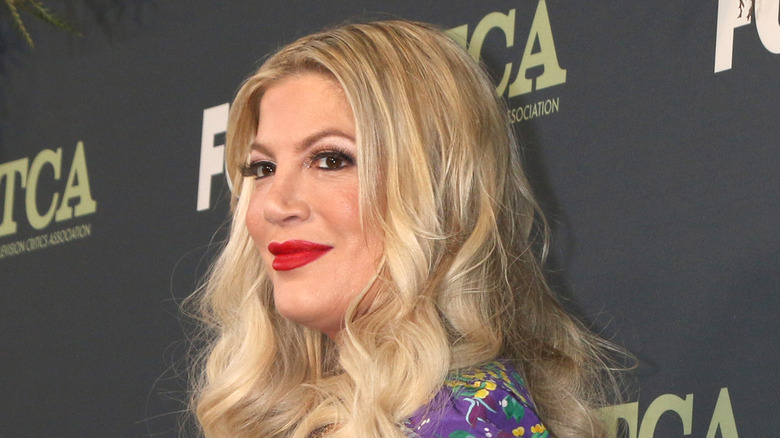 Kathy Hutchins/Shutterstock
"Being put under a microscope as a young girl in her formative years was hard. I spent years begging makeup artists on my shows and movies to please try to make my eyes look smaller. I would cry over my looks in the makeup trailer chair," she said on Instagram. Luckily, the "Celebrity Show-Off" contestant appears to have overcome her childhood insecurities over the size of her eyes. She finishes her same post by stating, "That said. Here's me. Straight on. I love my eyes now. They make me uniquely me. And, I rarely wear sunglasses" (via Instagram).
Spelling has grown to love her eyes, and doesn't feel the need to hide behind a pair of shades. And even though she was exposed to criticism from trolls while filming "90210" in the '90s, the "So Notorious" star reveals that the show gave her the gift of feeling worthy. "I grew up pretty fast being thrust into the limelight. 90210 taught me such a work ethic that I hope my kids all learn. It also taught me that I was worth something," she said (via Today).