Inside Louis Tomlinson's Relationship With Harry Styles Today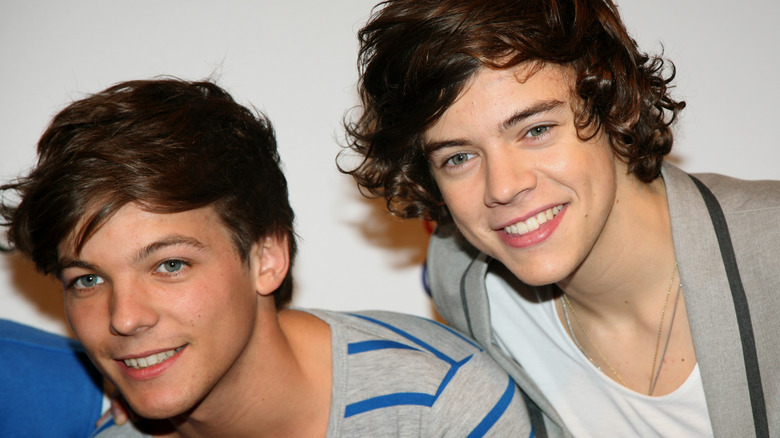 FeatureFlash Photo Agency/Shutterstock
Once upon a time One Direction was the boy band of the decade. The five core members auditioned for the "X Factor" individually in 2010, before joining forces to become the band that skyrocketed into a household name. And while the talented stars finished in third place on the British music competition, the success of "One Direction" now speaks for itself — don't you think?
However, after five years together and four successful studio albums, it was announced on Facebook that Zayn Malik would be leaving One Direction in 2015 (via Us Weekly). This was the beginning of the end for the English-Irish boy band, and a chapter that fans remember all too well. After Malik's announcement, it only took a few more months for the rest of the band to announce that they would be taking an "extended hiatus," as noted by UPROXX.
The news that One Direction was "no more" shattered hearts across the world, but the talented singers all have booming solo careers now and have continued making music individually. While the beloved boy band hasn't performed together since their initial break up, that hasn't kept the former bandmates from speaking about each other in interviews over the years (via Insider). While the majority of the gossip surrounds Malik, the first member of 1D to part ways from the group, some interesting scuttle also surrounds the relationship between Louis Tomlinson and Harry Styles. Let's take a look at the relationship between these two England-born stars. 
While their relationship may be complicated, Harry Styles and Louis Tomlinson remain friends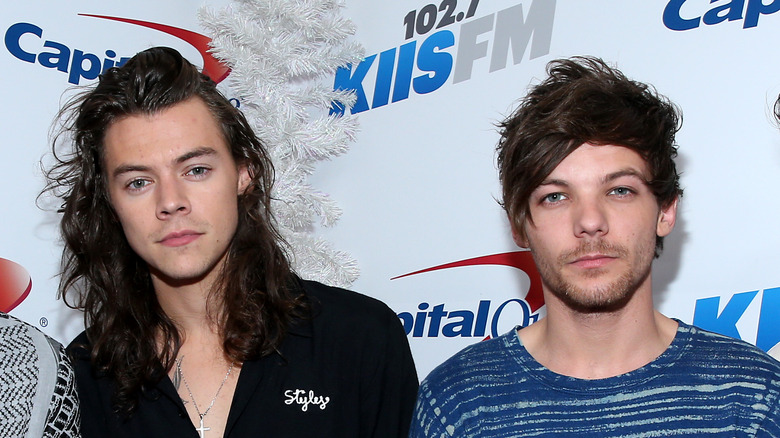 Johnathan Liebson/Shutterstock
There's no denying that One Direction was beloved in its entirety, but naturally, fans still had their favorite members in the popular band. In an interview with The Guardian, Louis Tomlinson opened up about being an underdog in the group and what it felt like to be seen as "forgettable, to a certain degree." Every other bandmate seemed to have their own it-factor, except for him. For example, Tomlinson described Harry Styles as the guy who came across "very cool." When comparing their now solo careers, and finding notable songwriters to collaborate with, Tomlinson noted "Harry won't struggle with any of that."
However, despite the inevitable competition that has emerged between the former 1D bandmates, there has been no notable feuding between Styles or Tomlinson. In fact, quite the opposite. As noted by Elite Daily, Styles and Tomlinson's tight-knit friendship led fans to speculate that the two were romantic partners. This upset Tomlinson, who was dating Eleanor Calder at the time. "It created this atmosphere between the two of us where everyone was looking to everything we did," Tomlinson shared.
Despite the dating conspiracies and career competition between Styles and Tomlinson, the two bandmates remain friends to this day. Tomlinson told "Hits Radio Breakfast" in 2019 that he had "not seen Harry for a while" but had "been in contact with him." "It's proper nice. Proper nice," he added (via Pinkvilla).